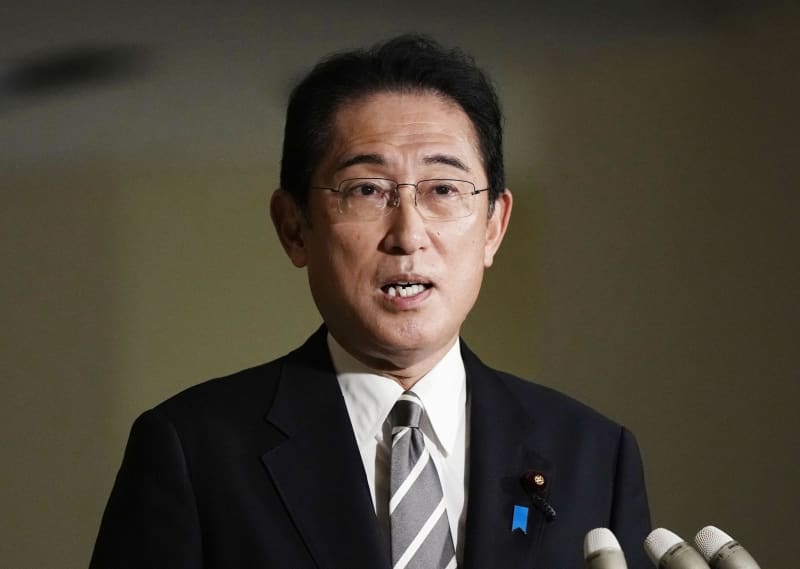 Japanese Prime Minster Fumio Kishida was apparently forced to accept the resignation of the scandal-tainted economy minister who was accused of having close ties with the contentious Unification Church, as the approval ratings for his Cabinet show little sign of improving.
Daishiro Yamagiwa resigned on Monday after he was bashed for failing to explain his links to the religious group, often labeled as a cult. Whenever new rumors about his connections with the organization cropped up, he reiterated he had "no recollection."
His resignation is set to deal another blow to Kishida, who has already faced several setbacks such as his hasty decision to hold a controversial state funeral for former Prime Minister Shinzo Abe, assassinated during an election campaign speech in early July.
Political analysts, however, say opposition parties and opponents to Kishida within the ruling Liberal Democratic Party have no intention of ousting his government in the near future, given national elections are not set to be held for the next three years.
The opposition camp in particular does not want Kishida to dissolve the House of Representatives soon as its inability to gain political traction would draw little support from voters and allow him to stay in office, the analysts said.
During the ongoing extraordinary parliamentary session that kicked off on Oct. 3 and is set to run for two months, the opposition bloc relentlessly grilled Yamagiwa over his relationship with the church, urging Kishida to replace the economy minister.
With so many other key issues that need to be discussed, such as measures to tackle rising prices without wage growth, Kishida eventually bowed to the opposition's demand.
Some members of the main opposition Constitutional Democratic Party of Japan insisted that they would not start debating the government's economic stimulus package and the supplementary budget that will fund it until Yamagiwa left office.
Yamagiwa, a lawmaker who was first picked as economy minister in October 2021 when the Kishida administration was launched, was in charge of mapping out steps to ease the negative impact of the yen's abrupt depreciation and ensuing price hikes at home.
He remained in his post when Kishida reshuffled his Cabinet in August to replace ministers who were confirmed to have ties with the Unification Church, but has now became the first minister to resign under Kishida.
A lawmaker of Komeito, the junior coalition partner of the LDP, said Yamagiwa resigned before he "was to be fired" as Kishida wanted to bring an end to the controversy and help the government promote policies that could help garner public support it needs to survive.
Komeito leader Natsuo Yamaguchi told reporters on Monday that it was "important" for the Kishida administration to act as quickly as possible so they could proceed with policies that deal with higher prices hurting both households and companies.
CDPJ leader Kenta Izumi said Kishida should have sacked Yamagiwa, while Akira Koike, head of the secretariat of the Japanese Communist Party, called on the premier to take responsibility for having appointed the scandal-riddled lawmaker.
Nevertheless, opposition politicians are unlikely to accelerate their offensive over the issue surrounding Yamagiwa, as they are worried that Kishida might suddenly dissolve the lower house in the hope of seeking a popular mandate.
A lower house election was held only a year ago, and with the opposition parties having not begun preparations for the next election, pushing Kishida to call a general election would be folly, a LDP lawmaker said.
LDP members, meanwhile, would rather Kishida does not call a snap election for fear they could lose their seat and they hope that media and public attention in the Unification Church will gradually wane.
"Many ruling politicians are trying not to drive Kishida from power for fear that he may dissolve the lower house after he is placed in a predicament," said a LDP lawmaker, who has kept his distance from the prime minister.
But Hiroshi Shiratori, a political science professor at Hosei University, does not rule out the possibility of Kishida dissolving the lower house, saying if he wins the general election, he can say his government has the mandate of the majority of voters.
One other scenario could see ruling lawmakers attempt to remove the unpopular Kishida as LDP leader ahead of a potential lower house election, in turn strangling his government, Shiratori said.
The Unification Church, founded by a staunch anti-communist in South Korea in 1954, has come under scrutiny after the assailant who fatally shot Abe told investigators he harbored a grudge against the group due largely to his mother's massive donations.
The organization has been the target of criticism mainly for its "spiritual sales," in which it pressures people to buy jars and other items for exorbitant prices via the use of threats, such as invoking "ancestral karma" as a catalyst for misfortune.
The group is now formally called the Family Federation for World Peace and Unification.
(Satoshi Iizuka contributed to this story.)