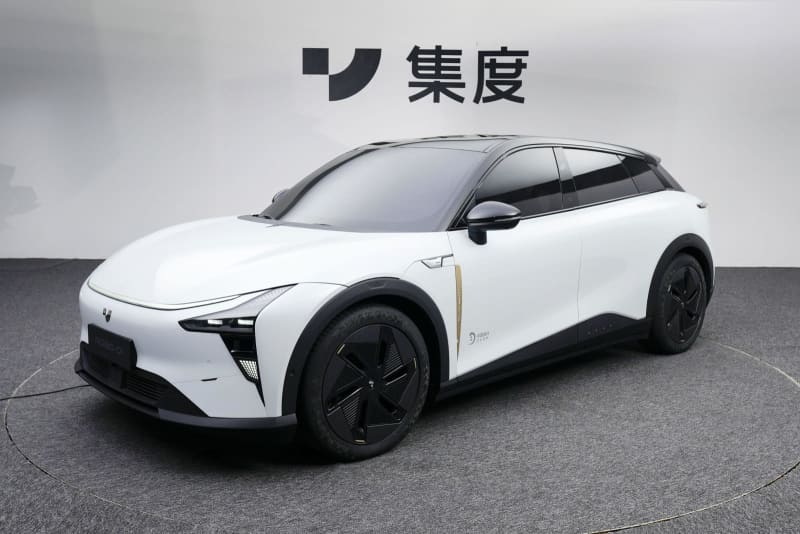 Chinese internet search giant Baidu Inc. unveiled Thursday a new electric vehicle powered by artificial intelligence featuring some self-driving functions that were developed through a joint venture with Chinese automaker Zhejiang Geely Holding Group.
The sport utility vehicle "ROBO-01," manufactured by the venture is equipped with autonomous driving technology, in which the vehicle can perform steering to some degree on expressways and open roads, and a voice-activated system. There is no gear shift lever in the car.
A total of 1,000 units of the new EV, each priced at 399,800 yuan ($55,308), have been produced and they have all been sold based on reservations, according to the company.
In August, Baidu started offering fully driverless ride-hailing services on open roads in Chongqing and Wuhan, becoming the first and only provider of such a service in China.
At present, the tech firm operates its "Apollo Go robotaxi" business in designated areas in more than 10 Chinese cities including Beijing, Shanghai, Guangzhou and Shenzhen, with fees collected in seven of them under the central government's policy to develop the technology through widespread testing.
Except for Chongqing and Wuhan, human drivers are present in the car to ensure safety. Baidu said in August it has become "the world's largest autonomous ride-hailing service provider," with Apollo Go completing 287,000 rides in the second quarter of 2022 and accumulating 1 million rides on July 20.
Earlier in October, participants of a press tour to Baidu's Apollo Park test base in a suburban area of Beijing took a demonstration ride in a robotaxi on a public road.
The ride featuring an AI-powered self-driving system had a human staff member next to the driver's seat in case of an emergency.
Running at a maximum speed of around 50 kilometers per hour, the ride was smooth without any sudden movements and a monitor in the car showed real-time data of nearby vehicles, motorcycles and pedestrians collected by sensors and radars within the robotaxi.
Wei Dong, vice president and chief safety operation officer of Baidu intelligent driving group, told reporters the company aims to introduce a completely unmanned autonomous driving experience to customers in Beijing later this year or early next year.
He said the autonomous driving business is currently not profitable but the firm is in "no rush to break even." The collection of fees is aimed at improving service quality and preparing for future commercialization based on real user experience and real scenarios.
A Baidu official said theoretically, robotaxi fares would be lower than similar services offered by human drivers over the long term as personnel costs can be reduced.
In the United States, tech firms such as Cruise LLC, a unit of General Motors Co., and Waymo LLC under Google LLC's parent company Alphabet Inc., offer similar robotaxi services.
In March 2021, Japan's Honda Motor Co. put on sale the world's first vehicle equipped with "level-3" autonomous technology that allows the driver to engage in different tasks such as reading and watching TV when the car is in certain conditions such as congested traffic on expressways.