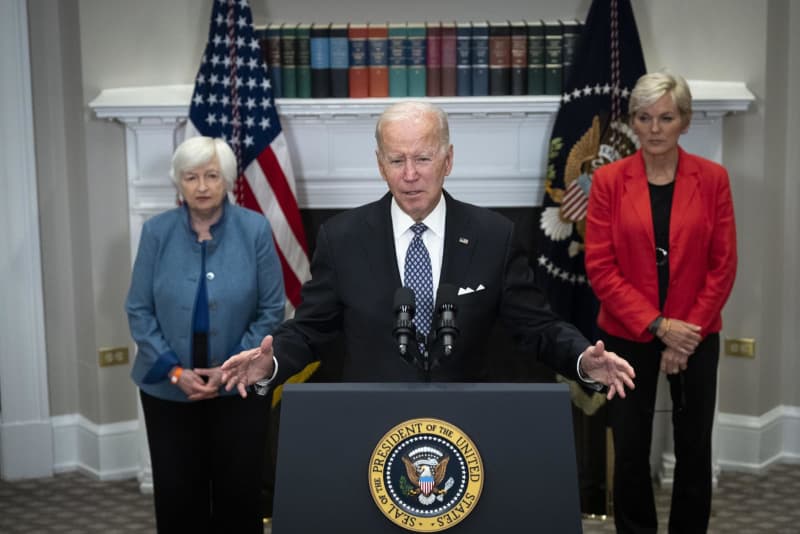 U.S. President Joe Biden on Tuesday sought to galvanize Democratic voters by painting a bleak picture of the country under a Republican majority in Congress on issues ranging from the economy, democracy to abortion rights, as prospects dim for his party a week ahead of the midterm elections.
"This election is not a referendum. It's a choice. It's a choice between two vastly different visions for America," Biden said during a political event in Florida, the state where still-influential former Republican President Donald Trump resides.
The midterm elections usually serve as a referendum on the incumbent leader, typically leading the party of the president to lose seats in the House of Representatives. The Democratic Party is facing an uphill battle to defy that historical trend amid high inflation and Biden's waning popularity.
Election forecaster FiveThirtyEight projects Republicans have roughly a four-in-five chance of winning back the House. The Senate is considered a toss-up, but chances that the Democratic Party will hold the chamber have been declining over the past weeks.
Losing control of one or both houses of Congress would be a setback to Biden as it would allow the Republicans to throw up roadblocks to his legislative agenda during the remaining two years of his presidential term. The outcome will also affect the prospects of the 79-year-old Biden seeking re-election in 2024.
Attending a series of events in the southern state of Florida, Biden touted his economic achievements since he took office in January last year, such as the enactment of a law that paves the way for what he calls a "once-in-a-generation" infrastructure investment, such as roads, bridges and high-speed internet access.
The Democrats will protect social security and healthcare programs that have benefited the elderly whereas Republicans will try to take them away, Biden said, while vowing to pass a federal law guaranteeing abortion rights if the Democratic Party holds both majorities.
He also warned that democracy is at stake in upcoming elections, noting that Republicans on the ballots include many so-called election deniers who side with Trump's groundless claim that the results of the 2020 presidential election are fraudulent.
In the midterm elections to be held on Tuesday, all 435 seats in the House and about one-third of the 100 seats in the Senate are on the ballot. Races to elect 36 governors as well as mayoral contests and battles for state legislative seats also take place.
Democratic optimism that they may be able to retain control of the House grew at one point, following a strong backlash to a conservative-leaning Supreme Court decision in June to repeal abortion rights, an ease in gasoline prices and a slight uptick in Biden's approval ratings.
But momentum seems to have fizzled as the elections have approached, and instead prospects of a "red wave" have re-emerged that may lead Republicans to sweep control of both chambers.