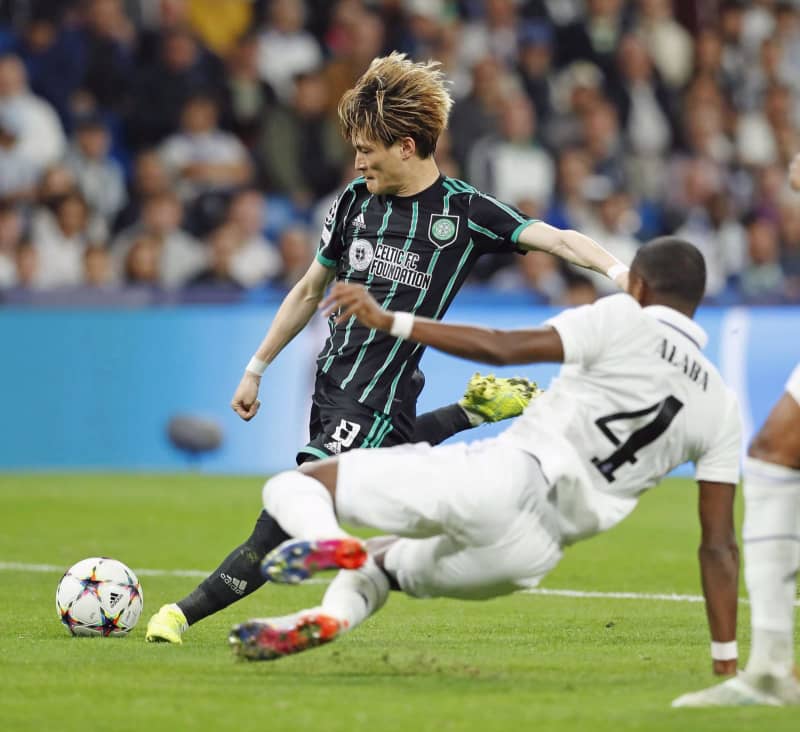 Little more than a day after his shock omission from Japan's 26-man World Cup squad, Kyogo Furuhashi was back to business for Celtic in the Champions League on Wednesday.
While the 27-year-old forward was focused on his team's heavy 5-1 loss to defending champions Real Madrid at the Bernabeu, questions after the match naturally turned to one of the biggest surprises of Tuesday's Samurai Blue squad announcement.
Japan manager Hajime Moriyasu was widely expected to take one of the Scottish Premiership's most prolific scorers to the Nov. 20 to Dec. 18 World Cup, but fellow attacker Daizen Maeda was the only member of Celtic's Japanese contingent to get the call.
Furuhashi said he felt "nothing special" going into his first match since learning he would not be on the plane to Qatar and had avoided dwelling on the announcement.
"Like always, my mind was on the things I could do to help the team," said Furuhashi. "I wasn't especially thinking about anything, just that each game is one game, and it's important to stay focused on what's in front of you."
The former Vissel Kobe star, who has become a Celtic fan favorite since arriving at Parkhead last summer, said he had not discussed the squad announcement with Maeda, other than to briefly congratulate his teammate.
"Well, I only just saw him before the game, so I said, 'Congratulations," and he said, 'Thank you very much,' and that was about it," Furuhashi said.
Asked what more he needed to do to earn national selection after scoring consistently for his club, Furuhashi said he would simply try to continue improving as a player.
"I think all I can do is develop more and get my preparations right," he said.
Tuesday's announcement was a far happier event for first-time World Cup selection Maeda, who got the good news from his wife around 5 a.m. local time in Scotland.
"I was sleeping, but my wife set the alarm to find out," he said. "I was woken by the alarm and saw my wife with a big smile on her face."
Maeda said he feels a duty to do his best in Qatar on behalf of Furuhashi and fellow Celtic standout Reo Hatate, who also missed selection after being on the fringe of the Samurai Blue squad.
"I feel it especially with Kyogo and Reo because they are my teammates," Maeda said. "There are other people as well, but I feel like I have to represent them when I play, and I want to give my all."
Wednesday's one-sided result in Madrid concluded Celtic's Champions League campaign, in which they finished bottom of Group F with their lowest-ever group-stage total of two points from six matches.
Home and away losses to Real Madrid underlined the gulf in quality between the respective champions of Spain and Scotland, but Furuhashi said it had been a valuable experience, echoing the sentiments of Celtic boss Ange Postecoglou.
"We were unlucky to give away two penalties for the first goals, and our opponents defended really well, but we also had our chances," Furuhashi said.