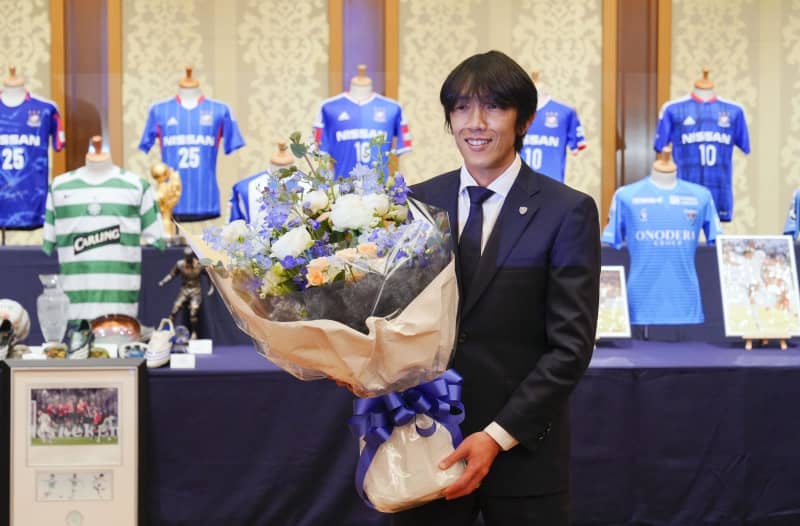 Former Japan and Celtic star midfielder Shunsuke Nakamura said Thursday he hangs up his boots feeling refreshed in the belief he did all he could in a 26-year professional career.
A member of Japan's 2006 and 2010 World Cup squads, Nakamura looked back on that experience during his retirement press conference in Yokohama, just 10 days before the year's tournament starts in Qatar.
"I finished without producing a result, but learning what I lacked there allowed me to adjust my goals," the 44-year-old said. "In that way I was able to raise my game a little bit after each World Cup."
Nakamura played his final game on Oct. 23 in Kumamoto, where his Yokohama FC defeated Roasso Kumamoto 4-3. Yokohama FC have earned promotion to the J-League first division for next season.
Soccer is "everything and my purpose in life," said Nakamura, who aims to pursue a coaching job in the future.
"I have to learn various things. I'll try to give back (to soccer) by doing what my coaches have done for me."
Asked what his most unforgettable match was, Nakamura cited the Kashiwa Reysol-Yokohama F Marinos match of Aug. 6, 2011, played two days after his former Marinos and Japan teammate Naoki Matsuda died at age 34.
"That was the only match I played in such a sad situation," Nakamura said. "It felt like my feet were off the ground. I just played, thinking we had to go on."
Nakamura played 98 games for Japan, scoring 24 goals. He also had stints in Europe with Italy's Reggina, Scotland's Celtic, where he was a fan favorite, and Spain's Espanyol.