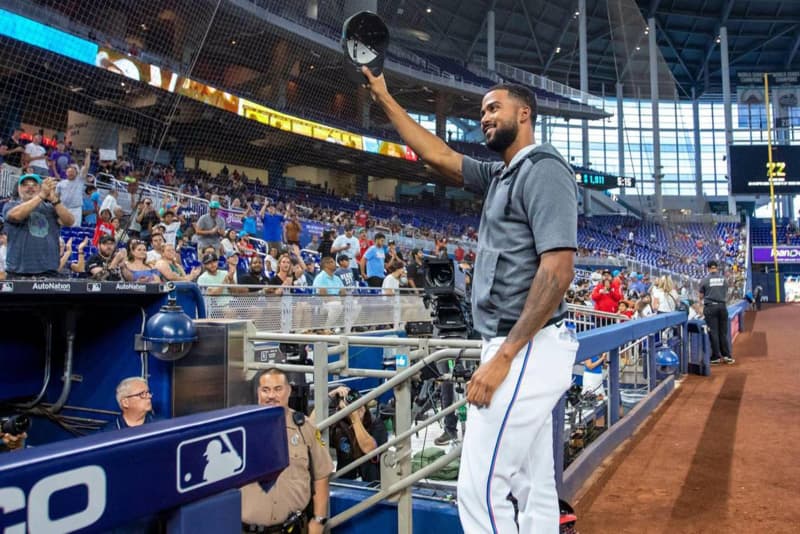 MIAMI — Sandy Alcantara on Monday watched his remarkable 2022 season flash before his eyes. Sitting in the front row of the Rooftop Cinema Club South Beach, the Miami Marlins' ace watched as a nearly 22-minute documentary created by the team encapsulated all that he did in his breakout year — from his arrival in spring training, to paying homage to his late mother and brother, to walking off the mound after his MLB-leading sixth complete game to wrap up the season.
The 27-year-old, flamethrowing, 6-5 right-handed pitcher did it all for the Marlins. He blended an old-school mentality to finish every game he started with the new-school arsenal that turned him into one of baseball's best in 2022.
He now officially has the hardware to show for it.
Alcantara on Wednesday won the National League Cy Young Award in unanimous fashion, beating out the Los Angeles Dodgers' Julio Urias and Atlanta Braves' Max Fried for the honor. He is the 15th unanimous winner in National League Cy Young Award history and the first since the Dodgers' Clayton Kershaw in 2014. Justin Verlander won the 2022 American League Cy Young Award, also in unanimous fashion.
"I made it," an emotional Alcantara said as he celebrated with family and teammates.
He is the first Marlins player to win the award in the franchise's 30-year history. The Marlins only had three previous finalists prior to Alcantara. Dontrelle Willis finished as runner-up to the St. Louis Cardinals' Chris Carpenter in 2005 and Kevin Brown was second to John Smoltz in 1996. Jose Fernandez was third in 2013.
It's a milestone for the player and for the organization.
But as his teammates and coaches attest, it's also just a step toward what Alcantara can truly become.
"There's a lot more to come from him," shortstop Miguel Rojas said. "I know it's going to be special."
Explaining Alcantara's dominance
There is an understanding in the Marlins' dugout on how to interact with Alcantara on days he starts.
In simplest terms: You don't.
"You clap," fellow starting pitcher Pablo Lopez said. "You look pretty when he walks by you. You don't talk to Sandy. You don't mess with Sandy. ... When he's done, you can approach him and give him the fist bump and tell him how great he did."
They had the chance to tell Alcantara how great he did often this season.
Alcantara led MLB in innings pitched (228 2/3) and complete games (six) and worked at least eight innings in 14 of his starts — the most by any MLB pitcher since 2014. Alcantara's 2.28 ERA was the second-lowest in Marlins' history (behind Brown's 1.89 in 1996) and in the National League in 2022 (behind Urias' 2.16). He held opponents to two earned runs or fewer in 25 of his 32 starts.
He went on a run of 13 consecutive starts with at least seven innings pitched heading into the All-Star Break and gave up no more than two earned runs in 12 of those outings. Eight of those 13 games came against teams that made the postseason — three against the Mets, two against the Braves, two against the Phillies and one against the Cardinals.
(For comparison, Urias pitched through the seventh inning just four times all season and never pitched the eighth; Fried pitched through the seventh nine times and pitched into the eighth just twice.)
Three of his six complete games also came against playoff teams: The Braves (May 22), Cardinals (June 29) and Dodgers (Aug. 27).
Alcantara is also the first pitcher in Marlins franchise history to have multiple 200-inning, 200-strikeout seasons and the first in MLB to hit those marks in consecutive seasons since Verlander, Gerrit Cole and Jacob deGrom all did so in 2018 and 2019.
"Every fifth or sixth day you think you could be watching history," Marlins general manager Kim Ng said in September. "That's just how good he is."
His success is derived from his ability to maximize every pitch he throws.
Alcantara almost evenly threw all four of his main pitches in his arsenal this season, with no pitch being used more than 30 percent of the time. His changeup, thrown 27.7 percent of the time, was his best offering, holding opponents to a .145 batting average against and resulting in 78 of his 207 strikeouts. Both of his fastballs — a four-seam thrown primarily up in the zone and against left-handed hitters, as well as a sinker thrown down in the zone and primarily against right-handed hitters — both hit triple digits. His slider, which averages 90 mph, rounds out his repertoire.
"He's always had the weapons to get through the lineup three times," pitching coach Mel Stottlemyre Jr. said. "It's just being able to get there by getting in the zone early. The other impressive side is watching him find another gear. This is the first year he's done it."
The evolution of Alcantara
The Marlins always hoped this version of Alcantara would arrive at some point.
But early on, there was no guarantee.
Miami acquired Alcantara (along with pitchers Zac Gallen and Daniel Castano as well as outfielder Magneuris Sierra) from the St. Louis Cardinals as the headliner of the Marcell Ozuna trade in December 2017. He immediately became one of the club's top prospects, but Alcantara's MLB Pipeline scouting report noted that his "control and command both leave much to be desired."
"We felt that there was so much projection to him. We felt that the delivery was repeatable enough [and] there was enough athleticism there," Marlins assistant general manager Brian Chattin, the highest ranking member of Miami's front office from when the trade was made and still with the organization, said in June. "Certainly wasn't a finished product at the time that we were pursuing him, but we felt like there was potential there to be a top-rotation-type pitcher."
But Alcantara's passion and end goal were still made apparent early.
"As soon as he got here," Rojas said, "he wanted to be the guy. He wanted to get better every year."
He worked his way to this point. He was called up late in 2018, his first season with the club, and never looked back.
He was an All-Star in 2019 and has been Miami's opening day starter each of the past three seasons, a feat only accomplished previously in Marlins history by Josh Beckett and Josh Johnson.
And once he became the guy, he made sure to pass along his knowledge to the rest of his teammates. His bullpen sessions are must-watch events for the rest of the pitching staff. He has taken younger pitchers — namely Sixto Sanchez, Edward Cabrera and, now, Eury Perez — under his wing. Perez, Miami's top prospect and the No. 9 prospect in all of baseball, is working out with Alcantara in South Florida this offseason.
"We've kind of begged for that leadership, for somebody to step up and be that guy," Stottlemyre said. "From this day moving forward, anybody that comes up, they know and they certainly have watched Sandy. And then if they really take a step back and watch his work and everything that he puts into his trade, they'll learn something from that."
Alcantara himself is still learning. His 2022 season was a success by all measures, but Alcantara and his teammates understand there's still more to come with their ace.
"He's never satisfied," Lopez said. "He keeps raising the bar because he knows how good he is. He knows what to expect and he knows how to get there.
"This is just going to be the first. There's going to be so much more hardware to come."