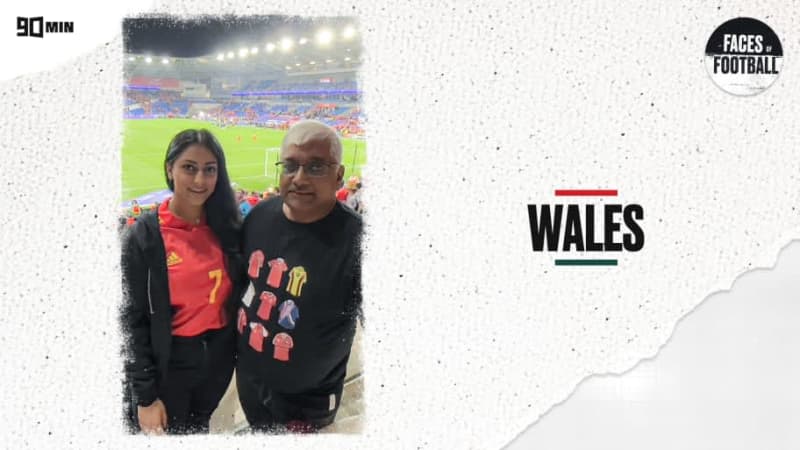 By 90min
Annwyl Cymru,
My name is Roopa, and I am a 25-year-old passionate member of The Red Wall gearing up for my first ever World Cup experience.
It still hasn't quite sunk in that we have made it. Led by our hero from the Rhondda, Rob Page has got little old Wales on the big stage for all the world to see. I don't know how you're all feeling, but I've been on a high since the play-off final in June.
64 years our nation has waited for this moment to come again. An entire lifetime for me and so many others. The feeling is indescribable. I am sure the feeling in the dressing room is the same as we're all the same when it comes to pride for our country. Our Cymru.
I grew up being told Wales were no good at football and that rugby is our national sport. As a football fan, I took personal offence to that. Oh, how that has changed. With the legacy of the late Gary Speed, you made it to the Euros in 2016, a tournament I will never forget.
I wasn't fortunate enough to make it over to France, but the atmosphere and buzz back home was truly something to behold. Cymru succeeded beyond everyone's beliefs in that tournament - including my own - the Welsh way and there is no saying that cannot happen again. You have all played a part in bringing Welsh football to the forefront of our country and making football the number one sport in Wales.
I would like to thank you all for this. There were many who came before you who played a vital role in this journey, but the connection now between the national team and The Red Wall is truly incredible. As a football fan, I have often felt a disconnect between players and fans, but when it comes to Wales, we are one and we are Together Stronger.
The heroes in the spotlight including Gareth Bale, and Caerphilly's finest Aaron Ramsey, all deserve their plaudits but each and every one of you deserves the same. Not only will this tournament benefit the sport across our nation, but it will also benefit our nation as a whole. We are used to being the underdogs in a range of scenarios, especially in sport, but that works in our favour. The humble approach has worked for us thus far and I hope that remains instilled in our squad.
Our group for the World Cup doesn't look daunting at all, I feel optimistic about our chances but as people did with Wales in previous tournaments, I know not to write teams off too soon. As a nation, the expectation is to get out of the group. My main expectation is to show our neighbours (England) what we're really made of - it's the only favour I will ask!
Anything more than that will be a bonus and you will get a hero's welcome home regardless - but please bring the trophy with you! I am almost certain we'll have to have a national month of celebration if it did happen.
As for my World Cup plans, there is so much going on around Wales I am spoiled for choice! I will be watching the first two group games with fellow members of The Red Wall in Cardiff until I pack my bags and join you in Doha for the England game. I am so grateful to be sharing this experience with my brother as we support rival domestic clubs, but we get to come together to share moments like this and celebrate being Welsh.
For those of you for whom this will be 'The Last Dance', this is your chance to build on the legacy that you have created - the Spirit of '22. We are lucky to have so much young talent in our tiny nation and we've already seen a few rising stars show their worth, including Brennan Johnson, Neco Williams and Harry Wilson. I am sure Rob has plenty to think about ahead of selecting the squad who makes it onto the plane to Doha, but it goes without saying that all of you are instrumental to the success of our national team whether it's on the pitch with assists or insane curved free-kicks, or off the pitch with motivation and driving each other forward.
Yma O Hyd. Still here. The anthem that has solidified the connection between the Football Association of Wales and The Red Wall and has carried us through qualifier matches and play-offs to this climatic point. We are now so close to that first kick where the eyes of the world will be on Wales. Some might only hear of our existence for the first time, so let's show the world what the Welsh are about.
Pob lwc to the entire team and coaching staff and congratulations to you all on this incredible achievement. Fe godwn ni eto.
Roopa Vyas
This article was originally published on 90min.com as Faces of Football: Wales - a letter to the national team.