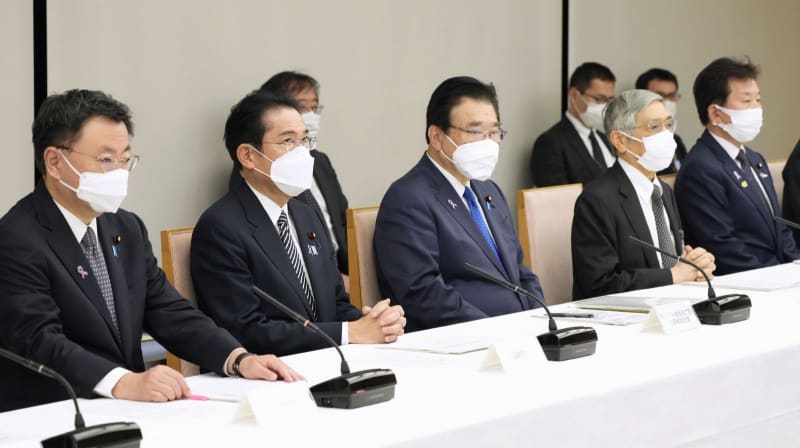 Japan on Thursday maintained its view that the economy is recovering moderately, as solid pent-up demand for services following the lifting of COVID-19 curbs continued to support private consumption despite accelerating inflation.
The Cabinet Office retained the assessment for the fifth straight month in its economic report for November, while continuing to warn of volatility in financial markets following the yen's sharp decline relative to the U.S. dollar.
Its assessments on all but one component of the economy, ranging from exports to corporate spending, were retained. Public investment was the exception, which saw a downgrade.
"The Japanese economy is picking up moderately," the Cabinet Office said in the latest report. "Full attention should be given to price increases, supply-side constraints and fluctuations in the financial and capital markets."
Consumers in Japan stepped up spending on services, dining out more and taking trips with no anti-virus restrictions in place. The pickup in demand was apparently supported by the government's domestic travel discount program that began in October to rejuvenate the struggling tourism sector.
In recent weeks, Japan has seen coronavirus cases surging, with medical experts saying the nation has entered its "eighth wave" of COVID-19 ahead of winter.
The monthly report comes amid growing concern that aggressive interest rate hikes by major central banks to tamp down soaring inflation would slow global economic growth. The U.S. Federal Reserve is in a rate-hike cycle, while the Bank of Japan remains committed to its ultralow rate policy.
The government said exports are "almost flat." Among key elements of domestic demand, business investment is "picking up," while private consumption, which makes up more than half of the economy, is recovering "moderately."
Slowing exports would be negative for Japan while higher consumer prices are already weighing on consumer sentiment.
Driven by higher energy, raw material and food prices, and the yen's rapid depreciation that has raised their import costs, inflation in Japan has been accelerating in recent months and marked a 40-year high in October. The report said prices are "rising."
The world's third-largest economy contracted by an annualized real 1.2 percent in the three months to September as imports surged and private consumption lacked vigor. After the unexpected shrinkage, economists expect positive growth in the current quarter to December.
The government has drawn up a comprehensive economic package to ease the pain on households and businesses from higher prices and support the still fragile economic recovery. It is seeking to enact a roughly 29 trillion yen ($209 billion) extra budget for the current fiscal year to fund the package.