By Brian Straus
The belittlement, Eurosnobbery and condescension remain a fixture for press and fans, but in the industry itself, there's an acknowledgement of growth and belonging.
Before there was Ted Lasso, the calm, compassionate and unassuming American coach who knew next to nothing about proper football, there was Brad Bobley, the loud, arrogant and abusive American coach who knew next to nothing about proper football.
A key difference, besides their personalities, is that Apple's Lasso is entirely fictional. Bobley, a creation of Sky Sports ironically named Soccer AM show, was a brutal spoof of a real guy.
Bob Bradley, the real guy, had been a professional coach for two decades when he arrived in the English Premier League in 2016. Now at Toronto FC, he'd managed teams in four countries on three continents, took the U.S. to the second round of the '10 World Cup and almost qualified with Egypt four years later. But at Swansea City, Bradley made the unforgivable mistake of using terminology like "road game" and "PK," and, when results for the fading club didn't improve, he received zero benefit of the doubt. He lasted 11 games.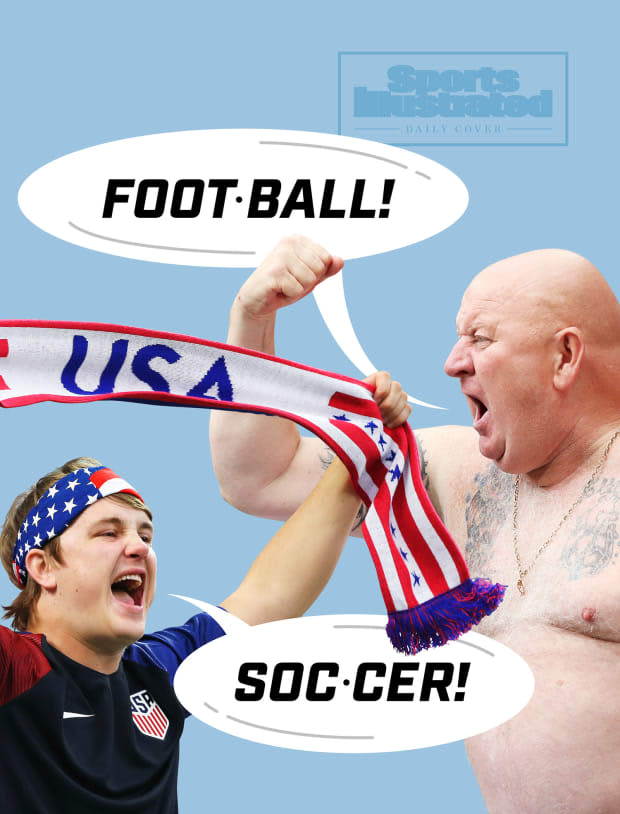 Bradley is a genuine Jersey boy. He's curt and confident. But Soccer AM's Bobley, who was portrayed by a jittery actor wearing a bald cap (Bradley goes hairless), was a maniac. Bobley forced his men to do ridiculous calisthenics, hit one repeatedly in the face with a clipboard, insulted everybody and constantly mispronounced names. He called a free kick wall a "vertical defensemen barricade."
It was so over the top, even Wayne Rooney cringed. After retiring in early 2021, England and Manchester United's all-time leading scorer immediately went into coaching, first with second-tier Derby County and then with his old MLS club, D.C. United. When asked about English attitudes toward American soccer, Rooney references Bobley unprompted.
"They used to do a sketch on him. It's banter, I suppose, but I think that probably went a bit too far," Rooney says, later calling it "prejudice."
If Rooney felt the need to defend Bradley, it might have been because of that 2010 World Cup. The U.S. and England were grouped together in South Africa as part of a quartet that also included Algeria and Slovenia. The Sun, a British tabloid, produced a famous front page following the draw that read:
England
Algeria
Slovenia
Yanks
During the pre-match press conference in Rustenburg, the U.S. wasn't mentioned during England coach Fabio Capello's turn at the dais. He referenced none of the American players or coaches. And nobody asked. That World Cup opener ended in a 1–1 tie. After falling behind early, Bradley's U.S. pulled even on a long-range goal by Clint Dempsey, and the Americans wound up winning the group. England, then forced to play powerhouse Germany in the round of 16, was thumped, 4–1, and sent home.
Dempsey, the National Soccer Hall of Famer who's here in Qatar doing TV for Fox, says the perceived lack of respect for the U.S. and for individual Americans playing abroad—he was at Fulham at the time—was a motivator.
"I had an English coach at the time. I had to earn my way breaking into the team—Roy Hodgson was there. I felt like when other players got injured that were in the starting 11, when they got fit they came back and they got put into the team. I didn't feel like that was always the case for me," says Dempsey, who led Fulham in Premier League goals during four of his five full seasons at Craven Cottage.
"I could hear the rumbling and read the papers of what they were saying, how they thought it was going to be an easy group and how they were going to beat us. I used that as fuel to go into that game and leave a mark, and I felt like we did," he adds.
It's not clear how much the British press has learned. The day after the draw for the 2022 World Cup, which set up a rematch between the U.S. (0-0-1) and England (1-0-0) on Friday in Al Khor, the Three Lions were once again anointed relative to their rivals. By the way, Group B, which also features Wales (0-1-1) and Iran (1-1-0), is the only one at this World Cup with four teams ranked in FIFA's top 20. On paper, it's the toughest in the tournament.
The draw was called a "dream" by The Sun, Daily Mail and The Daily Telegraph. Daily Express wrote, "England were given a clear run through to the quarterfinals," while the Daily Mirror shouted in all caps, "YANKEE DODDLE DANDY," with "doddle" slang for "easy job."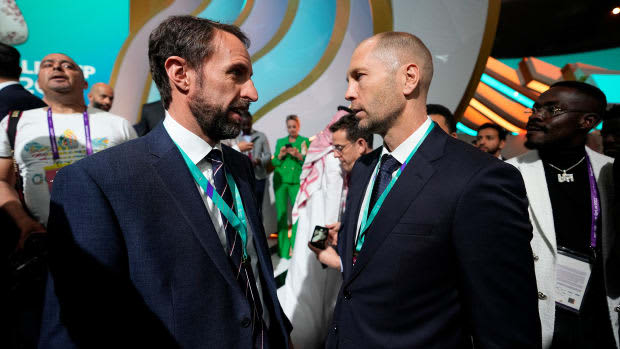 No British journalists asked England coach Gareth Southgate a question about his next opponent at Thursday's pre-match press conference in Al Rayyan. But a couple of Americans did, and Southgate's eloquent answer to a question about England's perception of U.S. soccer was evidence that opinions seem to be evolving inside the sport faster than among the press or public.
"Have we ever beaten the States in a major tournament? No, I didn't think so," Southgate said, referring to the 2010 draw and the famous 1–0 loss at the 1950 World Cup in Brazil.
"We're good at that: talking highly of ourselves as a nation and on the basis of very little evidence. So what we've got to do is perform on the field. And we know that we'll play a highly motivated team, perhaps even more motivated because of some of those types of headlines," he continued. "But we've got huge respect for our opponent. We know a lot of the players from our league, and we know the quality that they have and the athleticism that they have. So we've got to be at our best."
Southgate's England squad is excellent—ranked fifth in the world, coming off Monday's 6–2 rout of Iran, loaded with top-tier attacking talent and apparently free from the tension, stage fright and internal division that seemed to bedevil the underachieving teams of Dempsey's era. The Three Lions finished fourth at the 2018 World Cup and second at last summer's Euro. They're a contender in Qatar.
"His record at major tournaments has been outstanding, and there's no denying that," U.S. coach Gregg Berhalter said when asked about Southgate, who's a friend. "So he's done a great job with his team, and they got off to a great start [here]. And they're a formidable opponent."
But this U.S. squad is different, too. These aren't bumbling Brad Bobley's Soccer Camp alumni who were out of their depth the minute they stepped off the plane in Doha. Fueled by increased exposure to the sport throughout the U.S., the professionalization of youth development that began in MLS academies about 15 years ago and the increasing realization among European clubs that young American men are capable, coachable and cost-effective, Berhalter's team has the sort of pedigree and ceiling that hasn't been seen before.
That exposure often came with an English accent—NBC just paid $2.7 billion to extend its Premier League contract—and the popularity, big names and perceived authenticity of the product prompted Premier League dreams among many U.S. players. There's no stage like it.
"I think in America, you see a lot of young players tuning into a lot of the Premier League games now in the mornings. They're easy to tune into," U.S. captain and Leeds United midfielder Tyler Adams said Thursday. "You saw a lot of quality players on the pitch at the same time, no matter which teams were playing in the Premier League. So for me, it was always a dream of mine. I remember telling my mom at a young age that I wanted to play in England."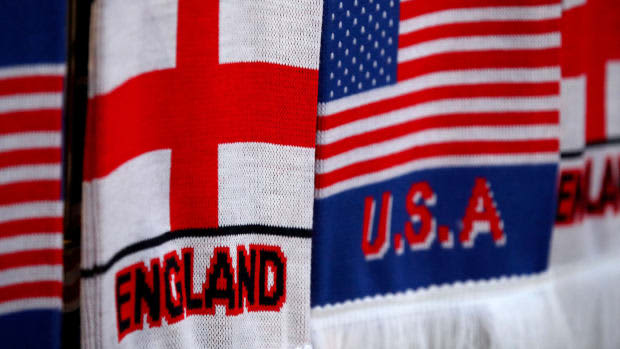 The Premier League is the planet's most widely consumed domestic competition and has become an economic powerhouse (its transfer spend last summer equaled that of Europe's other Big Five leagues in France, Germany, Italy and Spain combined). And the burgeoning U.S. development pathway helped forge athletes who could compete there. Among the 17 members of Berhalter's team who play for European clubs, six are in the Premier League and two play in the second-tier Championship.
Christian Pulisic helped Chelsea win the UEFA Champions League and Club World Cup. Tim Ream and Antonee Robinson are defensive anchors for Fulham, and Adams and Brenden Aaronson have quickly become fan favorites at Leeds, which is coached by American Jesse Marsch. Goalkeeper Matt Turner just joined Arsenal this summer. Striker Josh Sargent stayed with Norwich City after last season's relegation, and backup goalkeeper Ethan Horvath is at Luton Town, which sits just one point out of the Championship's promotion playoff places.
"I don't know where that sort of came [from]. It seems like something that's just been perpetuated for a long time," said Robinson, who acquired U.S. citizenship through his father, of the traditional British bias against American soccer.
"There's not a lot of exposure, or there wasn't quite a few years ago, to American people in football over in England," he continued when addressing the issue in June. "It's just inexperience and [a lack of] exposure to those kinds of people just makes you think that they don't know the game. But the game's been growing in the States, and it's bled over to Europe, and we're starting to put our foot in it."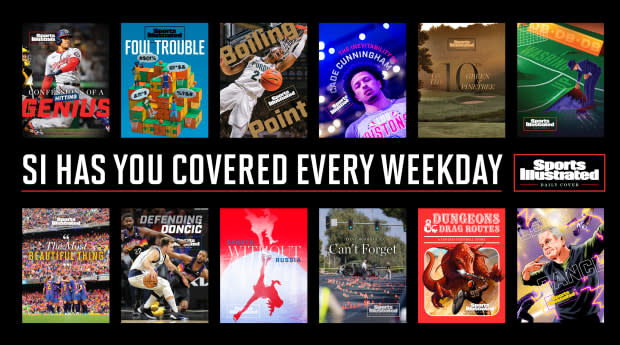 Victor Orta, a Spaniard, has been Leeds' director of football since 2017. It's a club with significant tradition, passionate fans and deep roots in Yorkshire and English soccer history—a three-time national champion and European Cup finalist in 1975. Leeds was finally promoted back to the Premier League in 2020 after 16 seasons adrift. Orta is now depending on Marsch, Adams and Aaronson to help keep it there.
"I think it's clear that there's a growing respect," Orta says. "I feel the English fan has detected that there's a generation growing of really talented footballers in America. Even the opinion of MLS is growing. Now Sky has the TV rights of MLS."
There had been a U.S. presence in English football business for a long time. Manchester United, Liverpool, Arsenal, Fulham and now Chelsea are among the clubs owned by Americans. The San Francisco 49ers are investors in Leeds. But an acknowledgement that Americans can know and play the game at the highest level has been much harder to achieve. Orta knew there would be skepticism in February when he hired Marsch, who had been coaching in the Red Bull system (New York, Salzburg and Leipzig) since 2015.
"It doesn't matter to me. I believe in my experience," says Orta, whose longest stop as an executive was at Spanish power Sevilla. "I've worked with a lot of really good coaches, and I think that the knowledge of tactics of Jesse Marsch is at this level, and it was really clear from the start how he has an idea of football that's really modern, really trending."
Orta says that he appreciates the "American point of view," which leans heavily into psychology, team-building and data analysis. But he acknowledged that Marsch "has to prove himself double" because of his nationality.
At his first Leeds press conference in March, Marsch opted to get the first tackle in. Orta called it a "really clever" tactic.
"I think there's probably a stigma. I'm not sure Ted Lasso helped. I haven't watched the show, but I get it. I get it. People hate hearing the word 'soccer,'" Marsch told reporters.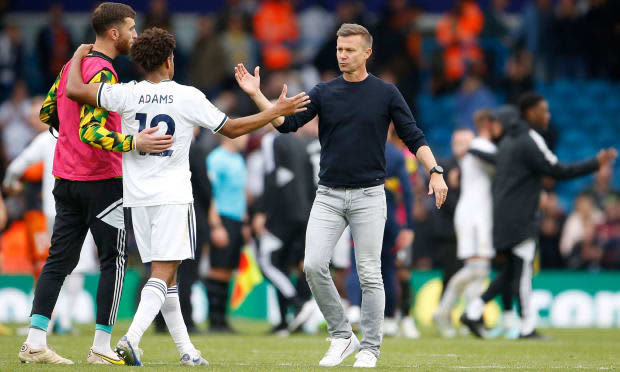 "More and more in the States, we're adopting to what the game here is in England and our connection with what this league and what the culture of the sport is in this country," he continued. "I can understand that they don't think that we have the experiences that can be created here in Europe. Frankly, they're right. It was the reason I came to Europe."
Marsch was mocked for a postgame, on-field player huddle early on, but his players seem to have bought in and most of the public or press criticism now is based on results. (Leeds entered the World Cup break at 4-7-3 and in 15th place.) There seems to be slightly more comfort with the idea of an American coach. The Premier League is English, but it's also global. Top teams can field starting lineups that are entirely foreign. An English manager hasn't won a top-flight title since Howard Wilkinson led Leeds, of all teams, to the crown in 1992. The U.S. isn't considered a top-tier football nation. Many might think that it's still all Lassos and Bobleys. But it's one of several now contributing tangibly to a cosmopolitan, multinational Premier League culture. On the soccer side, in addition to Marsch, former D.C. United and Real Salt Lake technical director Dane Murphy is the CEO at Nottingham Forest. Several other executives, like former Atlanta United president Darren Eales (who's now at Newcastle United), moved to England after spending significant time in MLS.
"One thing I've found is that as the players have gotten better in Europe," Murphy told MLS's website last year, "Americans or Canadians coming in and making an impact, there's now less of the 'Bob Bradley says 'PKs.' He uses the wrong verbiage,' and 'Dane has a funny accent and talks about other American sports.' There's less of that now because as the players do well, and as Jesse Marsch does well, then, 'Oh, O.K., Americans know what they're talking about.' Very funny how that works."
Aaronson, who's already got a song about him that's belted out by Leeds fans at Elland Road, says, "I don't feel like I've ever been treated a different way as a player. Maybe go back 10, 15, 20 years, when some of the guys went over there for the first time like [U.S. men's GM] Brian [McBride] or these guys, I feel like maybe it's changed.
"But as a player I feel like we've gained our respect over time and I think that's awesome to see," he adds. "As a coach, Jesse's really the first one there, so sometimes it can be a little condescending. [But] I think he's done a fantastic job."
Americans are willing to work hard for that elusive but gradually increasing acceptance, even if it means adopting the vernacular. Adams joked Thursday about his refusal to embrace a Yorkshire accent or even try local food, but he still said "pitch" instead of "field." The power of English soccer culture is unstoppable. A lot of MLS clubs sound English (there are three Uniteds, two Citys and seven FCs), and the USL named its men's leagues after the tiers just under the Premier League: Championship, League One and League Two. That marriage of English authenticity and American ambition appears to be the key to U.S. success on both sides of the Atlantic.
"I think there's always going to be people that are deeply connected to the global game in the top five soccer countries that are going to look down on what's happening here in America," MLS commissioner Don Garber says. "When you take a step back and see how far our league has come, how our national teams—men and women—have developed, how our commercial market has become the most valuable soccer commercial market in the world, I think you're gonna see a shift in that perception. Of that I have no doubt."
Rooney says, "Whether that's players or journalists who are stuck at home or in their offices, until they come [to the U.S.] and actually experience it, I'm sure they'll change their opinions when they do."
The U.S. wants respect and validation from England. It's the motherland in more ways than one, and the bonds between the countries and national teams run deep. In addition to the aforementioned U.S. players now working in England, Gio Reyna and Cameron Carter-Vickers were born there. Yunus Musah spent much of his childhood there and came up through Arsenal's academy. Luca de la Torre, from San Diego, played at Fulham's academy. DeAndre Yedlin played at Newcastle, Sunderland and Tottenham. Assistant coaches Anthony Hudson and Aaron Hyde have English roots. Berhalter spent a season playing at London's Crystal Palace, whose stadium, Selhurst Park, doubles as the home ground in Ted Lasso.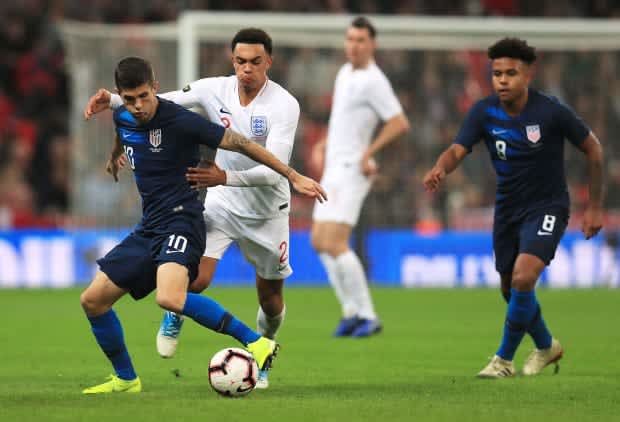 England is almost family, even if it's the condescending older brother. So naturally, this young American team desperately wants to beat them. That's the quickest and most effective way to make a statement. Friday's game is vital. The draw with Wales left the U.S. on the brink of danger in Group B. Earning at least a point in Al Khor, and extending the streak that only Southgate seems to be aware of, would be a valuable short-term and long-term boost.
"Maybe it hasn't been the top sport or whatever back in the States. We want to change the way that the world sees us, sees American soccer to be honest, that's one of our goals," Pulisic said here last week.
"I don't think it's necessarily what they get wrong [about U.S. soccer]. I think we have to prove ourselves," he continued. "We haven't been maybe at the level of some of these world powerhouses in recent decades, but we've had good teams with a lot of heart. I think we can take it to the next step with a successful World Cup. I think that can change a lot of things."
Adams said, "England's still a big team at the end of the day. Intimidation factor? I wouldn't say there's many things out there that intimidate me other than spiders. … But we also want to show what we're capable of and that U.S. Soccer is growing and developing in the right way.
"[Friday's game] is obviously a huge opportunity to fast-track the impact that we can have," he added. "When you get a result in a game like this, people start to respect Americans a little bit more."