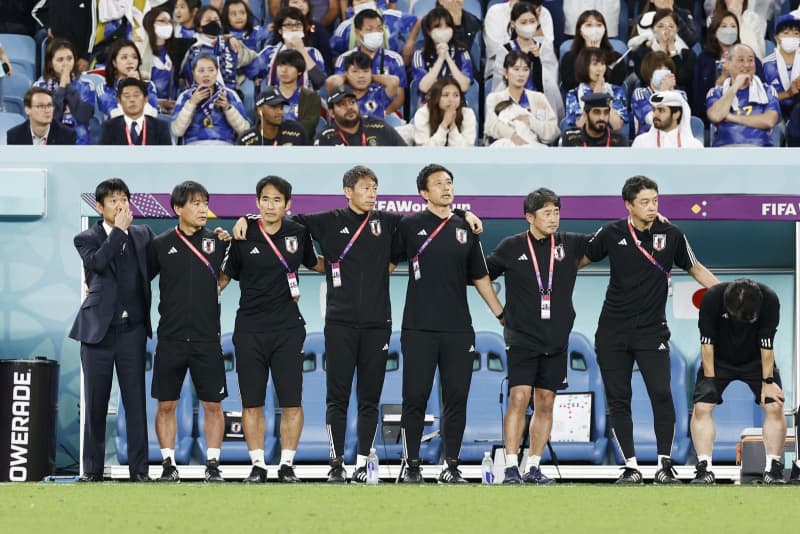 Japan manager Hajime Moriyasu said Monday he allowed his players to decide who would take penalty kicks in their shootout loss to Croatia, while praising the courage of those who stepped up.
Japan were knocked out of the World Cup in the round of 16 after Takumi Minamino, Kaoru Mitoma and captain Maya Yoshida all had penalties saved by Croatian goalkeeper Dominik Livakovic at Al Janoub Stadium near Doha.
Croatia, who advanced to the final of the 2018 tournament after surviving shootouts in both the round of 16 and quarterfinals, were cool under pressure. They slotted three of their four shots to beat Japan 3-1 in the shootout after the game had finished in a 1-1 stalemate.
Moriyasu said he did not believe the moment got to his players, instead pointing to Livakovic's heroics as the deciding factor.
"The Japanese players played 120 minutes bravely and the players who took the penalty kicks, they were also courageous," the 54-year-old said. "Of course, we wanted to win, and the result is very unfortunate, but it is what it is."
Daizen Maeda scored for Japan in the 43rd minute of the game before Ivan Perisic made it 1-1 with a header 10 minutes into the second half.
With neither team able to find a winner in 30 minutes of extra time, it was left to penalties to determine their World Cup fates.
Moriyasu could not recall what he said to his players before the shootout, but admitted he did not decide who stepped to the spot.
"Some of them were able to score the penalties and some could not, but the players still tried under such immense pressure and I would like to praise their effort," he said.
He said he told them to "keep their heads up and keep moving forward."
Speaking to the media after the loss, Wataru Endo, one of the players who did not take a penalty, confirmed Moriyasu allowed the players to determine their own fate.
"We can't blame the players who took them," he said. "The reason we lost was allowing the game to go to penalties."
Croatia manager Zlatko Dalic called Japan an "exceptionally difficult opponent" while saying he believed the Samurai Blue may have underestimated his team.
"Never do that to Croatia," he warned. "We are a small nation, but we are hard-working and diligent and we fight for what we want."
The 56-year-old said Livakovic's performance in the shootout was absolutely no surprise to him, explaining that the team practiced spot-kicks in training on Sunday.
The Dinamo Zagreb stopper's showing against his own teammates made Dalic "very confident."
"I was certain he would demonstrate that capacity today," he said.
Reflecting on the defeat, Moriyasu pointed to penalties as one of Japan's weaknesses.
"I think there is still a gap between top European teams and Japan. We still lag behind," he said.
"Croatia's goalkeeper was wonderful today (but) Japanese players also need to improve."