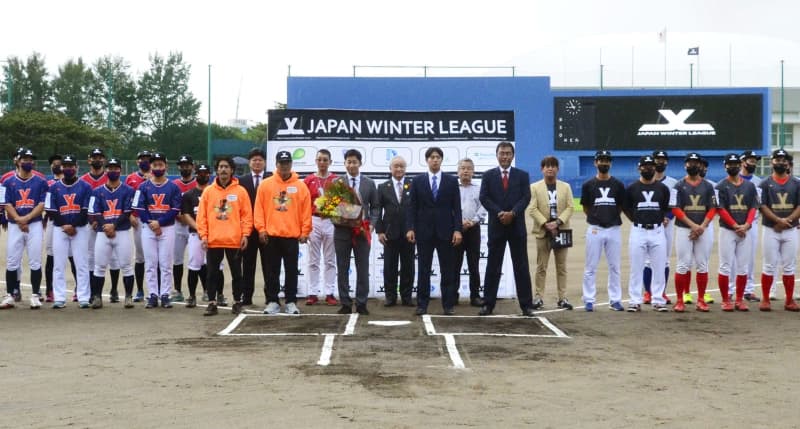 Amateur baseball players from Japan and overseas are playing real games in the warm weather of Okinawa Prefecture in December, a time when pros spend the offseason with their families and amateurs practice in the cold.
The Japan Winter League opened its inaugural one-month season on Nov. 26 at Atom Home Stadium in Ginowan, offering players from high school to corporate level, including those from Uganda and Curacao in the Dutch Caribbean, the chance to catch the eyes of professional scouts.
The league's games are played in four stadiums and can be seen on a YouTube stream. The broadcasts provide tracking data on pitch velocity, vertical and horizontal break, and batted-ball exit velocity.
Issei Washizaki, the 31-year-old head of the new league and a former Keio University baseball player, left a major clothing company to start working in May 2021 toward the launch of the league.
After graduating, Washizaki, who got few chances to play at Keio, tried winter ball in the United States.
He hopes the new league will serve as "a place for players to find their direction."
The ability to view the games online is a boon to Japan's cash-strapped independent league teams and overseas clubs as well.
"At any level, playing games is the best way to develop players," said one MLB scout who has been watching the games. "I look forward to seeing how this new league evolves."
Toyota Motor Corp., a corporate club with a strong track record for developing pros, has dispatched 24-year-old infielder Yuki Sato to the league.
"The No. 1 thing is getting this chance in such great conditions," said Sato of playing real games in subtropical Okinawa rather than logging practice hours in the cold. "I am hoping to pick up something while I'm here."
Outfielder Kodai Nakagawa took part in the league after leaving the Ishikawa Million Stars of the independent Nihonkai Ocean League. The 25-year-old aims to play in Nippon Professional Baseball or overseas.
"I just barely missed some chances in the past due to bad timing," Nakagawa said. "My only desire is to get better and better."
The JWL expects to invite pro players from Taiwan next year, while NPB has also expressed interest in sending players.
Although the new league is still small, Washizaki said he has big dreams for its future.
"I want to make this so that people will say, 'Okinawa in Japan is a gateway to baseball success,'" he said.