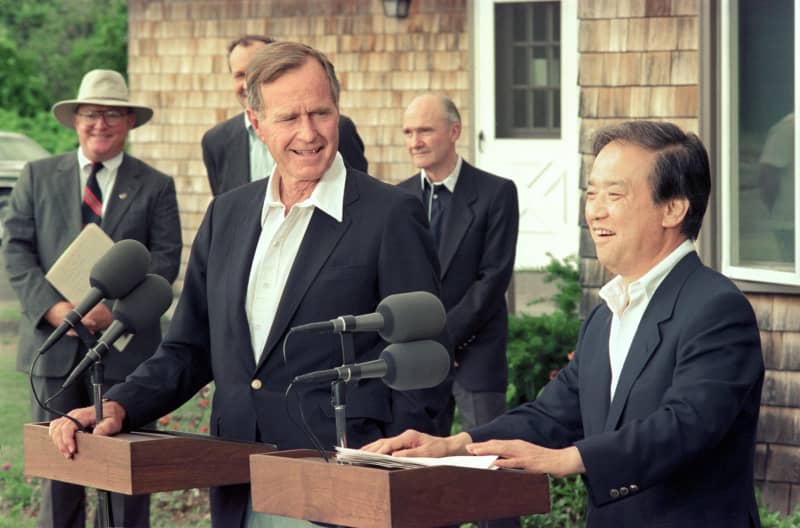 Japan did not reveal exchanges between its prime minister and the U.S. president in July 1991 on converting the Asian country's nontariff rice import barriers to tariffs, according to a Japanese diplomatic document declassified Wednesday.
Then Prime Minister Toshiki Kaifu talked with U.S. President George H.W. Bush in the United States, at a time when Japanese lawmakers backed by the farm sector opposed tariffication as it would lead to the opening of the nation's rice market.
Kaifu, whose position was fragile within the ruling Liberal Democratic Party, was apparently worried about a backlash from such lawmakers seeking to protect Japan's agricultural sector from a flood of imports.
Japan's Foreign Ministry did not report the leaders' exchanges on the matter to the farm ministry, the document shows.
After the summit, Koichiro Matsuura, who was director general of the ministry's North American Affairs Bureau at the time, told Kyodo News that he had been instructed not to divulge that Kaifu and Bush had exchanged views on the conversion of rice import barriers.
Matsuura, who did not participate in the meeting between Kaifu and Bush in Kennebunkport, Maine, added the prime minister may have been concerned about the possible political impact. Hisashi Owada, then Japanese deputy foreign minister, joined the summit.
In the meeting, Bush called for Japan to convert its rice import barriers to tariffs, while expressing understanding that the prime minister could come under political pressure, according to the document.
Kaifu responded that he could not accept the U.S. request, citing the difficulties he was facing in achieving his policy goals due to a divided parliament in which the ruling camp lacked a majority in the upper house, the document states.
The document includes handwritten comments stating "the record does not exist" and "we have not informed" the agriculture ministry about the discussion between Kaifu and Bush regarding the matter.
It is also recorded in the document that Matsuura had told reporters the word "tariffication" was not used in the summit, while the exchanges by the two leaders were deleted from the diplomatic telegram.
Meanwhile, the section of the discussion on converting nontariff barriers has been blacked out in the minutes of the summit possessed by a library in Texas.
Regarding rice imports, Japan struck a minimum access deal with its global trading partners in 1993 during the Uruguay Round talks of the General Agreement on Tariffs and Trade, the World Trade Organization's predecessor.
In 1999, Japan eventually pledged to fully open the nation's rice market under a high tariff wall intended to protect domestic farmers suffering due to imports.