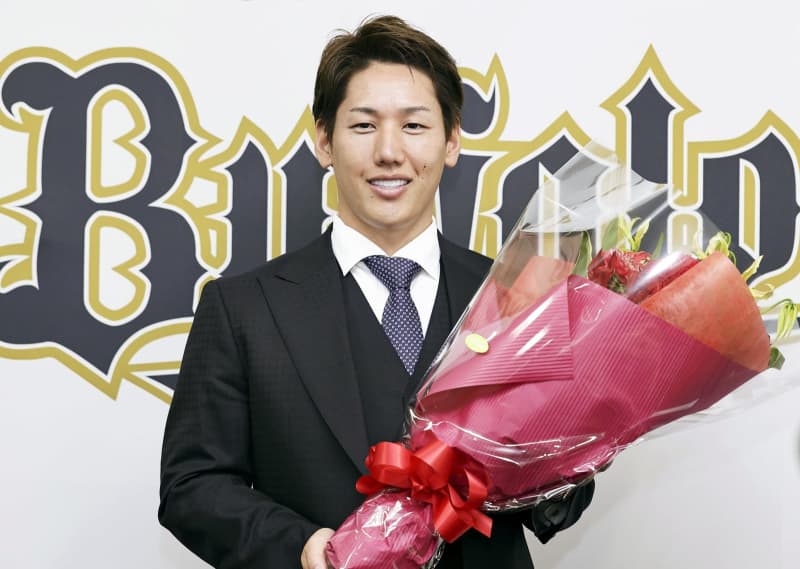 New Boston Red Sox outfielder Masataka Yoshida said Thursday he intends to further make good on the Orix Buffaloes' faith in him after he moves to Major League Baseball from Japan.
"I want to display a game that is packed with gratitude, for people to see relentless effort," the diminutive 173-centimeter slugger told a press conference at his former Pacific League club's Osaka facility.
The Buffaloes made Yoshida their first pick in Nippon Professional Baseball's 2015 new-players draft and finished last in three of his first five seasons. An everyday player since 2018, Yoshida helped lift the Buffaloes out of their doldrums the past two seasons.
Yoshida's trademark is his ferocious swing and raw power that he combines with plate discipline and an uncanny ability to make contact. He has led the PL twice in both batting average and on-base percentage.
As a parting gift to the Buffaloes, Yoshida was instrumental in their winning back-to-back PL pennants the past two seasons and, this year, the franchise's first Japan Series title since 1996.
"There were some hard times at first, but without giving up I worked hard to achieve my goals. Those results contributed to where the team is now," Yoshida said.
"This team thought highly of me since I was a youngster, and had high expectations for me. And now I want to repay them for that."
Yoshida's efforts in Japan also led to a five-year contract with Boston. The $90 million reported value of the deal would make it the largest ever awarded to a first-year position player coming from Japan.
In exchange for posting Yoshida and his signing that deal, the Buffaloes are in line to receive a posting fee of $15.4 million from the Red Sox.