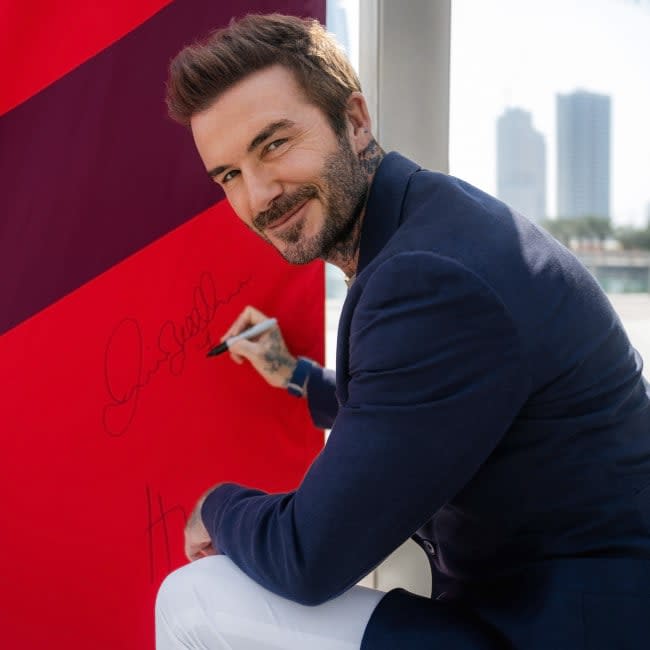 David Beckham admitted he misses his oldest son Brooklyn in a New Year's Eve message.
The former footballer, 47, posted an image of himself in a tuxedo enjoying a family fireworks night alongside his wife Victoria, 48, and children Romeo, 20, Cruz, 17, and 11-year-old Harper, with the message: 'Happy New Year from the BECKHAM's (six heart emoji) we love you @brooklynpeltzbeckham we miss you. 2023."
Brooklyn, 23, spent Christmas and New Year celebrating with new wife Nicola Peltz, 27, and her billionaire family.
Victoria also uploaded images on Instagram of David wearing antler glasses in front of a fireplace.
David's admission about missing Brooklyn comes amid reports of an ongoing "feud" between the Beckhams and Nicola, and after the influencer said in a new interview he was nervous actress Nicola would jilt him at the altar.
He admitted to Interview magazine: "I was a little bit nervous. Actually, I was very nervous. Right before, I was like, 'Oh my God, what if she doesn't walk down?'
"I was on my guard: 'I'm marrying my best friend, what if she doesn't want to?' "But I walked down and as soon as she came out, I burst out crying. It was an amazing day."
Reports of a feud between Victoria and Nicola started when the pair were said to have been embroiled in a row after the actress didn't wear a dress designed by Brooklyn's mum.
Nicola has repeatedly insisted "it's not a feud" in interviews, and said plans simply fell through over Victoria's dress, leading her to wearing a custom Valentino gown at her wedding.