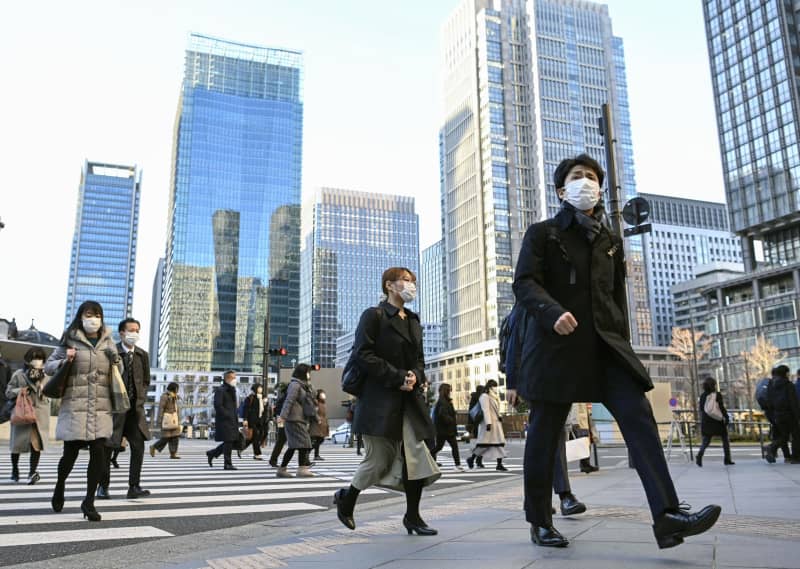 Japan's central and local governments, alongside many businesses, marked the year's first day of work Wednesday as the country refrained from implementing travel restrictions despite a rise in the number of COVID-19 cases.
As of Tuesday, nationwide daily COVID-19 figures stood at around 90,000, with Japan strengthening its entry restrictions for travelers from China which has seen virus cases surge since it abandoned its strict "zero-COVID" policy.
"Everyone is exhausted from working for about three years on coronavirus measures on top of our usual work," said an official from the Ministry of Health, Labor and Welfare. "I hope it will be a year where we can focus on medium- to long-term policies like health care, pensions and the declining birthrate."
Commuters around JR Tokyo Station were bundled up in scarves and wearing gloves as they hunched up against the cold.
"There were a lot of dark topics last year," said Chiyono Yamamoto, who came into work on the shinkansen bullet train from Yokohama after spending the year-end and New Year holidays with her family.
"I hope this year is one with more positive news," the 64-year-old said.
The Nakamise shopping street running to Senso-ji temple in Tokyo's Asakusa district was crowded with people visiting to pray for the New Year.
"The number of people going out has nearly returned to pre-pandemic levels, but they're mostly young Japanese people," said Masahiko Takaoka, who works at a food shop on the street.
"I hope more foreign tourists will come but I'm afraid of the coronavirus spreading again," said Takaoka, 65.
This year, Japan will host the Group of Seven summit in Hiroshima in May with a focus on whether countries will be able to effectively tackle issues such as nuclear disarmament and high inflation amid Russia's ongoing invasion of Ukraine.
Hiroshima prefectural government workers have continued preparations for the summit.
Takeshi Yamane, secretary general of a public and private sector group supporting the G-7 summit in Hiroshima, said he hopes the summit participants will "hold discussions that could lead to nuclear abolition in the future."
In northeastern Japan, Tomoaki Kobayakawa, president of Tokyo Electric Power Company Holdings Inc., also gave his New Year address to the company's employees at the Fukushima Daiichi nuclear power plant, which was crippled following the March 2011 earthquake and tsunami.
"We will improve safety and quality within multiple operations in our company, and carry out our responsibility for Fukushima," he said.