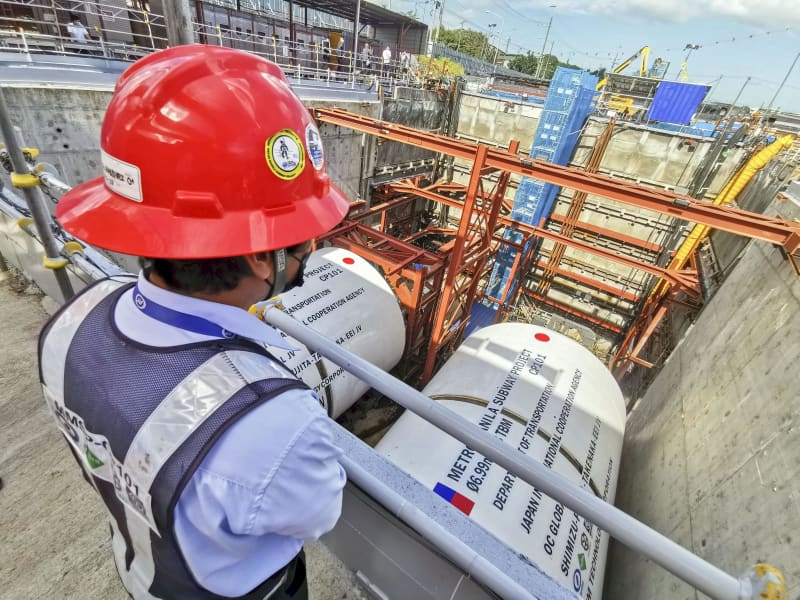 Construction of the first-ever subway in the Philippines undertaken with Japanese aid began on Monday, in a move to pave the way for easing road congestion in overcrowded Manila.
Leading the start of underground drilling work for the subway, which could start operating in 2028, President Ferdinand Marcos Jr. pushed the button of one of the two tunnel drilling machines brought in from Japan that were on display.
In a speech during a ceremony, Marcos thanked Japan for its support in key infrastructure projects of the Philippines.
"These tunnel drilling machines highlight Japan's expertise and technology and trailblazing contributions in the modern world," he said.
"And thus, I am confident that they will help us shape our railway infrastructure and keep them at par with the highest international standards," said Marcos.
Although the project is being slowed down by land expropriation issues, the subway could begin operations by late 2028, according to Japanese and Filipino project contractors.
Marcos, whose term ends in June that year, has vowed to see the project through.
Dubbed by Manila as the "project of the century," the 33.1-kilometer underground railway will cut across eight cities with a line connecting the main airport in Pasay City. It is touted to benefit over 500,000 commuters daily.
The $8.8 billion project is funded with a $2.7 billion loan from the Japan International Cooperation Agency.
In June, former President Rodrigo Duterte referred to the subway project as a "gift from the Japanese people to the people of the Philippines."
The Philippine transport department said the drilling machines could dig up millions of cubic meters of soil, with two more drilling machines expected to arrive this year.