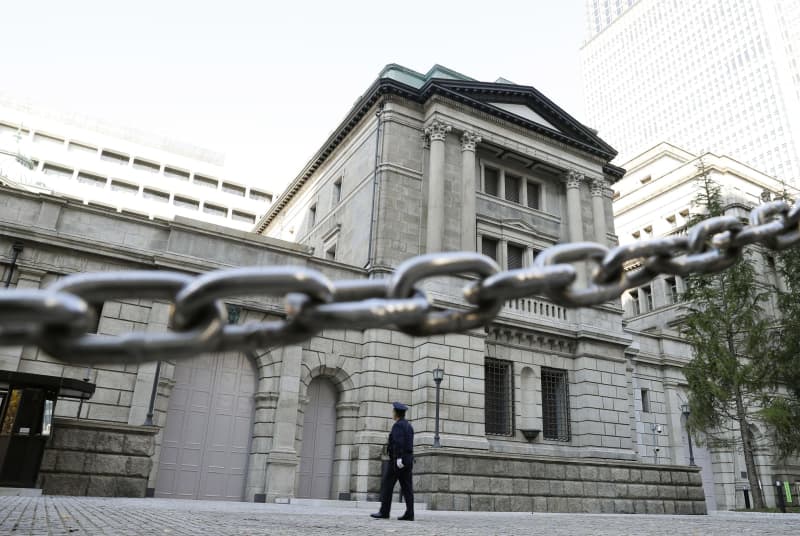 The Bank of Japan is keeping financial markets jittery over what its potential next moves will be following a two-day policy-setting meeting from Tuesday after its surprise decision to raise its long-term yield ceiling last month.
The BOJ is facing growing pressure to tweak its monetary policy again after the move last December led to a spike in 10-year Japanese government bond yields, subsequently challenging the newly set cap.
The abrupt policy decision in December was taken by market players as an effective interest rate hike -- something that Governor Haruhiko Kuroda has categorically denied.
Financial markets are looking for clues as to where the BOJ, a dovish outlier amid a global trend toward monetary tightening, stands and what its position will be in the coming months as Kuroda's current term ends in April.
Some BOJ watchers say no change is expected this time, so soon after it widened the trading range for 10-year yields to minus 0.5 percent and 0.5 percent last month from minus 0.25 percent and 0.25 percent.
However, the decision came out of the blue for financial markets, and analysts closely following the BOJ's monetary policy say another surprise move cannot be ruled out, raising the stakes for the central bank concerning the need for clear messaging on its thinking and outlook.
The yield on benchmark 10-year Japanese government bonds breached the recently set ceiling in the run-up to the policy meeting, prompting a bond-buying spree by the BOJ to protect its defense line. The central bank has purchased some 17 trillion yen ($132 billion) worth of government bonds so far in January, a monthly record, as market watchers say the decision taken in December has backfired.
The yen has rebounded after hitting a 32-year low against the U.S. dollar, coinciding with market expectations of a less aggressive approach from the Federal Reserve as inflation slows in the United States, even as it remains well above its target of 2 percent.
There has been market speculation that the BOJ will make further tweaks to its ultralow rate policy, with a further expansion of the yield trade band or the scrapping of the BOJ's yield curve control program cited as options. Allowing 10-year yields to trade more widely, however, will run counter to the BOJ's commitment to guiding them at around zero percent, analysts say.
The BOJ sets short-term interest rates at minus 0.1 percent while guiding 10-year yields to around zero percent. It has been offering to buy 10-year bonds at a fixed rate of 0.5 percent, without a limit, every business day to demonstrate its resolve to defend the cap.
Governor Kuroda, for his part, has not linked the move taken in December to any rate hike, monetary tightening or a review of YCC, saying that it was intended to address distortions in the bond market. Financial markets are expected to scrutinize not only the outcome of the latest meeting but what the governor, who has one more meeting left in his term after Wednesday, has to say.
Until December, the BOJ was an outlier among major central banks such as the Fed and the European Central Bank that have raised interest rates to rein in surging inflation.
The BOJ has taken the view that Japan, too, has experienced accelerating inflation but that it is largely due to surging import costs and will not last long. But consumers are feeling the pinch of rising prices, with data due out later this week forecast to show closely-watched core consumer inflation topping 4 percent, double the BOJ's 2 percent target.
At the end of the two-day meeting, the BOJ will likely upgrade its inflation outlook for the year to March, fiscal 2023 and 2024.
The core consumer price index excluding volatile fresh food items is currently projected to gain 2.9 percent in fiscal 2022 from a year earlier, and 1.6 percent in both fiscal 2023 and 2024.