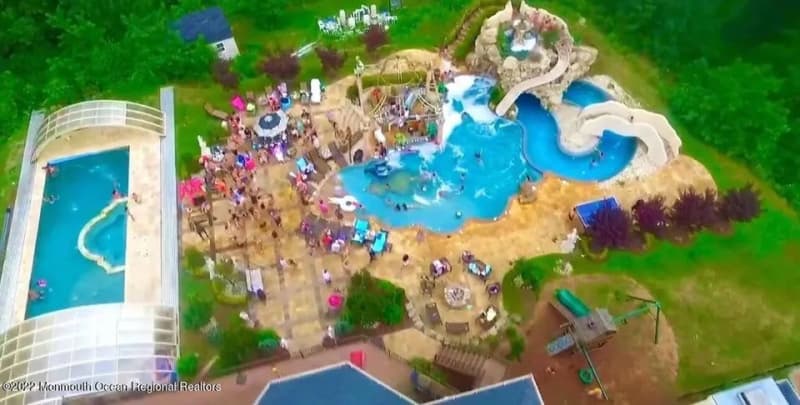 Paul Kazak has no urgent desire to sell his luxurious Monmouth County home. He just figured he'd dip his toe into the water to test the market.
He had quite a bit of water to choose from: The Kazak family's six-bedroom residence at 15 Embry Farm Road in Marlboro comes with its own "pool party paradise" featuring two distinct swimming areas — one with a retractable roof — a 30-foot water slide, a golden lion fountain, a two-sided waterfall, a swim-up bar and a built-in barbecue grill.
"It's basically our little mini resort," says Kazak, who resides with his wife Hannah and their three children in the 11,000-square-foot house that sits alongside the water attractions on 2.4 acres.
Another family is welcome to take over ownership of the property, though. It's for sale with an asking price of $4.8 million, listed bybroker Qizhan "Jack" Yao for Realmart Realty LLC.
But, again, the Kazaks are in no rush.
"We're not looking to leave. I mean, you can see the house has been listed already for awhile (nearly eight months) and we have it at a relatively high price," Kazak concedes. "It's not an unrealistic price ... it's nothing crazy, but, realistically, we don't expect to sell it at this price. If someone does happen to love it and wants to enjoy it the way we have, then they'll take it. Especially someone that's willing to splurge for it.
"But otherwise, we don't expect to move, we're not looking to move," he added, "but it's out there if someone does want to take it at this price."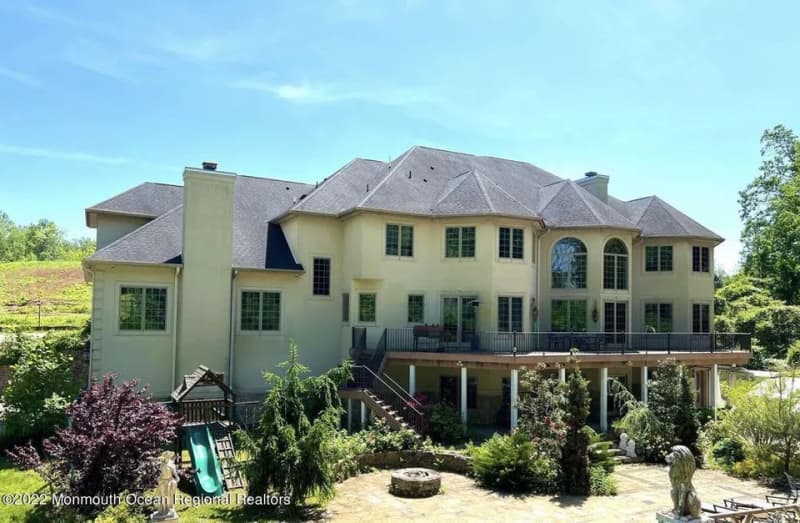 The Kazaks are 15 Embry Farm Road's original owners, taking up residence in 2010 shortly after construction was completed. Originally from Brooklyn, N.Y., they lived in Florida for five years before deciding to move back north. "But we didn't want to be in the city, in an apartment," Kakak said. "We wanted a big house with a big backyard."
The Marlboro property indeed did offer a big house and big yard. It's just that the yard at first was a little ... boring.
"It didn't have anything in the backyard at all," said Kazak, a work-at-home investor. "It took us two years to build that backyard."
While the yard's impressive resort-like "lazy river" swimming hole — with its slow rolling currents, imposing waterslide and scenic waterfall — may attract much of the attention, Kazak says he personally favors the adjacent pool with its retractable roof.
"It is not as fancy and as expensive as the big pool area, but you can open and close it," he explains. "We lived in Florida for several years, so we thought it was a shame to use a pool for only a few months of the year. That enclosure allows us to have a year-round pool, and the jacuzzi's in there, too, so it's nice. You can have parties in the winter."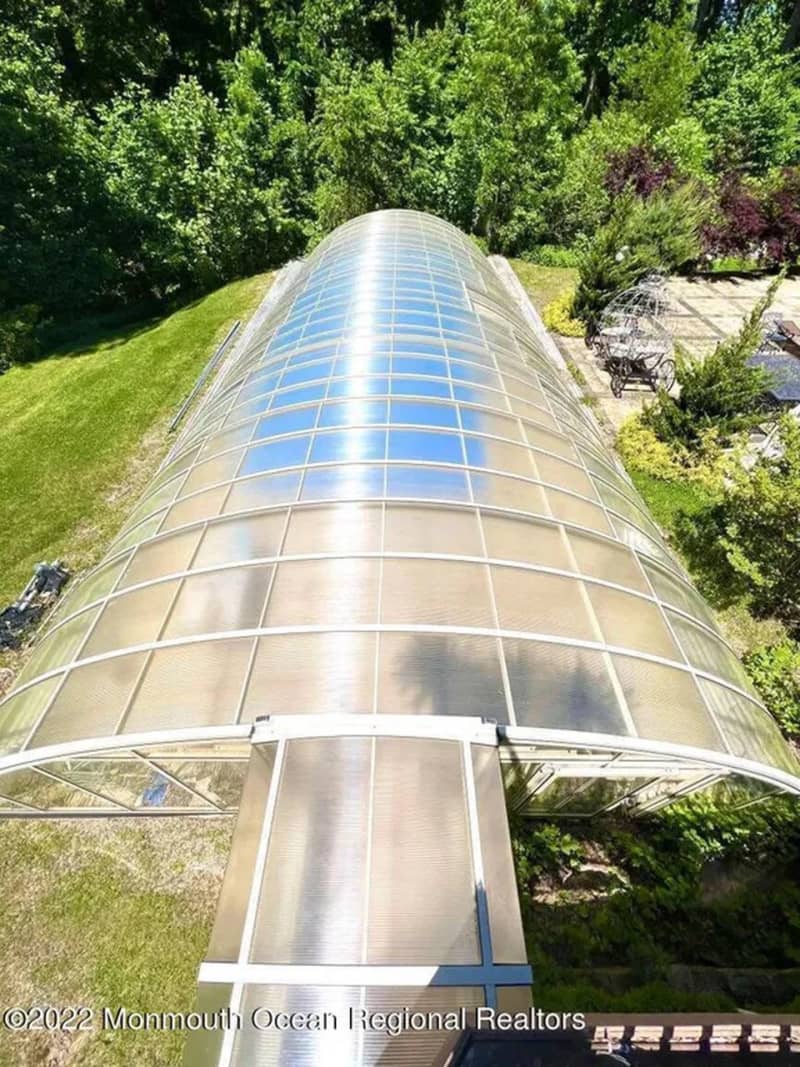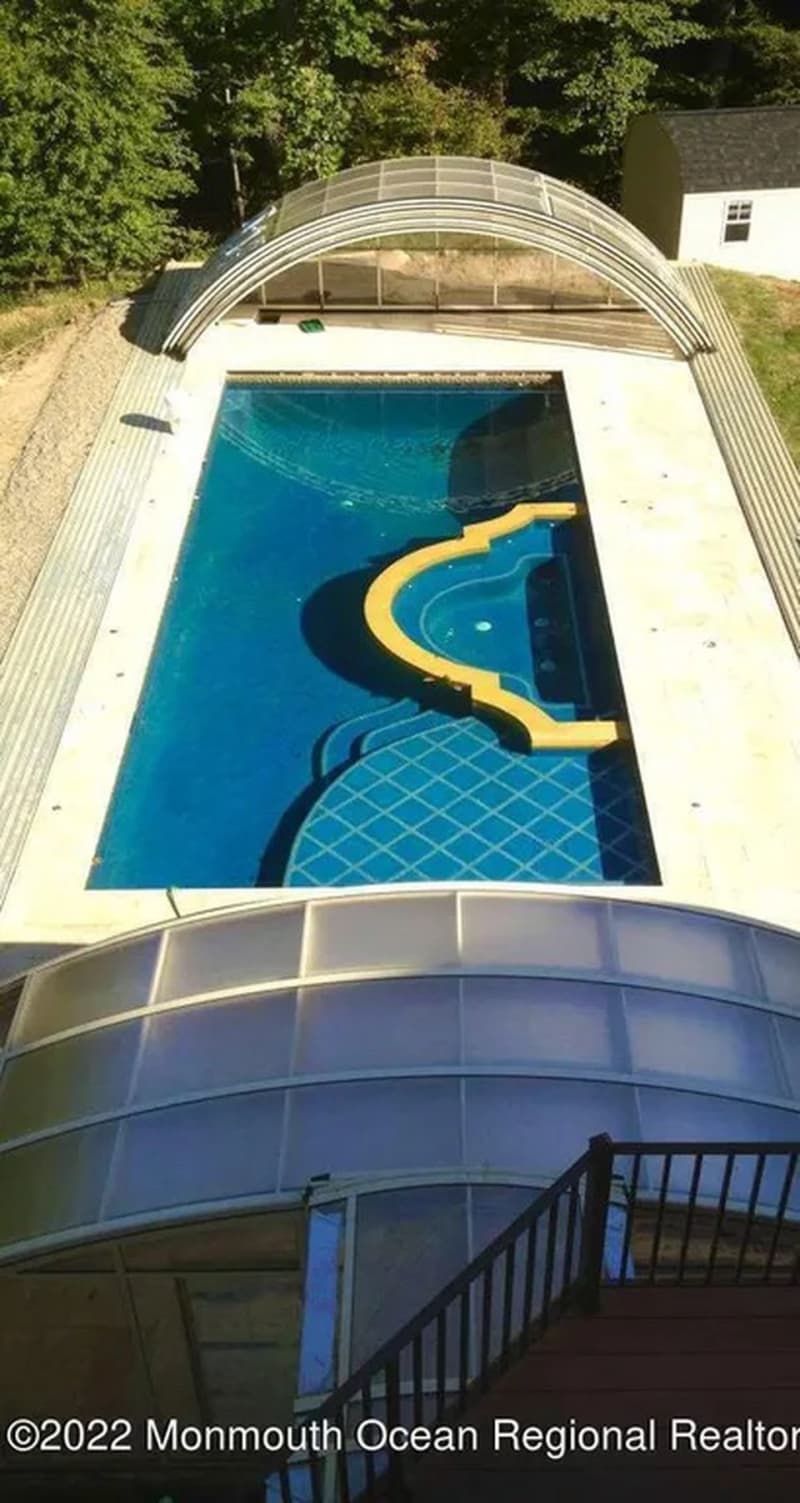 Kazak uses words like "party," "fun" and "celebrations" often when taking about 15 Embry Farm Road. He credits his wife Hannah, a nurse manager, with "being really good at decorating and really good at setting up these parties, inside and out."
One of the earliest celebrations at 15 Embry Farm Road was the Kazaks' youngest daughter's first birthday. She's now 13. Paul and Hannah also have another daughter, age 14, and a 20-year-old son.
The homeowner says he thinks the party potential is the property's strongest selling point, which could attract "someone that's looking to splurge ... someone that's looking for a party lifestyle in the suburbs. They want to throw nice big parties and enjoy it that way."
He even posted a short aerial drone video capturing one of the nice big outdoor pool parties they have hosted.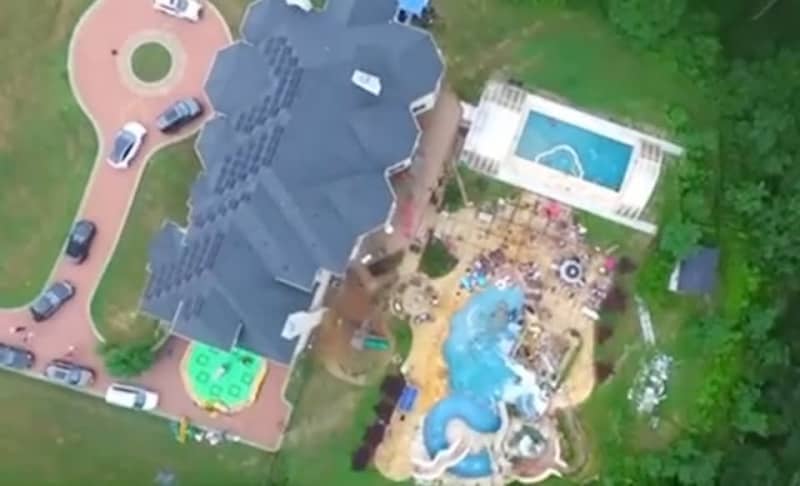 "If someone's going to want a party house, they'll see that and say, 'Yeah, I want that." Otherwise, it's nothing exotic. There are plenty of houses in the price range and lower that have the same stuff."
That said, the home's interior does have its notable features, too, starting with the vast grand foyer entrance, the double princess staircase and the 25-foot high ceilings with an enormous crystal chandelier (one of 20 chandeliers found throughout the house).
The mansion has a 1,300-square-foot great room with a fireplace (one of four throughout) and eight columned sconces, giving it an almost ballroom-like ambience. The gold-leaf ceilinged dining room can accommodate a large table of 14, and the 5,000-square-foot basement — accessible from both sides of the house — has a sauna that fits 20, a steam room, spa and full bathroom (one of 6.5 baths in all) and changing room. The house is being sold partially furnished.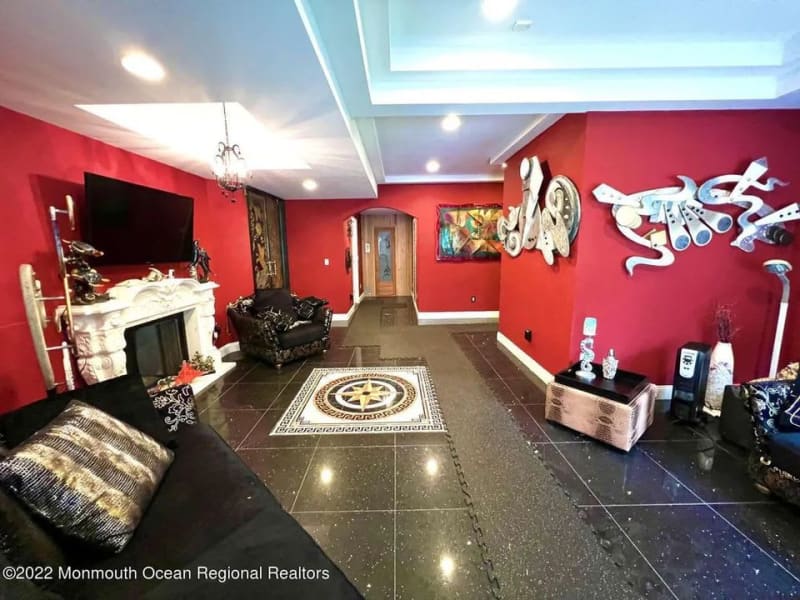 Amid the extravagance, there's also a nod to conserving and generating energy.
"We're very much into technology and efficiency," says Kazak. "The house has solar panels that serve well to charge our three Teslas."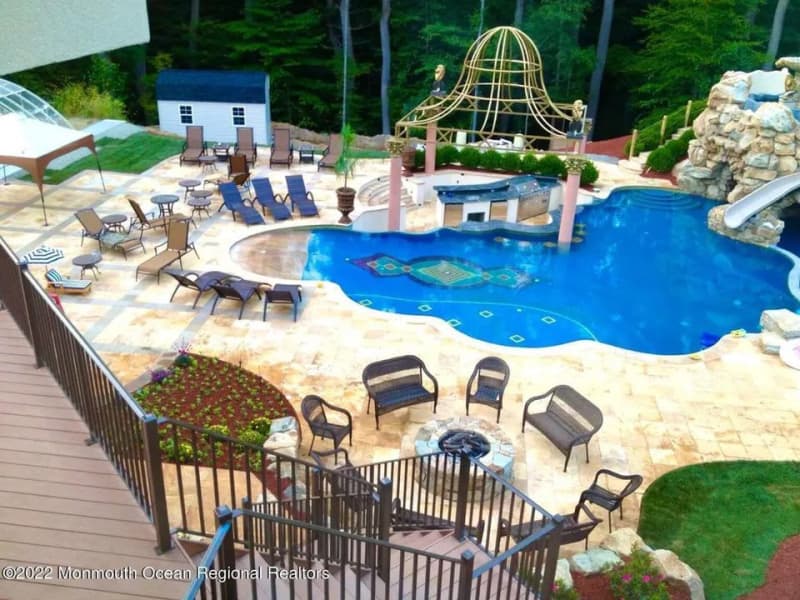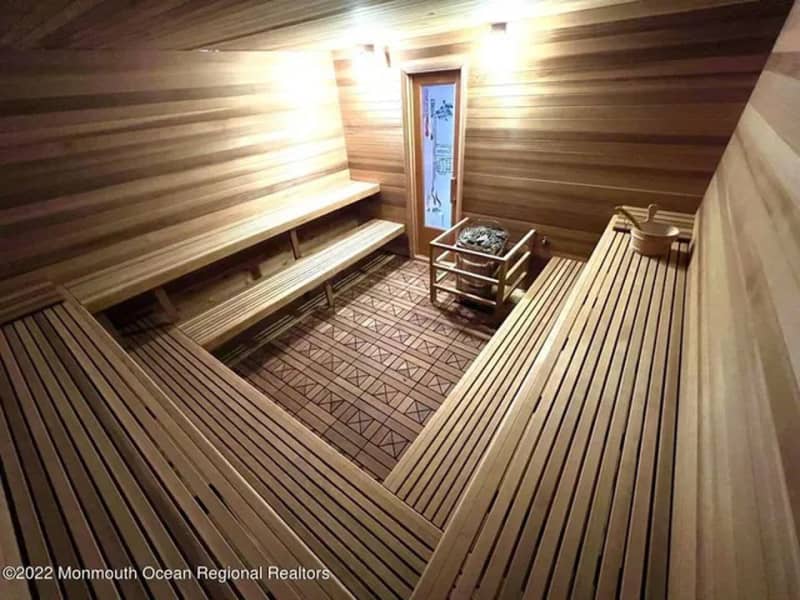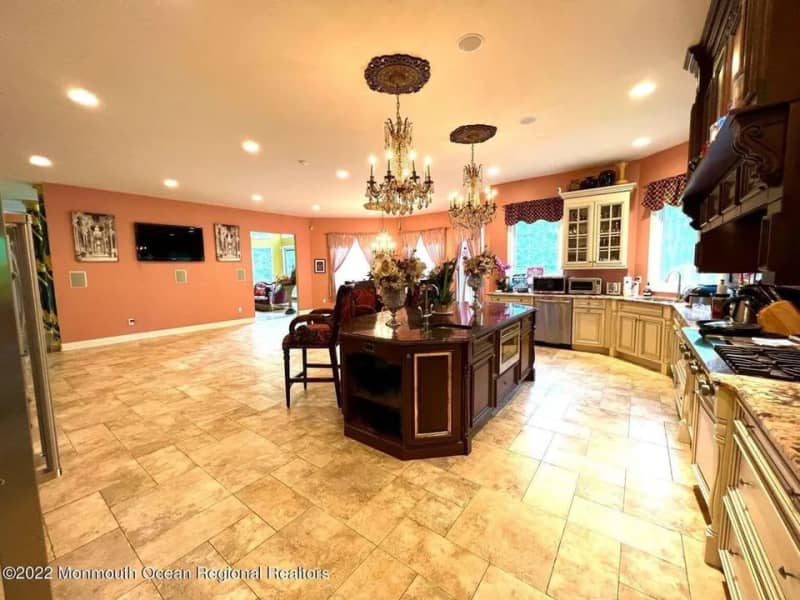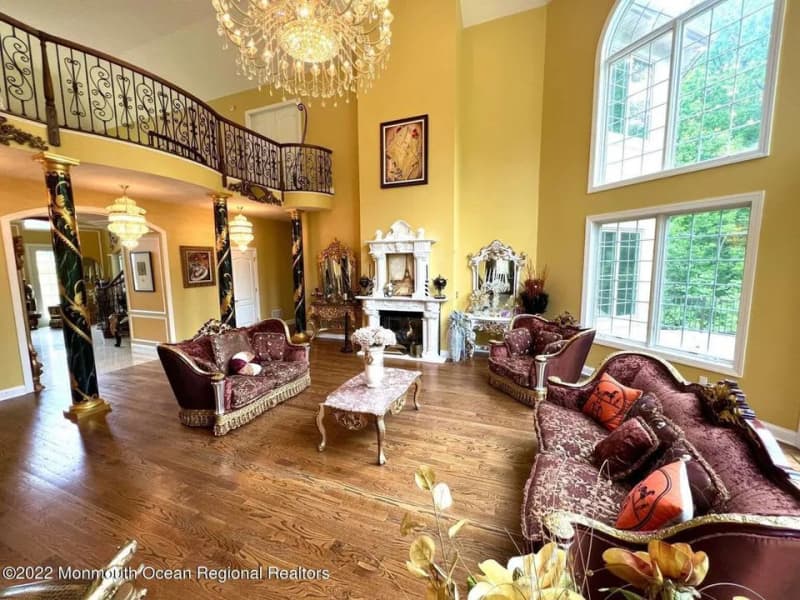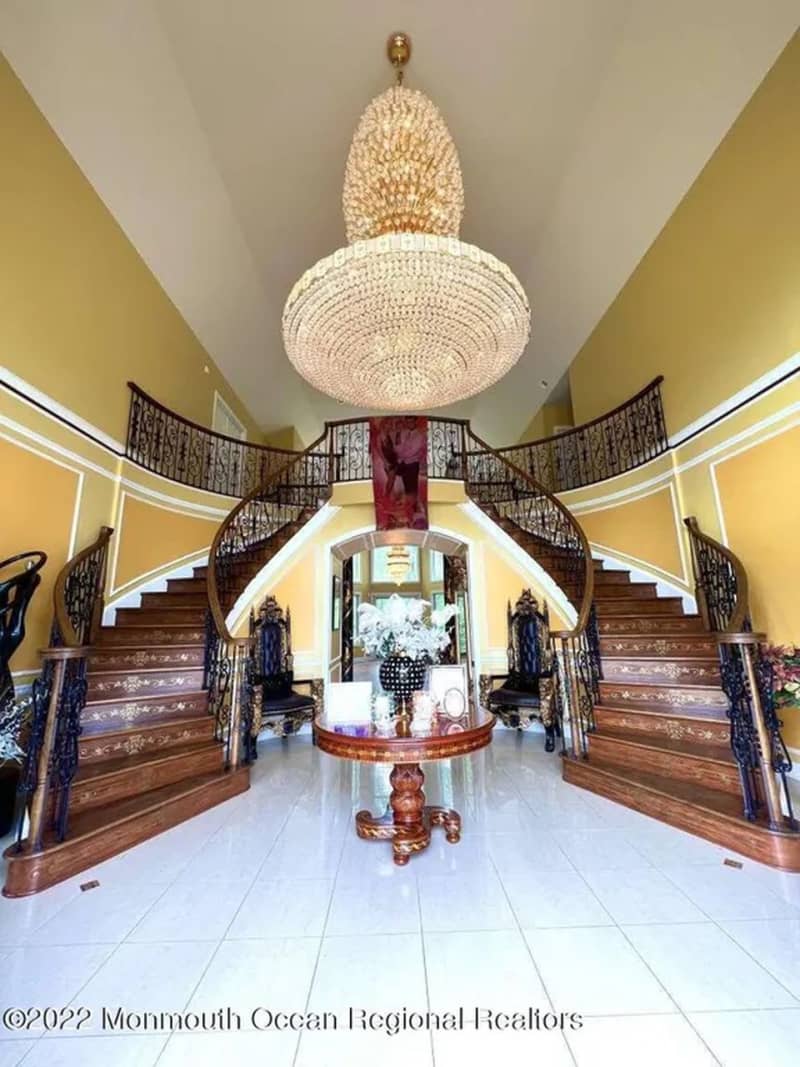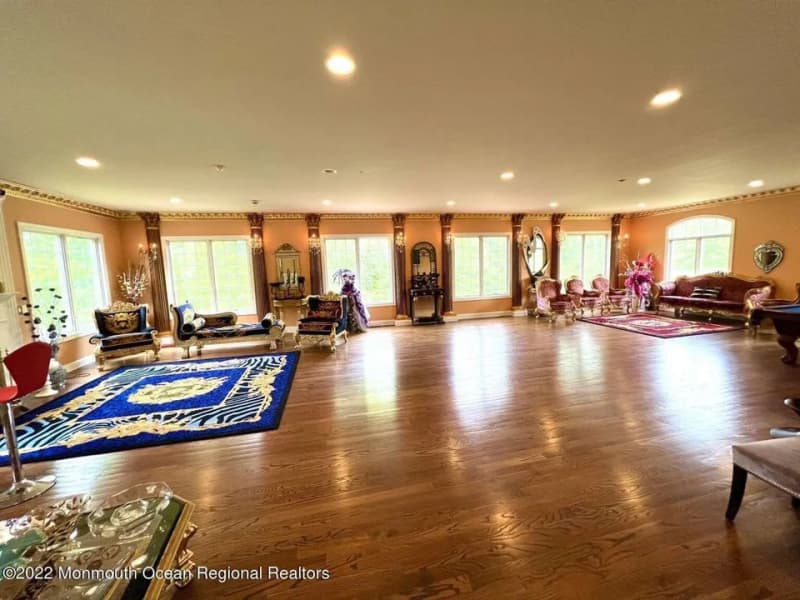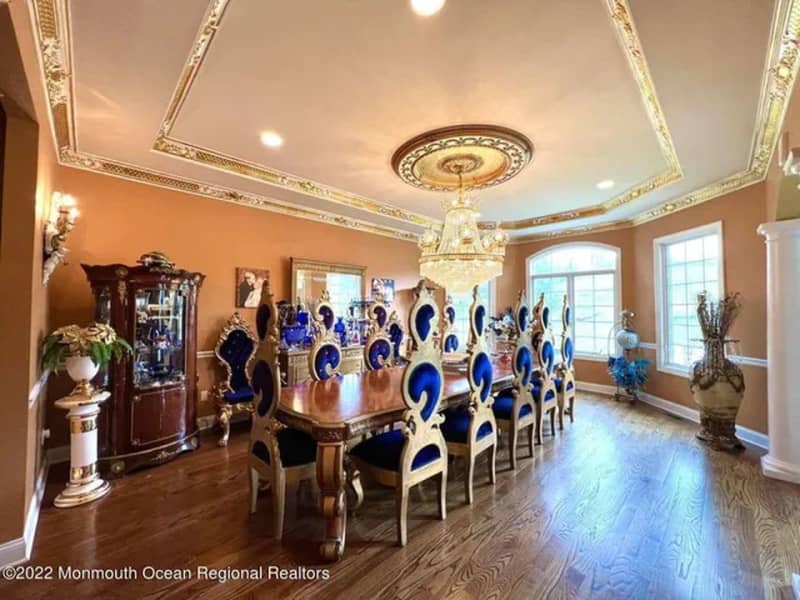 Are you an agent, buyer or seller who is active in this changing market? Do you have tips about New Jersey's real estate market? Unusual listings? Let us know.
Patrick O'Shea may be reached atposhea@njadvancemedia.com.
More real estate coverage:
N.J. home of 1900s opera diva, 2004 grisly crime discovery is for sale for $699K
N.J. getaway home owned by the Rittenhouse and Roebling families is for sale
The Sopranos' 'Uncle Junior' house is back on the market for $585K
N.J. mansion where brazen 1921 robbery involving socialite Brooke Astor took place is for sale
Christmas party in 1966 at this house helped revive N.J. neighborhood. It's listed at $399K