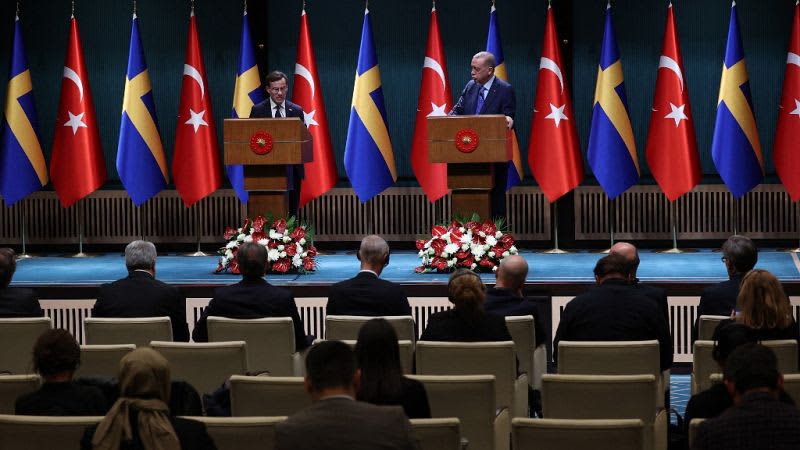 Turkey announced on Saturday it had cancelled a visit from Sweden, after an anti-Turkish protest was allowed in Stockholm.
Turkish Defence Minister Hulusi Akar said the talks with his Swedish counterpart Pål Jonson were called off as they had "lost significance and meaning".
The visit was intended to try and remove Ankara's objections to Sweden's NATO bid.
Swedish-Danish right-wing extremist, Rasmus Paludan, was permitted to hold a demonstration on Saturday in front of the Turkish embassy in Stockholm, arousing the ire of Turkey.
Paludan had said he intended to "burn the Quran" in front of the building.
A counter, pro-Turkish protest is also planned at the embassy.
Turkish presidential spokesman Ibrahim Kalin condemned the demo, calling it a "hate crime".
"To allow this action despite all our warnings is to encourage hate crimes and Islamophobia," he tweeted. "The attack on sacred values is not freedom but modern barbarism."
Turkey has blocked Sweden's NATO bid since May in an attempt to get Stockholm to fulfil several political demands, such as deporting critics of Turkish President Recep Tayyip Erdogan and Kurds it claims are "terrorists".
Critics have warned against meeting these demands, saying they undermine rights and freedoms in Sweden, alongside the country's sovereignty.
Sweden's Minister of Defence confirmed the trip had been "postponed", a decision he said was made with his Turkish counterpart on Friday during a meeting on Ukraine in Germany.
"Relations with Turkey are very important to Sweden and we look forward to continuing the dialogue," Pål Jonson tweeted.
Ankara summoned the Swedish ambassador over the protests for the second time in days.
Last week Turkey's heckles were raised by the release of a video showing a mannequin resembling Erdogan being hung and labelling the Turkish president a dictator.
It was posted by a group affiliated to the Rojava Committee, which supports Kurds in Syria.
A pro-Kurdish demonstration, in which this committee participates, is also planned in Stockholm on Saturday, against Swedish membership of NATO and Turkish President Erdogan.
Turkey accuses Sweden off harbouring Kurdish activists and sympathisers whom it calls "terrorists", particularly those of the Kurdistan Workers' Party ( PKK) and its allies in northern Syria and Iraq.