By Mitchell Forde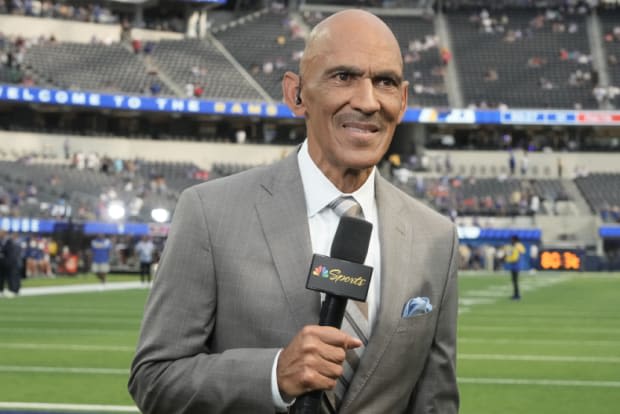 Former NFL head coach turned Sunday Night Football analyst Tony Dungy stirred up a hornet's nest on social media this week.
Dungy, who coached the Tampa Bay Buccaneers from 1996-2001 and the Indianapolis Colts from 2002-2008, responded Wednesday to a tweet from Minnesota Rep. Sandra Feist calling for menstrual products to be put in all bathrooms.
"That's nothing," he wrote. "Some school districts are putting litter boxes in the school bathrooms for the students who identify as cats. Very important to address every student's needs."
Dungy's tweet, which has since been debunked, has also been deleted, but not before it made headlines and provoked quite a bit of outrage.
Despite the controversy, he will still be on air this weekend.
Jimmy Traina of Sports Illustrated reported Friday that Dungy will be on air for NBC's broadcast of the Saturday matchup between the Kansas City Chiefs and Jacksonville Jaguars. Dungy will serve in his usual Sunday Night Football studio role alongside Maria Taylor and Jason Garrett. Kickoff is scheduled for 4:30 p.m. Eastern.
The now-deleted tweet hasn't been the only reason Dungy has rubbed some people the wrong way this week. He spoke at the March For Life, an anti-abortion rally in Washington, D.C. on Friday.
Politics aside, Dungy was also widely criticized by viewers for his energy, or lack thereof, while serving as the color commentator alongside Al Michaels during NBC's broadcast of the Jaguars' comeback win over the Tennessee Titans last week.
While he may not be back in the broadcast booth any time soon, it sounds like he will carry on in the studio analyst role that he's held with NBC since retiring from coaching.