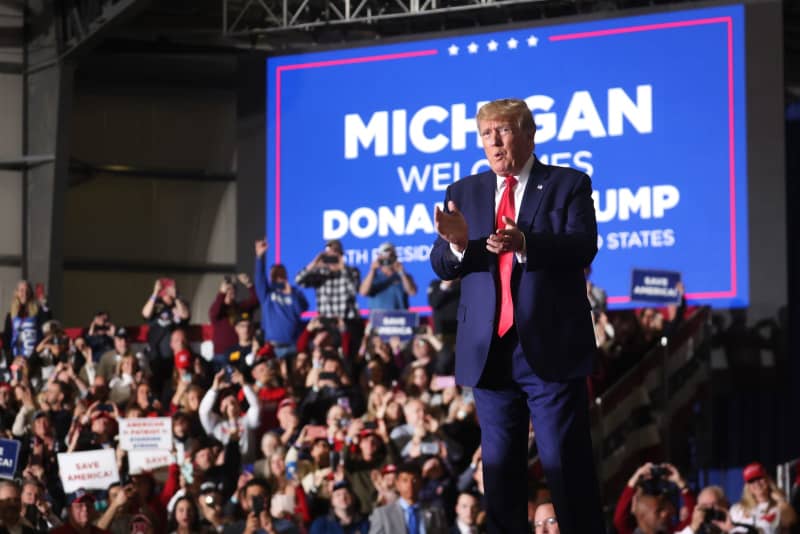 LANSING, Mich. — Former President Donald Trump endorsed Matt DePerno on Friday night to become the next chairman of the Michigan Republican Party, a move that could boost the former attorney general candidate's support among GOP delegates in next month's state convention.
DePerno, a lawyer from Kalamazoo, has been locked in a competitive and crowded race to lead the state GOP with 10 other hopefuls. He and Kristina Karamo, the Republican nominee for secretary of state last fall, have been widely viewed as the two top competitors for the seat.
"Republicans in Michigan must unite and work together if they want to save Michigan," Trump said in a statement released at about 9 p.m. "We must start by supporting Matt DePerno for chairman of the Michigan Republican Party. He is the only candidate running who can get the job done."
GOP delegates will gather in Lansing Feb. 17-18 to pick the party's next leader who will be in place during the 2024 presidential campaign. The vote will be a test of which direction GOP insiders and activists, many of whom still support Trump, want to go in the near future.
As DePerno runs for chair, a special prosecutor continues to weigh potential charges against him and eight others because of an alleged conspiracy to obtain and break into voting machines after the 2020 presidential election. DePerno, who rose to political prominence by making unproven claims of election fraud, has denied wrongdoing.
Both DePerno and Karamo have been among Trump's top allies in Michigan. Trump endorsed DePerno for attorney general and Karamo for secretary of state before they became the Republican nominees in 2022.
DePerno went on to lose to Democratic Attorney General Dana Nessel by about 9 percentage points. Karamo lost to Democratic Secretary of State Jocelyn Benson by about 14 points.
The races were two of the defeats that marked a bad election night for the Michigan GOP. Democrats also won control of the state House and Senate for the first time in 40 years.
Trump lost to Democrat Joe Biden in Michigan by 3 percentage points or 154,000 votes in 2020. Trump announced his third campaign for the nation's top office in November. But it's possible Trump will face competition, including potentially from Florida Gov. Ron DeSantis, for the GOP nomination.
Trump's endorsement of DePerno on Friday came two days after it was revealed a group of 18 Michigan lawmakers signed a letter to DeSantis, urging him to run for president.
In his statement on the chair race, Trump said DePerno was "the only candidate who has a proven background" on election integrity, fundraising and party unity.
"It is critical that we come together as a party and focus on 2024 and beyond," Trump said. "I cannot think of anybody who I trust more and look forward to working with, and winning, than Matt, who has my complete and total endorsement for the chairman of the Michigan Republican Party."
DePerno struggled to bring in money for his attorney general campaign last year. Nessel raised $5.8 million while DePerno raised $1.4 million.
But during his run for party chair, DePerno has contended that he can work with competing factions of the Michigan GOP, including traditional donors and grassroots activists.
"It's time for the Michigan GOP to come together," said Tyson Shepard, DePerno's campaign spokesman, on Friday night.
Other contenders for chair include former U.S. House candidate Lena Epstein of Oakland County, Macomb County Republican Party Chairman Mark Forton and Tuscola County Republican Party Chairman Billy Putman.
The Michigan Republican Party's current chairman, businessman Ron Weiser of Ann Arbor, decided not to seek another term.