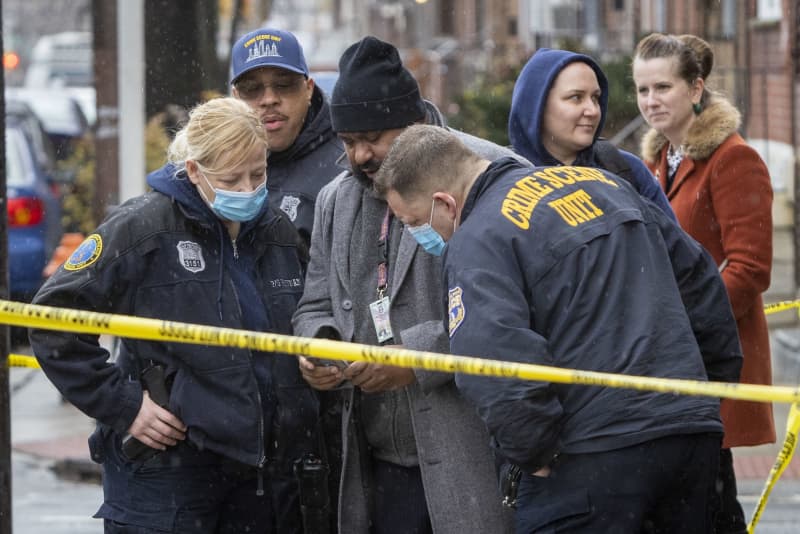 PHILADELPHIA — Crime has been a top political issue in Philadelphia for as long as anyone can remember, but few recall a time when it was quite this salient.
Homicides climbed to all-time highs over the last two years, and thousands more people survived shootings. Carjackings and vehicle thefts have skyrocketed, and the Police Department has hundreds of vacancies. Residents of long-neglected neighborhoods report often feeling unsafe, and many say the city feels as if it's at a crossroads.
And nine Democrats are vying to run it.
As the Philadelphia mayor's race takes shape ahead of the May primary election, all the candidates agree: Public safety is the No. 1 issue. What they'll debate now is how to lead Philadelphia out of the shootings crisis — and they'll do so in a city that just two years ago saw a mass protest movement challenge the role of law enforcement.
It means Democrats running for the nomination must strike a balance many of their predecessors did not. They must show they can fight the urgent gun violence problem, and also tackle the long-standing societal factors that drive it. They must set the agenda for the Police Department and also the city's anti-violence programs.
The contenders must tout their crime-fighting bona fides, and also maintain a commitment to police reforms that most of them have supported.
And they must prove their commitment to voters — thousands of whom live in the neighborhoods most battered by the crisis.
"Gun violence is the end result of generations of trauma, and we need a mayor who understands that and will put in resources to prevent it," said Reuben Jones, executive director of the mentoring program Frontline Dads. "I'm just hoping and praying that the next mayor has the gumption to lead. Then we can make some headway."
The candidates are walking a rhetorical tightrope
This mayoral election is the first time in years that public safety is seen as Philadelphia's hands-down biggest challenge. While little public issue polling is available, an oft-cited survey conducted last year by the Pew Charitable Trusts found that 70% of the city believes crime, drugs and public safety is the No. 1 issue.
And the survey showed clear disparities: While more than half of Black and Latino residents said gun violence had a major effect on their quality of life, less than 20% of white residents said the same.
Every candidate cited public safety when launching their campaign over the last six months. And they have started to sort themselves based on how they talk about fighting the problem.
Former Councilmember Helen Gym, seen as the most progressive candidate in the race, centered her campaign announcement speech on public safety, saying violence is "destroying our city and our people." She's focused largely on expanding social programs and tailoring them to young people.
Rebecca Rhynhart, who as city controller was deeply critical of Mayor Jim Kenney's response to gun violence, has framed her plan around overhauling policing, ensuring the city is working efficiently, and declaring a state of emergency.
Others have taken a tougher tone. Ex-Councilmember Allan Domb, one of only two candidates currently running television ads, is emphasizing that his crime plan includes "aggressively cracking down on illegal guns."
And Cherelle Parker, the former Council majority leader who unveiled her crime plan before she launched her campaign for mayor, has called for hundreds of new police officers and has had a mixed stance on stop-and-frisk. In a recent campaign video, she vowed to "bring order back to our city."
Joseph P. McLaughlin, an adviser to two former mayors, said he'd recommend a mayoral candidate running in 2023 avoid being dismissive of law enforcement and work to separate themselves from the "defund the police" movement. The slogan that refers to diverting law enforcement funding to social services was adopted by racial justice protesters in 2020, and local officials across the country — mostly Democrats — backed versions of the idea.
"Whatever you think of the particular policy," McLaughlin said, "the headline on it was a disaster for Democrats."
Still, tough-on-crime rhetoric or strategies that call for increasing funding to the Police Department may not sit well with the city's growing and well-organized progressive movement, which has notched notable electoral wins over the last five years, including elevating District Attorney Larry Krasner to office.
"The message of 'more police are going to solve this, more prisons will solve this' is out of touch," said Robert Saleem Holbrook, executive director of the Abolitionist Law Center. "Philadelphia has a very strong movement that is opposed to that and is not going to accept any kind of talk like that from these candidates."
Defining themselves as more than 'not Kenney'
Observers say the nature of having a large field could make it harder for the contenders to separate themselves on the issue — none of them built their political careers on public safety.
"There's no one in this field who can define themself in a way that would make their mere presence evidence of their commitment to deal with the issue," said Sam Katz, who was twice the Republican nominee for mayor. "They all have to go out now and craft a tough-guy image. I think in doing that, they're all going to be running away from who they really are."
The last Philadelphia mayor to build a political career on public safety was arguably Frank Rizzo, the erstwhile police commissioner whose legacy is associated with aggressive and racist policing. Katz, who lost to Rizzo in the Republican primary in 1991, said crime was usually the No. 1 topic when Rizzo was on the ballot.
Ex-Mayor Ed Rendell was the former district attorney and also seen as generally strong on crime. But John Street won on a promise to revive economically challenged neighborhoods. Ex-Mayor Michael Nutter is remembered as an ethics reformer. And Kenney's major campaign promises centered on education and workers.
But his second term was defined first by the city's response to the coronavirus pandemic, and now in many ways by the shootings crisis. That response to gun violence has fueled how the candidates vying to replace him talk about the problem.
A handful have said they'll declare a state of emergency — a step Kenney has been reluctant to take. Some have said the city hasn't transparently evaluated the anti-violence programs it has in place. And several frequently invoke the mayor's posture, including slamming him in July for saying after two police officers were grazed by bullets that he will "be happy" when he is no longer mayor.
But Carl Day, a North Philadelphia pastor who mentors young men, said the drivers of violence date to long before Kenney's tenure, and it's not enough for the candidates to just be not-Kenney.
He said they must inform their positions by forming relationships with young Black men, many of whom live among perpetual gunfire, carry guns for protection, and are mistrustful of authorities' ability to stop cycles of violence.
"There's not a real connection, so they remain disconnected," Day said. "That's the dirty work that politicians don't want to do. They show up on the corner after somebody is murdered, but there's no candidate that has demonstrated that he or she is willing to spend ample time, with no incentive, to try and just hear the hearts of these young men that are out here."
Dorothy Johnson-Speight, who founded the Philadelphia-based group Mothers In Charge after her son, Khaaliq Jabbar Johnson, was killed in 2001, agreed that reaching young men is key.
The next mayor, she said, has to do a better job convening those most affected.
"It has to be someone who has the ability to reach out, almost like an octopus, to the many different entities and organizations and people," she said. "Because everyone is impacted. We all have to be invested in a solution."