By Ishaan Bhattacharya
Jonathan Isaac is finally going to return to the court tomorrow in the Magic game against the Boston Celtics.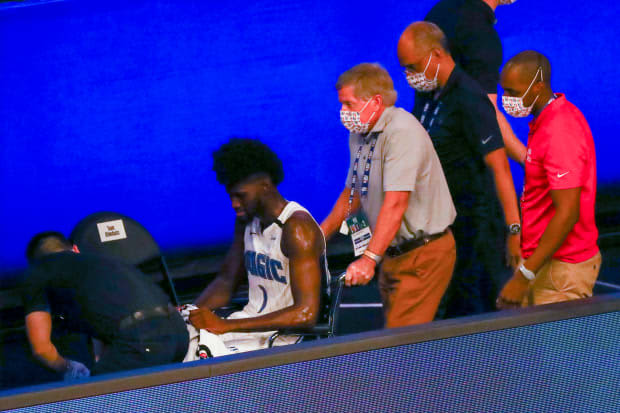 In 2020, the Orlando Magic was a team that was still part of the NBA playoff conversations every season for having a great mix of current and future talent. The core of Nikola Vucevic, Aaron Gordon, Evan Fournier, and others was blown up after the Magic became yearly first-round playoff exits. Most of those players found a home, except for one injured player on the bench.
Jonathan Isaac tore his left ACL against the Sacramento Kings in the 2020 Bubble and hasn't seen the court since. Isaac was a standout defender that many expected to be a perennial All-Defensive selection but missing nearly 3 seasons of basketball has affected his stock. Thankfully, Isaac will finally be returning to the court, as his pastor announced at Isaac's church.
Isaac is still just 25 years old and fits into the timeline of the Magic's young core. However, the team drafted Paolo Banchero in his position and has been playing bol Bol as a power forward as well, so it'll be interesting to see if Isaac can find his way back into the rotation or will be traded away soon.
---
Should The Magic Keep Jonathan Isaac?
An ACL injury can sometimes be the death knell for players, but we've seen examples of older players than Isaac making successful comebacks. The Orlando Magic have an extremely crowded frontcourt already and factoring in Isaac along with a top pick in the 2023 NBA Draft.
Isaac has had off-court controversies with his religious and political beliefs, but that should not factor into his NBA career. He still has the potential to be a good 2-way wing but he might benefit more from being on a different team.
Hopefully, his mobility hasn't been severely affected and he can show flashes of the defensive standout he was prior to that ill-fated ACL tear in the bubble.
We sincerely appreciate and respect you as a reader of our site. It would help us a lot if you follow us on Google News because of the latest update.
Thanks for following us. We really appreciate your support.