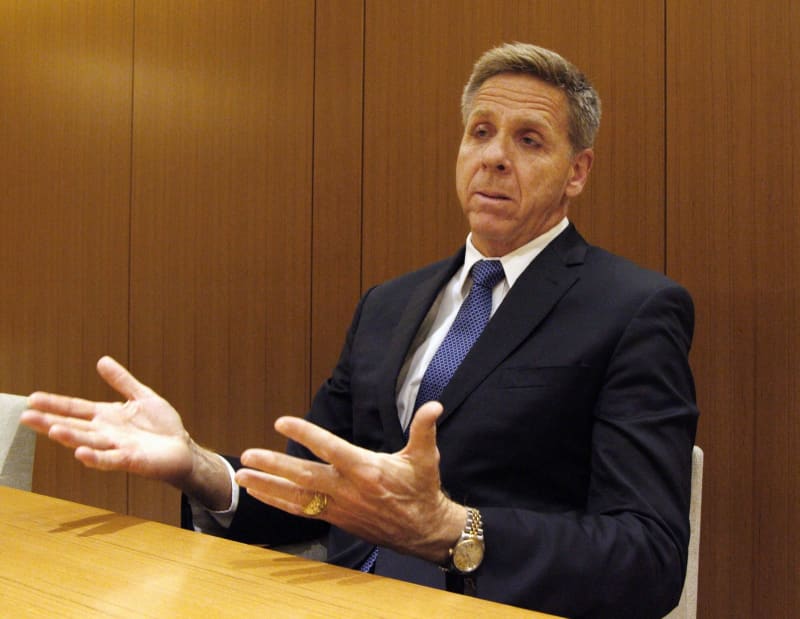 Former chief of the U.S. Indo-Pacific Command Philip Davidson said Monday he is standing by his earlier assessments that China may try to attack Taiwan by 2027, with Beijing showing no signs of backing down from its threat of using force against the self-ruled island to achieve reunification.
In an interview in Tokyo, the 62-year-old retired admiral also welcomed Japan's recent decision to acquire long-range strike capabilities and to significantly increase its defense spending despite its long-held pacifism, calling them the "most profound change in the Japanese Self-Defense Forces in more than 60 years."
He also indicated his support of Tokyo's plan to procure U.S.-made long-range Tomahawk cruise missiles, acknowledging that they are "the quickest way" to bring the so-called counterattack capabilities the Japanese forces seek to possess.
Prior to leaving the post of commander of the U.S. Indo-Pacific Command in 2021, Davidson caused ripples by testifying before the U.S. Senate Armed Services Committee in March of that year on a timeline for a potential conflict in the Taiwan Strait.
"I think the threat is manifest during this decade, in fact, in the next six years," he told the hearing.
Tensions over Taiwan, which China views as its territory, heightened further last year, with Beijing ramping up military activity in response to a visit to the island by Nancy Pelosi, then U.S. House of Representatives speaker -- the third-highest-ranking U.S. official.
Touching on Chinese President Xi Jinping's speech during the twice-a-decade Communist Party congress in October, in which he said China will "never promise to renounce the use of force" over the Taiwan issue, Davidson noted, Xi's statement was "a signal that my assessments in the spring of 2021 hold true to this day."
Recalling his remarks in 2021, Davidson also said "any potential conflict" would include a massive cyberattack, massive missile barrage, a blockade of Taiwan and potential seizure of an outer island, in addition to an all-out assault.
China and Taiwan have been governed separately since they split in 1949 due to a civil war. Beijing has since endeavored to bring the island back into its fold.
The United States changed its diplomatic recognition from Taipei to Beijing in 1979 but has kept up unofficial relations with Taiwan and supplies the island with arms and spare parts to help it maintain sufficient self-defense capabilities.
A Taiwan contingency could draw the United States and its close ally Japan into a conflict with China, given the proximity of its southwestern islands, including the Senkakus, a group of East China Sea islets controlled by Tokyo but claimed by Beijing.
Davidson, an advisory committee member of the Sasakawa Peace Foundation USA, a think tank in Washington, said a Taiwan conflict should be deemed a "concern" also for Japan, citing "the range and size" of offensive and defensive operations and the location of the uninhabited Senkaku islets, which are only about 170 kilometers away.
China has been increasing its military assertiveness in the South and East China seas, with its coast guard vessels repeatedly entering Japan's territorial waters around the Senkakus, which China calls Diaoyu.