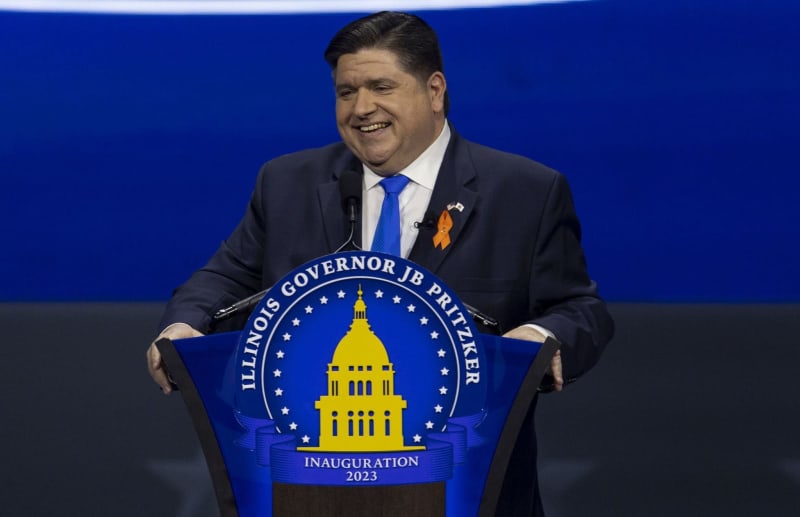 I rise to acknowledge that Illinois Gov. J.B. Pritzker this year officially became a "Davos Person," traveling to a tiny Swiss village with hundreds of other global-leader types, after two years in which the annual power fest experienced a pandemic-enforced repose.
Of course, the Davos Person not long ago was known as the Davos Man. But the times, and the nouns, have changed, though the purpose of the confab remains pretty much the same: high-minded talk mixed with bottom-line pursuit of commercial, state and national agendas.
The Davos Person's reputation varies depending on the audience. The conveners of the World Economic Forum in Davos see their attendees as enlightened and powerful global citizens who come each year to discuss and sort the world's big problems. Climate change, the war in Ukraine, slowing economies and economic disparities — that sort of topic.
You name it; they'll discuss it. Some day, they may even do something about it.
The Davos Person is of interest to Illinoisans this year because Pritzker joined in. He accepted an invitation to speak on several panels, and he stepped right up, with evident delight.
Consider Pritzker's main stage turn on the topic of "America (Un) Bound" — a panel meant to instruct the world about America's policy aspirations and its fractious politics, circa 2023. It was typical Davos stuff: bromides and platitudes, mixed with healthy doses of partisan pugilism.
Pritzker played his part. He opened with chamber-of-commerce boosterism about Illinois' clean energy law and the assault weapons ban he signed last week, then quickly pivoted to a critique of the election denialism and QAnon tolerance that has beset some corners of the Republican Party.
Pritzker's trip prompted predictable puzzlement about what it might mean for the governor's national political ambitions. And the short answer is this: not much. Prestigious as a Davos invite can be, it has no currency on the stump or at the polls.
That hardly means Pritzker made a mistake in going. As a matter of fact, he should consider going again. And if he does, next time, the governor might consider bringing more than just a handful of key staffers, as happened this year.
Davos built its reputation as a place where unlikely partners could parley and get results. In the early 1980s, the leaders of Turkey and Greece worked out a deal that helped avert warfare between the countries. South Africa's Nelson Mandela and F.W. de Klerk chose Davos in the early '90s as the site of their first appearance at a major global event as they worked together to dismantle apartheid.
As well known as those highlights may be — and as much attention as the global gabfest gets — its most valuable contribution to the world economy is the way it brings business and government leaders together in an informal atmosphere that's custom-built to get deals done. That's the part of Davos that could make a return trip for Pritzker worth the time and effort.
The way to do Davos for an Illinois politician was pioneered, paradoxically, by Mayor Richard M. Daley. If ever there were a public figure who did not look the part of the Davos Person, Daley would be the one. Rumpled, not comfortable schmoozing, born of Bridgeport not Brussels, Berlin or Buenos Aires, Daley on paper should not have fit in.
But he did, with brio. I saw it with my own eyes, wandering the serpentine halls of the World Economic Forum's convention center. Daley attended year after year as mayor, recruited a posse of Chicago's corporate elite to attend with him, and had them fan out and work the high-end crowd, spreading the word about Chicago.
Pritzker has shown a talent for this sort of work. His trip to the United Nations' climate summit in Glasgow, Scotland, in 2021, offered a first chance to tell Illinois' clean-energy story on the global stage. He emphasized the electronic vehicle marketplace, on the strength of the state's ability to secure a $70 million investment from Lion Electric of Montreal.
That was a good start. But the trip to Glasgow and London also marked Pritzker's first international travel as governor — a reflection of the pandemic's effect on global travel, true, but also an indication that Pritzker has not seen himself, as other governors have, as the state's top salesperson, willing to travel the globe to drum up business for Illinois.
The Davos appearance could mark a turning point. Pritzker was scheduled to reprise his clean-energy pitch. He was scheduled to speak on a panel about infrastructure, too: a good fit for a governor who has a $45 billion infrastructure improvement plan underway.
With his appearance this year, Pritzker is now officially a Davos Person. Based on what has surfaced so far about the trip, as well as video available on the World Economic Forum website, he did represent. Not bad for a trial run.
If Pritzker returns to Davos in 2024, it shouldn't be just him and staff again. To make the trip worth repeating, he might consider organizing a posse of business leaders — and putting together a plan to get business done.
___