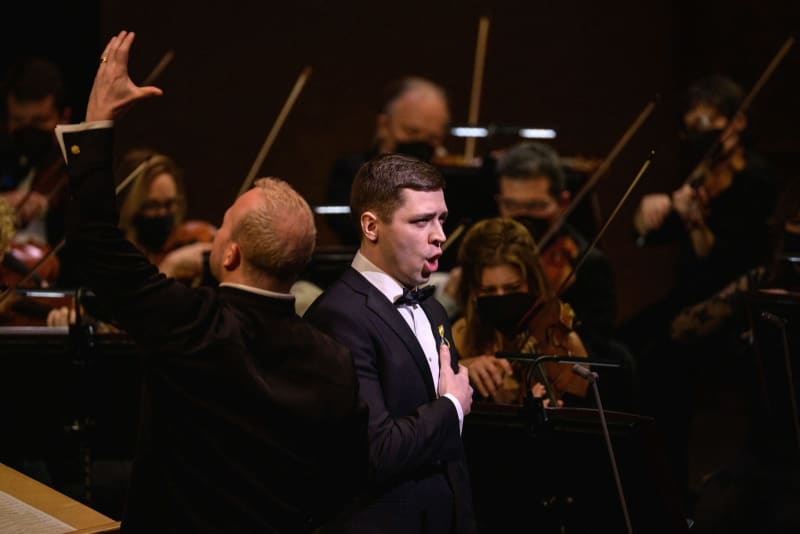 NEW YORK — The Metropolitan Opera in New York is marking the first anniversary of the Russian invasion of Ukraine with a concert celebrating the country's "resilience and hope."
On Feb. 24, Met Music Director Yannick Nézet-Séguin will lead the company's orchestra, chorus and soloists in a program of Mozart's Requiem and Beethoven's Fifth Symphony.
Soloists include soprano Golda Schultz, mezzo-soprano Emily D'Angelo, as well as the Ukranian-born tenor Dmytro Popov and bass-baritone Vladyslav Buialskyi, also from Ukraine.
"I am proud to lead the great Met Orchestra and Chorus as we continue to use music, an instrument of peace and healing, to show support for the people of Ukraine as they continue their quest for peace and an end to this war," said Nézet-Séguin.
Early last year, shortly after Russia invaded its neighbor, the Canadian-born conductor led the Met orchestra in a performance of the Ukrainian National Anthem prior to the opening performance of "Don Carlos."
He also conducted the benefit "A Concert for Ukraine" on March 14 — when a massive Ukrainian flag was draped outside the Metropolitan Opera's majestic building on Manhattan's Upper West Side.
Speaking about the evening's program, the Met's general manager, Peter Gelb, noted that Mozart's choral masterpiece will be performed as a way "to remember the innocent victims of war," while Beethoven's best-known compositions will be played "in anticipation of the victory to come."
The Metropolitan Opera has been a "staunch supporter of Ukraine in its struggle for survival," the world-renowned opera company said in a statement.
Next month's event — "For Ukraine: A Concert of Remembrance and Hope" — will open with the Ukrainian National Anthem. "Prayer for Ukraine," by Ukrainian composer Valentin Silvestrov, will close the evening.
The performance, which will be broadcast on radio, is being presented in association with Lincoln Center for the Performing Arts and the Permanent Mission of Ukraine to the United Nations.
"This is a concert in celebration of Ukrainian resilience and hope," said Sergiy Kyslytsya, Ukraine's ambassador to the UN.
"The Metropolitan Opera was among the first to show solidarity with Ukraine, its people, culture, and artists, and it has continued to do so throughout the past year of this tragic war," he added, "All wars come to an end, but we will always remember who was with us from the first, most difficult, moments."
All tickets cost $50 and go on sale Feb. 1. Ticket buyers are encouraged to make donations to Ukraine relief efforts.
———