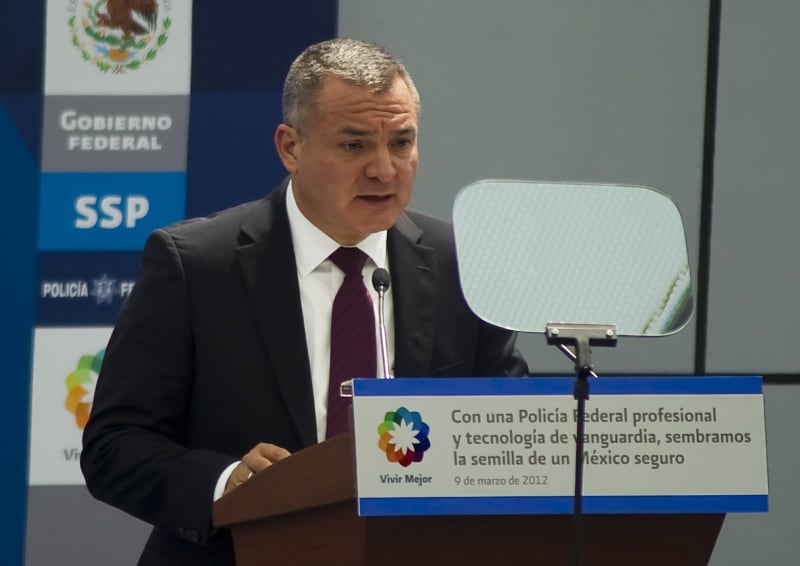 NEW YORK — Mexico's one-time top cop played the part of a drug-fighting hero, adding more than 30,000 cops to the country's federal police force, but it was all a front, federal prosecutors say — Genaro Garcia Luna was really taking money from Joaquin "El Chapo" Guzman's feared Sinaloa cartel to keep drugs flowing to the United States.
"He also had a second job, a dirtier job, a more profitable job," Assistant U.S. Attorney Philip Pilmar said in his opening argument Monday at Garcia Luna's trial in Brooklyn Federal Court.
Garcia Luna, 54, Mexico's former secretary of public security, is accused of taking briefcases full of cash from the Sinaloa cartel while it was run by the notorious drug lord Guzman.
From 2006 to 2012, under then-President Felipe Calderón, he ran Mexico's equivalent of the FBI, consolidating his power by swelling the ranks of the federal police, Pilmar said.
The cartel kept its billion-dollar drug operation humming by paying "to buy off the federal police, to put them on the payroll, to make them them part of the organization," Pilmar said. "The defendant took their cash and betrayed his oath to his country."
Guzman was convicted and sentenced to life plus 30 years in 2019.
At Guzman's trial, cartel turncoat Jesus Zambada Garcia testified to personally delivering briefcases with millions in cash to Garcia Luna in a Mexican restaurant.
In exchange, Pilmar said, Garcia Luna leaked sensitive law enforcement information on pending arrests, let cocaine pass through checkpoints and turned his federal police officers into bodyguards, drug couriers and "armed mercenaries" for the cartel.
"Members of the jury, the evidence will show that the defendant, the person who was supposed to be in charge of fighting the Sinaloa cartel, was actually its most valuable asset," Pilmar said Monday.
But defense lawyer Cesar de Castro said Garcia Luna actually did his crime-fighting job too well — and that the government's case is based on the word of ruthless criminals seeking revenge for being locked up by his client.
"What better revenge than to bury the man who led the war against the cartels?" de Castro said. "These murderers, torturers, kidnappers literally get to kill two birds with one stone."
De Castro said that the cartel members who will testify are hoping for lighter sentences and the possibility of a new life in the U.S. Prosecutors will show the jury "no money, no photos, no videos, no email, no texts, no recordings, no documents" to back up their allegations of bribery, he said.
Over his career, Garcia Luna met with top American law enforcement officials in the FBI, DEA and the Department of Homeland Security, as well as members of Congress, Sen. John McCain, former Secretary of State Hilary Clinton and President Barack Obama, de Castro said.
He also helped bring in technology and equipment from the U.S. and helped implement a "huge database" called Plataforma Mexico to fight the cartels.
"This will be a very public and angry display by your government abandoning a strategic partner for years," de Castro told jurors. "The government will help the cartels exact the ultimate revenge on those responsible for their capture."
After opening arguments, the jury heard from Sergio Villarreal Barragan, a former Mexican federal police officer nicknamed El Grande who joined the Sinaloa cartel and worked for one of its leaders, the late Arturo Beltran Leyva.
Barragan described the cartel's expansion efforts in the early 2000s and said Garcia Luna played a key role in their efforts.
Garcia Luna headed the Federal Investigation Agency, or AFI, from 2001 to 2006, and the AFI's support was crucial in Sinaloa's clashes with the rival Gulf Cartel, Barragan said.
In one episode, Barragan was tasked with stealing a two-ton shipment of cocaine from a rival cartel, which he did by setting up a highway checkpoint.
He and his Sinaloa crew took the drugs to a warehouse, where they waited for Garcia Luna and other high-ranking police officials to arrive. Beltran Leyva also showed up. The plan was to split the take with the AFI, giving Garcia Luna money in exchange for the police agency's half of the drugs.
The money added up to "a good amount," he said, about $14 million to $16 million packed in "cardboard boxes, the kind that's used for office paper," Barragan said.
The cash filled so many boxes that the AFI officials couldn't fit it all in their SUVs so Betlran Levya let them use his Suburban to help ferry the cash, Barragan testified.
———