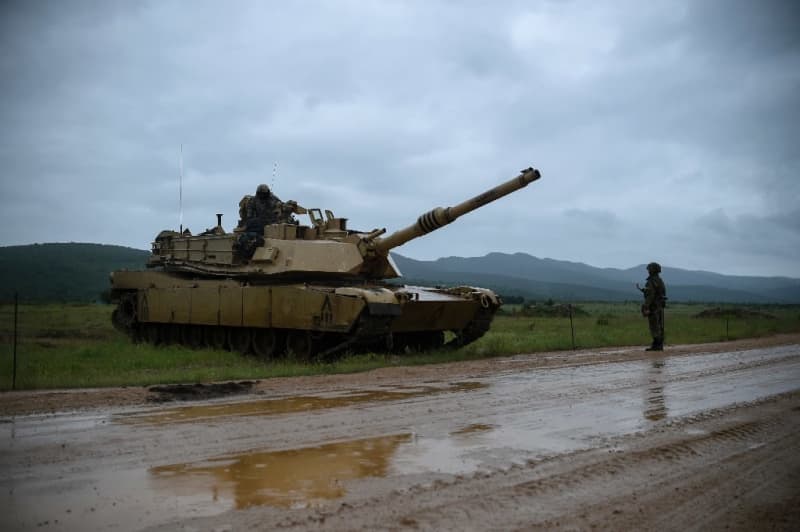 Washington (AFP) - The United States and Germany on Wednesday announced deliveries of top-of-the-line tanks to Ukraine, sweeping aside their longstanding misgivings and signaling a new surge of Western support for an expected counteroffensive against the Russian invasion.
In a televised address, President Joe Biden promised 31 Abrams tanks, one of the most powerful and sophisticated weapons in the US army. Shortly before, Chancellor Olaf Scholz gave the green light to Germany sending 14 Leopard 2 tanks, a decision that opens the floodgates to several other European countries armed with Leopards to send their own contributions.
Although Western countries have already sent Ukraine everything from artillery to Patriot anti-missile defense systems, tanks were long considered a step too far, risking a widening backlash from Russia.
But with Ukraine gearing up for a counteroffensive to push back increasingly entrenched Russians in the east and south of the country, the allies are now scrambling to send the vital weapon before it's too late.
The latest twist in the biggest European conflict since World War II came as Russian forces tightened the screws on Bakhmut, an eastern town that Ukrainian forces have held for months in the face of mass artillery bombardments and what defenders describe as human wave attacks.
Deputy Defense Minister Ganna Malyar said that Russia with its "superior number of soldiers and weapons" was "trying to break through" in the Donetsk region.
Near Soledar, a frontline town recently captured by Russians, a Ukrainian unit commander told AFP that his troops were outnumbered.
"They use people as cannon fodder," he said. "We shoot and shoot and shoot, but after five minutes another wave of 20 enemies is coming at us."
Not 'threat to Russia'
Flanked by his stern-faced secretary of state, Antony Blinken, and defense secretary, Lloyd Austin, Biden said that ramping up of Western armaments for Ukraine's military should not be seen as an attack on Russia.
"That's what this is about -- helping Ukraine defend and protect Ukrainian land. It is not an offensive threat to Russia. There is no offensive threat to Russia," Biden said.
Ukrainians, who have lobbied Western capitals for months to end restrictions on weapons enabling their troops to take on the more heavily armed Russians, were jubilant.
President Volodymyr Zelensky called the pledge of US Abrams "an important step on the path to victory."
Russia made it clear sending heavy tanks would cross a dangerous new line. Moscow's ambassador to the United States, Anatoly Antonov, said US approval for Abrams deliveries would be "another blatant provocation against the Russian Federation."
And Russia's ambassador to Germany, Sergei Nechaev, likewise warned that the "extremely dangerous decision takes the conflict to a new level of confrontation, and contradicts statements by German politicians about the unwillingness of the German Federation to get involved in it."
Need 'lot of Leopards'
US officials said they had not bowed to reported German pressure for Washington to pledge Abrams as a way to get Berlin to make a decision.
"Germany didn't force me to change my mind. I wanted to make sure we are all together," Biden told reporters, when asked about the coordinated announcement.
US officials had themselves been on the fence about sending Abrams, describing the tanks as overly complex for the Ukrainian military. Unlike the German tanks, which are ready to go, the M1 Abrams will have to be procured and will not arrive in Ukraine for months, a senior US official said.
However, the twin decisions have galvanized multiple offers of more.
Poland is pledging major contributions, Norway offered two Leopards on Wednesday and Spain said it would look into its stocks, while Sweden's defense minister told AFP "I don't exclude the possibility."
In Kyiv, Zelensky's aide Andriy Yermak, said simply: "We need a lot of Leopards."
Zelensky, while hailing the unprecedented NATO assistance, called for yet another new class of weapon -- "long-range missiles."
Indicating the intensity of the behind-the-scenes diplomacy, Biden spoke by phone about Ukraine on Wednesday with the leaders of Britain, France, Germany and Italy, the White House said.
burs-sms/md