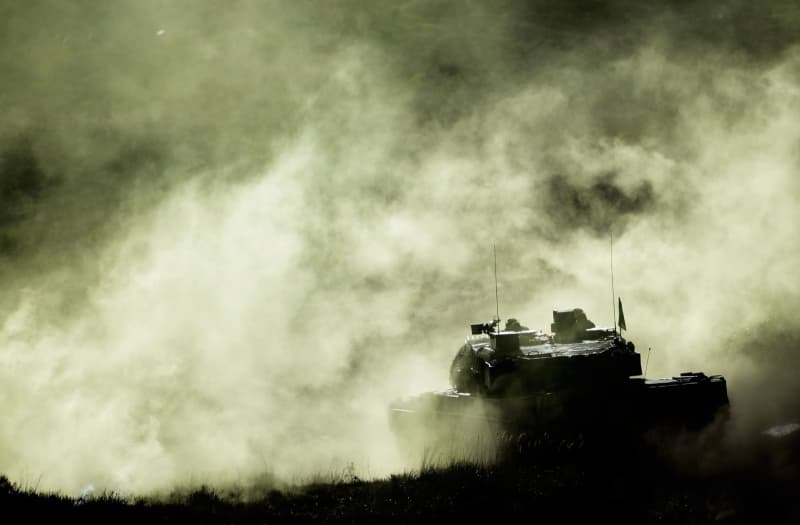 German Chancellor Olaf Scholz has agreed to supply Ukraine with Leopard 2 battle tanks, sources told dpa on Tuesday, after weeks of mounting pressure on Berlin to offer Kiev heavier weapons to beat back Russian forces.
Berlin is also granting other countries, such as Poland and Finland, the licence to re-export the German-made tanks to Ukraine, the sources in government circles said.
Countries that buy military weapons from Germany are generally required to obtain permission from Berlin before transferring those weapons to another country.
Scholz had held out for months against the growing chorus of people urging him to send Kiev the tanks - not just Ukrainian President Volodymyr Zelensky but also NATO allies and members of his own coalition government.
The backlash from other European capitals - especially in Poland and the Baltics - had intensified in recent days. Zelensky's line also toughened. He said Berlin's foot-dragging was killing Ukrainians.
Zelensky reacted cautiously to reports that Scholz has agreed to supply Ukraine with the tanks.
"A lot of effort, words, and promises," he said in his daily video address late Tuesday.
"But it is important to see the reality," the Ukrainian president added. "It is not about five, or ten, or fifteen tanks. The need is greater. Every day we are doing everything necessary to fill the deficit. And I am grateful to everyone who supports us in this."
The discussions on the delivery of tanks now had to "end with decisions. Decisions to really strengthen our defense against terrorists," the Ukrainian leader said.
Kiev's first official request for the Leopards came just days after the war started 11 months ago.
Much remains unknown about Berlin's decision, including the number of Leopards and whether it is linked to Washington sending its own battle tanks.
Der Spiegel reported the decision involved at least one company of Leopard 2A6 tanks, which is a newer version. Generally, equipping a company means handing over 14 tanks.
"The Leopard's freed!" tweeted Bundestag Vice President Katrin Göring-Eckardt, of the Green Party, on Tuesday evening.
The Greens are part of Scholz's three-way coalition.
Questions over the deliveries have exposed cracks in the coalition, with the Greens and liberal Free Democrats urging more military support while Scholz's Social Democrats have been more hesitant.
Germany is one of Ukraine's biggest military donors. But there is scepticism about the value of sending tanks among a significant swathe of the German public, who worry it could draw Germany more deeply into an escalating war in Eastern Europe.
Scholz had also argued he needed to be in lockstep with the United States. Recent reports said Berlin had been asking Washington to send comparable tanks, like the M1 Abrams.
The Wall Street Journal, Associated Press and other US media outlets reported Tuesday that the Biden administration was now poised to reverse course and send Ukraine those Abrams tanks.
An official confirmation from Washington could come as early as Wednesday, according to reports, estimating that the planned delivery might entail up to 50 M1 Abrams tanks.
Neither the White House nor the Pentagon confirmed the reports on Tuesday.
So far, Washington has rejected the idea of sending the Abrams arguing that it was not practical to supply Ukraine with the tanks.
The front line in eastern Ukraine has barely moved for weeks. With the tanks, Ukraine hopes to claw back more terrain seized by Russia.
Analysts say Russia is preparing a major spring offensive.
The German government plays a key role in the Leopard supply issue and holds the power to decide what other countries can acquire the German-built, state-of-the-art tanks.
When military equipment is sold to other countries, so-called end-use clauses are always built into the contracts. These stipulate that the German government must approve any transfer to third countries.
Of the 14 European states that have Leopard tanks, only Finland and Poland have so far publicly signalled their willingness to deliver them to Ukraine.
No Western-designed heavy tanks have been delivered to Ukraine for defensive combat against Russian attackers. Britain, however, has pledged 14 Challenger tanks.
So far, Ukraine has received only Soviet-made tanks that were in the inventory of Eastern European NATO countries.
Polish President Andrzej Duda recently announced that the country intended to supply Ukraine with 14 Leopards. Poland has a total of 247 Leopard 2 tanks in three different versions (A4, A5 and PL). They were purchased in 2002 and 2013 in two tranches from the Bundeswehr's stocks.
Germany has been supplying weapons to Ukraine since the beginning of the war, including heavy artillery pieces and air defence systems. It has also already delivered Marder infantry fighting vehicles, which are significantly less powerful than the Leopard 2.