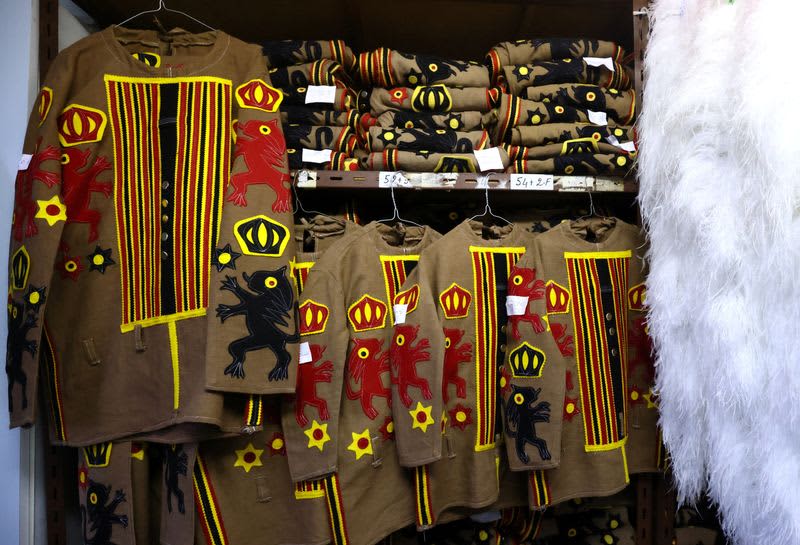 By Clement Rossignol and Christian Levaux
BRUSSELS (Reuters) - Huge ostrich feather headpieces are one of the costumes made by the Kersten family for Belgium's celebrated Mardi Gras carnival, and after the event was cancelled due to COVID in recent years, the 120-year-old family business is hoping for a revival.
Rooted in the Middle Ages, the Binche carnival, a UNESCO World Heritage event, is one of Europe's oldest surviving street carnivals and the biggest in Belgium.
The oldest and main participants in the carnival are the up to 1,000 Gilles, who wear medieval costumes in the black, red and yellow colours of the Belgian flag and who parade in the centre of Binche, a town of some 30,000 inhabitants southwest of Brussels near the French border.
The costumes include ostrich-feather hats, wooden clogs, bells and wax masks, elements which the Kersten family have been designing and making for five generations.
"This year, we are celebrating the 120th anniversary of the start of the 'Gilles de Binche' costumes production", said 57-year-old Fanny Kersten, who has been making costumes with her father for 33 years.
"My great-great-grandfather decided to make a Gilles hat following a bet with his friends ... It mustn't have been easy for him but it worked out," she added.
The Binche carnival's cancellation in 2021 and 2022 due to the COVID-19 pandemic was a "black hole" for the business, Kersten said, adding "we couldn't even imagine a future for the carnival."
It was the first time the carnival was cancelled since World War Two, significantly reducing costume makers' income from renting out their pieces.
"Now (the return of the carnival) is a great relief. Still, every morning we look at the COVID numbers," Kersten said.
Her ostrich feather hat weighs 4kg (8.8 lb) and maintaining it takes 85 hours a year. The costume itself requires 13 hours of work. Kersten said the family can make 300 costumes per year.
The carnival is due to take place from Feb. 19-21.
(Writing by Marine Strauss, editing by Vin Shahrestani)