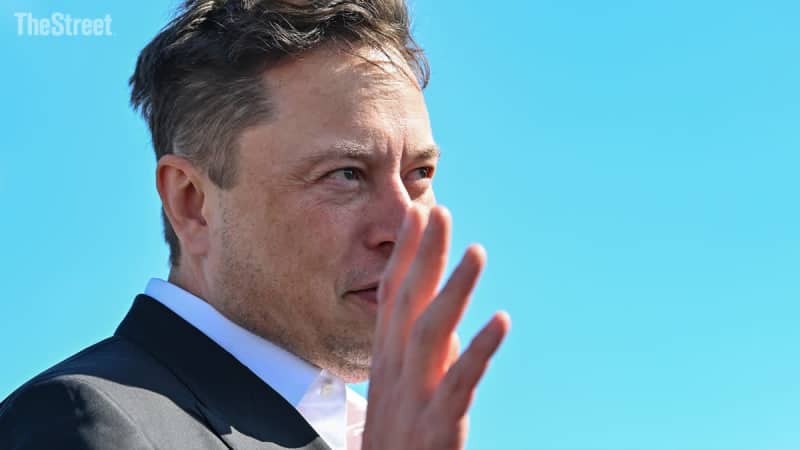 By Luc Olinga
After a massive vehicle-price slash, Tesla's CEO is due to address shareholder criticism and questions about profitability after the market close Jan. 25.
Elon Musk is facing one of his biggest tests since Tesla started up.
The electric-vehicle leader's chief executive on Jan, 25 is set to address shareholders, fans and the broad market, all of which have been left perplexed and disillusioned by the news of the past few months.
After the market close tonight the Austin group is set to report fourth-quarter results, with a conference call to follow, on which Musk usually participates. All eyes and ears will be on this call, Musk and Tesla's first big moment in the new year.
"While every quarter is important for Tesla, we would highlight tomorrow's call/guidance commentary as one of the most important moments in the history of Tesla and for Musk," Wedbush analyst Dan Ives wrote on Jan. 24.
"Delivery targets for 2023 (1.8 mm the bogey), Auto gross margins, and Musk commentary/outlook key tmrw."
Musk Had Promised 'Epic' Q4. Weeeellll...We'll See
Indeed, Musk had promised an "epic" fourth quarter, but apparently things didn't go to plan.
Vehicle deliveries for 2022, reported on Jan. 2, came in below expectations. Tesla delivered 1.31 million cars in 2022, up 40% year on year. But this was below the average 1.33 million analysts expected.
The automaker delivered 405,000 vehicles in the last three months of 2022, more than 5% below the 427,000 analysts expected.
Deliveries are the most reliable barometer of vehicle sales by Tesla, which has produced more cars than it has delivered. In 2022, production stood at 1.37 million vehicles, including 439,701 units in the fourth quarter.
Between Musk's promise and Dec. 31, Tesla stock lost nearly 45% of its value.
This stock-market rout provoked a harsh response from outspoken shareholders like Leo KoGuan and Ross Gerber, who did not hesitate to criticize Musk publicly and to question the role of the board.
For the first time, Musk, the architect of Tesla's success, found himself under fire from part of the Tesla community, which is essentially made up of his fans. These critics blamed him mainly for leaving Tesla to take care of Twitter, the microblogging platform he acquired for $44 billion on Oct. 27.
"Elon has now erased $600 bil of tesla wealth and still nothing from the Tesla [board of directors]," Gerber blasted out on Dec. 16 via Twitter. "It's wholly unacceptable."
"I am 100% in Tesla bc I believe in Elon Musk and Tesla," KoGuan wrote on Twitter on Jan. 7. "But he is killing SH and Tesla. If I knew I wouldn't invest in Tesla," KoGuan lamented on Jan. 7.
Musk Eases the Pressure (via Monty Python)
Musk moved to assuage the critics by announcing his resignation as CEO of Twitter. But that's effective only when he finds a successor, and a key question on tonight's earnings call is whether he will announce that new leader. That move, observers say, would go a long way to ease the concerns of Tesla's shareholders and fans.
In addition, Tesla did something unprecedented. The automaker has cut its prices three times. The first was a drop of $3,750, then came $7,500 in December, and on Jan. 12 the prices declined 7% to 20%, a slash unheard of in Tesla history.
For some analysts, Musk and Tesla have chosen volume sales at the expense of profit margins. But investors applaud the move because they see it as a way for Tesla to increase market share if its rivals do not react. Competitors like GM (GM) - Get Free Report, Ford (F) - Get Free Report and Rivian (RIVN) - Get Free Report have less flexibility.
Given all the heavy news of the past few weeks, the earnings call is crucial.
But Musk is an entrepreneur apart. A few hours before this big test, the Techno King, as he's known at Tesla, has just written disconcerting messages on Twitter. These tweets are lyrics from the song "Eric the Half-a-Bee" by the British comedy troupe Monty Python.
"🐝 all u can🐝," the billionaire tweeted on Jan. 25. Which could translate to be all you can be.
A few minutes later he wrote a new message still referring to the Monty Python song
"Philosophically
must ipso facto
1/2 not 🐝," Musk added.
Here are the exact lyrics of the song:
"Half a bee, philosophically
Must, ipso facto, half not be
But half the bee has got to be
A vis-a-vis its entity, you see?
But can a bee be said to be
Or not to be an entire bee
When half the bee is not a bee
Due to some ancient injury?"
The lyrics ask existential questions. For example, being half something, in this case half a bee, makes you that thing even if you are not entirely that thing.
Musk's cryptic posts have twitter users baffled.
"What," one Twitter user asked simply.
The tweets also led some Twitter users to bring up Hamlet's famous tormented question in the tragedy of William Shakespeare: "To be or not to be."
"To 🐝 or not to 🐝," commented one user.
"To 🐝 or not to 🐝," added another Twitter user.
Musk did not respond to the comments nor did he elaborate on his message.
It just seems like his way of handling the pressure.