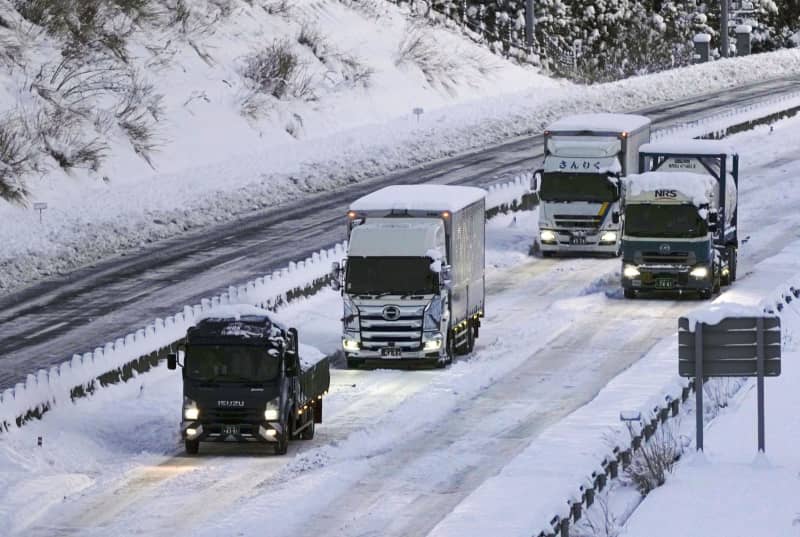 Traffic congestion that left vehicles stuck for more than a day on a western Japan expressway after heavy snowfall eased Thursday morning, its operator said.
Vehicles had formed several jams totaling 34.5 kilometers on the Shin-Meishin Expressway between Shiga and Mie prefectures around noon Wednesday on outbound lanes, with the prolonged snowfall delaying snow removal.
Central Nippon Expressway Co. said it would aim to resume access to sections on the expressway, including between the Yokkaichi and Kameyama-Nishi junctions in Mie, later in the day. They were closed early Wednesday to prevent more vehicles getting stranded.
With snow also piling up between vehicles, expressway workers used shovels in places where snowplows were unable to access.
Hatsuma Kuwamura, 51, told Kyodo News on Thursday at an expressway rest area in Koka, Shiga Prefecture that he was stranded at around 4 a.m. Wednesday on his way home from Tokyo Disneyland near the Japanese capital.
The snow reached to just below the knees, he said, adding that he and the drivers of trucks in front and behind his car spent time chatting to encourage each other.
Kuwamura said an expressway worker handed out food and water Wednesday night and that he was able to start moving his car forward again at around 7 a.m. Thursday.
"I hope I can get home easily, but it seems difficult," said Kuwamura, who lives in the city of Tamba in Hyogo Prefecture.
Heavy snow fell from Tuesday through Wednesday across much of Japan in the most severe cold snap of the season so far, stranding trains and vehicles. Record cold temperatures were seen in parts of Japan.