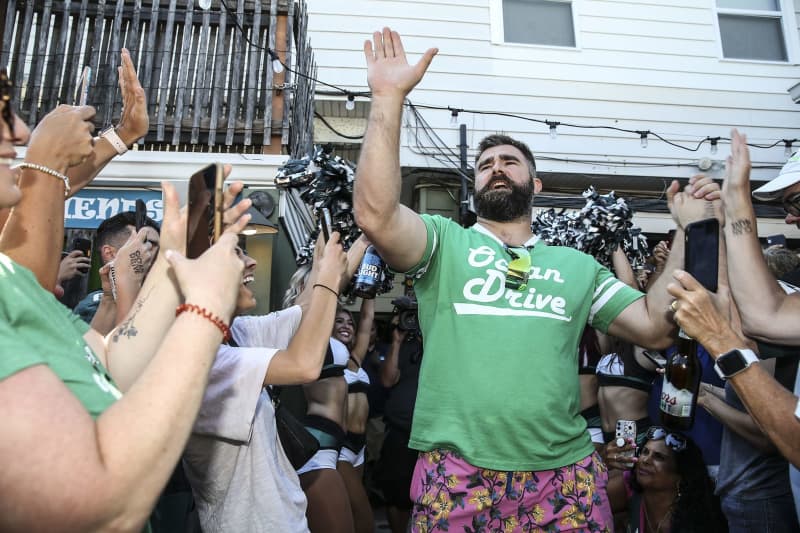 PHILADELPHIA — Ryan Hammond stood five years ago in the auditorium of the Eagles practice facility, invited at the end of a team meeting to speak about the franchise's new charitable foundation. She had been recently hired to start the Eagles Autism Foundation and needed some help. She needed the players — not just the quarterback, but everyone — to buy in. Finally, a hand went up. It was Jason Kelce.
Sunday could be the final home game of Kelce's career as his playing days seem numbered. He flirted with retirement last season and said last week that he's weighing his future "one day at a time." If this is it, Kelce will be remembered as an all-time Eagle: a sixth-round pick who became a Hall of Fame-caliber lineman and an integral part of the team's first Super Bowl victory.
But for the Eagles Autism Foundation, which has raised nearly $20 million since launching in 2018, Kelce will be remembered for raising the hand.
"For him to put himself out there and help us build this from the beginning, it really let my call to action be amplified in a way that everyone knows that I'm talking to them," said Hammond, the foundation's executive director. "I don't just need one guy. It really takes all of us."
Meeting Tim
Tim Quinn has been a fixture in Kylie Kelce's life ever since her family moved to Narberth when she was in the third grade. He lives across the street, and she calls Quinn her brother. Quinn calls her mom "girlfriend" and her father "boss." The 32-year-old, who was diagnosed with autism as a child, is an artist and huge Philadelphia sports fan.
If two Philly teams are playing on the same day, Quinn will spend the first part of the day wearing the gear of the team that plays first before going home and switching into the gear for the next game. So that must have been why Quinn — typically quiet around people he doesn't know — sat near Jason Kelce and talked to him the first time he met him.
"That's the craziest part," said Kylie Kelce, who married Jason Kelce in 2018, "he did not know what Jason did for work."
That meeting — in Kylie Kelce's parents' living room shortly after they started dating — was the first time Jason Kelce ever interacted with someone diagnosed with autism spectrum disorder. He likely crossed paths with people with ASD growing up near Cleveland but can't remember anyone who was on the spectrum. And then he met Quinn.
"It was amazing to see the way that he connected with Tim and the way that he realized that it was very important to our family that he treated Tim like he was anyone else and he treats Tim like he's part of the family," Kylie Kelce said. "He was careful to foster that and made sure that Tim felt heard and he made a connection with Tim and he had conversations with Tim."
Shortly after, Quinn told Kylie Kelce's mother that he saw Jason Kelce on TV. The gig was up. Quinn, they figured, discovered that Kylie's boyfriend was an Eagle.
Except he saw him on a Dietz & Watson commercial. Quinn said his buddy Jason makes hoagies and that's why he's busy on Sundays because everyone places orders for the Eagles games. It was more proof that there was something special — and it wasn't football — that created the bond between Quinn and Kelce.
"I joke around and say that if Tim didn't like Jason, then it wouldn't have worked out," Kylie Kelce said. "But Tim really does have a sixth sense for good people. That was a defining moment in our relationship. Like if Tim is giving you the green light this early, I guess you're good then.
"It's been such a joy to have Tim in my life and have him be a constant. Tim himself is one of the most honest, straightforward, hilarious, and fun individuals that I've ever been around. I'm just so grateful that I have the opportunity to call him my neighbor, let alone my brother."
Rallying others
Kelce's bond with Quinn moved him to raise his hand that day in the auditorium, pushing him to champion the autism community the same way his wife had. She worked for two years in the Lower Merion school district as a one-on-one support for students with ASD and was one of the first people to email Hammond after she joined the Eagles to ask how she could help.
Kelce, whose maiden name is McDevitt, volunteered to sell raffle tickets in the stands at training camp practices and helped organize the foundation's yard sale fundraiser. She joined the foundation last year in a part-time role overseeing event logistics.
Kelce helps organize the Eagles Autism Challenge, an annual event highlighted by a 10-mile bike ride that raised $4.1 million last year. She has rallied other wives and girlfriends to follow, circling the wagons the same way Jason Kelce does in the locker room.
Brandon Graham partnered last week for a fundraiser with a local pizza place. Jalen Hurts wore an Eagles Autism Foundation cleat during a game this season, and Lane Johnson painted the field this month for the foundation's radiothon. Offensive line coach Jeff Stoutland sold a T-shirt to raise money for the foundation after Jordan Mailata — who was one of 30 players to ride in the 10-mile bike race — said he graduated from "Stoutland University."
The foundation, with the Kelces driving it the way Jason Kelce moves a defender, has seemed to naturally weave itself into the locker room.
"I don't know if anyone I've come in contact with has gotten much from me but I've gotten a lot from them," Kylie Kelce said. "Selfishly, I recognize that. I can't even put into words how grateful I am that I have the autism community in my life and that I'm able to be an active participant in that through EAF."
Sea Isle bash
Hammond's family and the Kelces were at the arcade in Sea Isle City in the summer of 2021 when a line of people — "at least 100," Hammond said — kept asking Jason Kelce for a photo. Hammond, always thinking of ways to raise money, told Kelce that those photo-ops — "He graciously took each one," Hammond said — could've been a good fundraiser.
"I was totally joking with him," Hammond said. "He said, 'I'd be down with a fundraiser if you could pull it off.' I was like, 'Don't tempt me with a good time.' "
The manager of the Ocean Drive was at Hammond's house the next morning with a legal pad and a bag of donuts. The idea was simple: Kelce — who became a Philadelphia icon with his Super Bowl parade speech — would be a celebrity bartender.
But how much time did they have to plan it, Mike Ferry asked. The Kelce's lease — they didn't own a house yet on the island — ended in less than a week. This had to be quick, Hammond said. They pulled it together and raised $50,000, which Kelce matched to bring the total to $100,000 for the Eagles Autism Foundation.
They did it again last summer and raised more than $100,000 after having more than a few days to plan the event. Kelce's brother, Travis — who the Eagles could face in the Super Bowl — attended, and each Kelce donated an extra $25,000. They're already planning this summer's event.
"That's what is so awesome about him," Hammond said. "Jason is such an interesting guy. He's an incredible football player, has a great personality, but he's also so bright and compassionate. The fact that he's learned so much about autism just since our foundation launched and because of Kylie's connection. It's been incredible to see.
"I've seen him bring multiple families to tears during interactions because of his patience and awareness to be like, 'OK, you don't want to stand next to me in a photo but if they stand five feet in front of me, that's a win for this family.' Him celebrating that win with them has been awesome to see. He's learned how to interact and support the community."
'You make Hoagies'
Kylie Kelce brought Quinn onto the field a few years ago before a training camp practice. The diehard got to meet his favorite players before his buddy came out of the tunnel dressed for work.
"Head to toe, helmet to cleats, ready to play football," Kylie Kelce said. "We're getting ready to leave so Jason can go practice and he says, 'All right, Tim. What do I do for a living?' He goes 'You make hoagies.' It was so funny. That the connection he made to him and the fact that he sat down and spoke to him the first time he met him was so organic and had nothing to do with the fact that he played football. It was so refreshing."
Quinn has since learned what his friend does for a living, which gives him something to brag about. But that wasn't why he was so quick to warm up to him in the living room that day. It was something different. And that led Kelce to raise his hand.
Kelce's playing career — even if it extends past this postseason — likely is entering its final stages. But the work the Kelces are doing with the autism community will extend past the final snap.
"EAF knows that they can't get rid of me," Kylie Kelce said. "Even if I'm not there in an official capacity, I'll just keep volunteering. Once football is done, but let's be real, I don't think football will ever be done. But once Jason is done snapping the football on a regular basis, I can't see us ever not having a part in EAF. We have that personal connection and we could never step away.
"When you know someone that's on the spectrum, you can't feel anything but grateful because you are sort of pushed into this community that's ever changing and exciting. No day is the same."