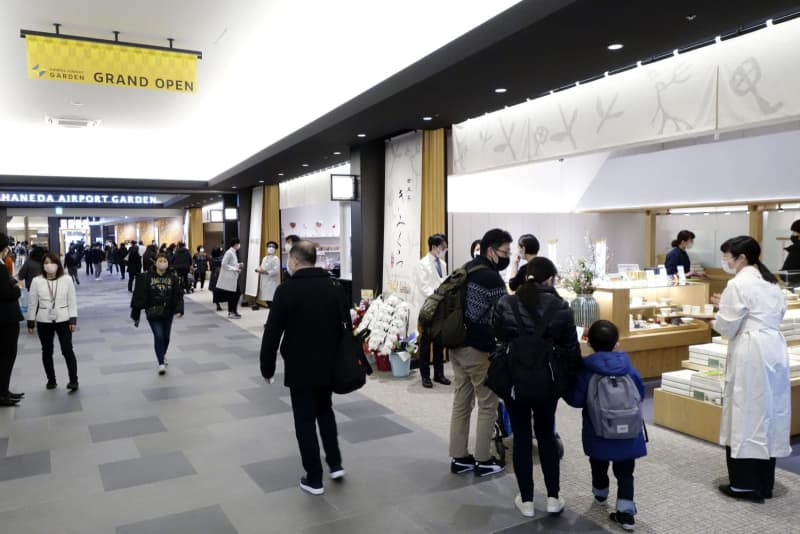 A hospitality complex featuring Japan's largest airport hotel, an open-air bath and a range of shops and restaurants opened next to Tokyo's Haneda airport Tuesday after a nearly three-year delay due to the COVID-19 pandemic.
The full opening of Haneda Airport Garden, connected to the airport's Terminal 3, which primarily serves international flights, comes as Japan aims to welcome back inbound travelers after easing its border controls last year.
The large-scale mixed-use development complex, which was initially slated to begin operations in April 2020, is mainly comprised of a Villa Fontaine-brand hotel that, with a total of 1,717 rooms, makes it the country's largest hotel directly connected to an airport, according to the developer, Sumitomo Realty and Development Co.
The open-air bath on the 12th floor of the hotel complex is a natural hot spring and commands a view of Mt. Fuji and airplanes. It can be used by any airport user.
"We will endeavor to provide a wide range of customers with hospitality and special experience befitting a global hub," the developer said in a press release.
The complex on the 43,000-square-meter development area also houses a bus terminal on the ground floor, a hall for conferences and smaller conference rooms.
Japan saw 4.2 million inbound visitors last year, a nearly 12-fold increase from the previous year, although the figure still fell far below the record 31.19 million logged in 2019.
Numbers are expected to climb further this year after China reversed its "zero-COVID" policy, while the Japanese government decided last week to downgrade the legal status of COVID-19 to the same category as common infectious diseases, to be implemented on May 8.
Meanwhile, the Japan Tourism Agency said Tuesday that over 47 million people stayed in hotels and ryokan-style inns across Japan in December, up 20 percent from a year earlier and almost recovering to the level logged in the same month of the pre-pandemic 2019.