By lcox@thekmgroup.co.uk (Lynn Cox)
There were lots of people who lost their freedom and started prison sentences at the beginning of this year.
Here's just some of the burglars, killers, paedophiles, thieves, dealers and thugs who were locked up in January.
Stephen Baillie and Taylor Houston
A pair of burglars who stole hugely sentimental jewellery during a burglary spree across east Kent were jailed.
Thieves Stephen Baillie and Taylor Houston targeted 10 homes in Herne Bay, Canterbury, Blean, Whitstable, Wingham and Sandwich between October and November.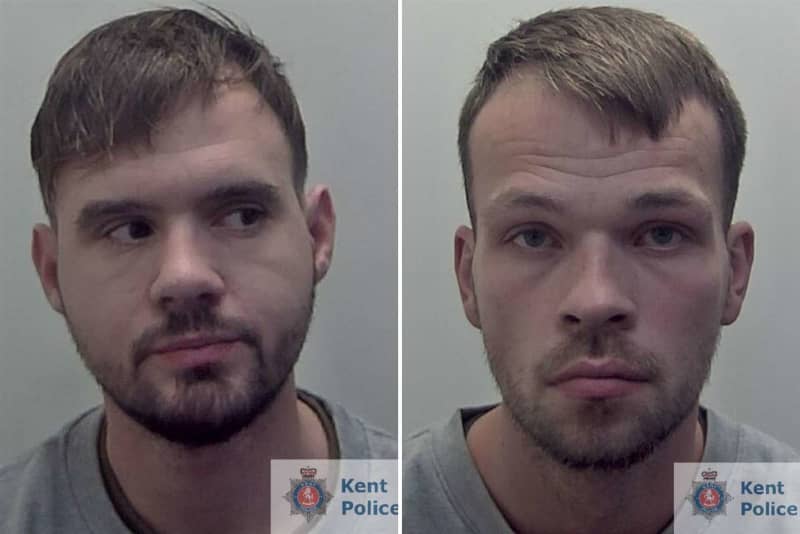 They were arrested after detectives spotted and stopped a van linked to the raids in Sandwich on November 21.
Baillie, 32, of Westgate Court Avenue, Canterbury, and Houston, 28, of Canterbury Road, Herne Bay, were charged with conspiracy to burgle the following day.
They admitted the charge and were sentenced to four-and-half years each at Canterbury Crown Court last month.
Jewellery stolen during some of the burglaries was recovered by officers and returned to victims.
DS Jay Robinson, of the Chief Constable's crime squad, said: "These two individuals thought that they could target addresses and steal jewellery, some of which was of great sentimental value to victims.
"Our extensive investigation showed the court the level of involvement of both of these men in these burglaries and we were delighted to be able to return stolen items in some cases and I hope that these two will take the time in prison to reflect on their life choices."
Jacob Luton
A drug-driving former footballer crashed and flipped his car after hurling insults at his ex, injuring his three teenage passengers.
Jacob Luton was 12 times the legal drug limit when he drove past his former partner at least seven times, while shouting abuse out of the window.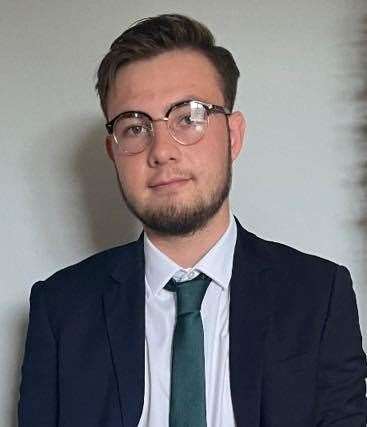 The 19-year-old then hit two bumps in the road and lost control of the car, which crashed into a tree and overturned - injuring his three 16-year-old friends.
Believing one of his passengers was dead, the teenager could be heard shouting: "It's my fault. What have I done?"
All three passengers were injured, including one who was found trapped and later taken to a London hospital for treatment for multiple broken bones.
Ironically, the former Whitstable Town FC Youth player turned to his ex for help after escaping the wreckage.
Luton, from Hernhill, near Faversham, was sent to a young offenders' institution for 16 months and banned from driving for four years and eight months.
He had admitted causing serious injury by driving dangerously and driving while over the drug limit when he appeared at magistrates' court last year. He was 18 at the time of the offences.
Richard and Pauline Winfield
An elderly couple who carried out horrific sexual offences against children more than 35 years ago were jailed.
Wheelchair-bound Richard Winfield, 90, and his wife Pauline, 82, were locked up last month for crimes committed in Ashford in the 1970s and 1980s.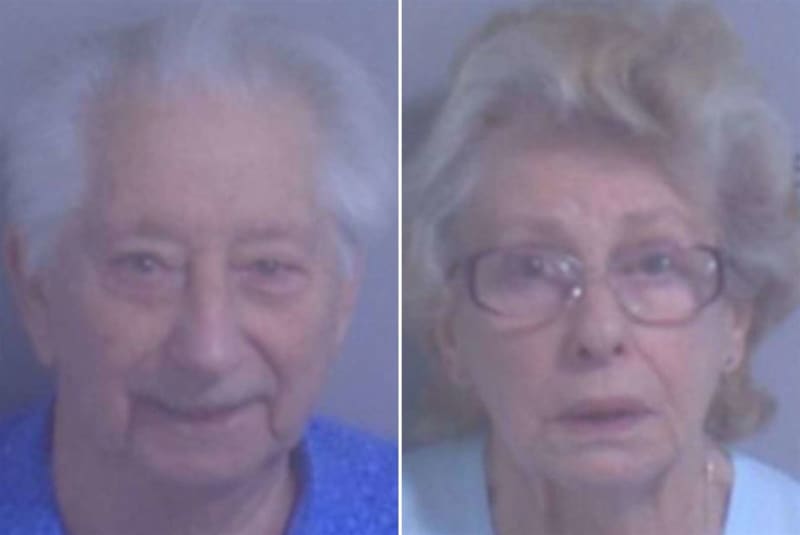 As his wife was led to the cells, Mr Winfield - who has been told he has less than a year to live - shouted to the judge: "She didn't do anything - we didn't do anything."
But a jury in Maidstone rejected the couple's claims of innocence over the series of vile attacks.
Mr Winfield committed indecent assaults on two children, while his wife took part in offences against one.
The indecency against the first victim - who was aged under 10 - took place in the 1970s, while the offences against the second - a teenager - were carried out in the 1980s.
The Winfields, both of White Horse Lane in Rhodes Minnis, near Canterbury, were arrested in 2018.
Charges were brought in April 2020 after officers tracked down witnesses who corroborated parts of the victims' evidence.
The jury found Richard Winfield guilty of 15 sex offences against children and his wife of seven.
Jailing Richard Winfield for 10 years and his wife for five, the judge told them: "I believe both of you derived sexual gratification and excitement from what a child was made to do."
Emily Philips and Robert Dalton
A man and a woman were jailed for a combined total of more than 20 years after police stopped a car that contained more than £250,000 of ecstasy tablets.
Emily Philips, 33, from Swanley, and Robert Dalton, 40, from Gravesend were stopped by officers from Cheshire Constabulary's Roads and Crime Unit on the M6 following a stop check near Knutsford.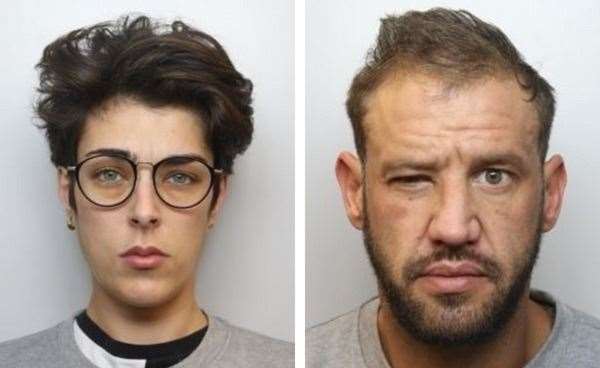 The pair were in the pink Ford Mustang when it was pulled over by officers at around 1am on Thursday, October 21, 2021.
The car contained thousands of ecstasy tablets.
Phillips, of St Georges Road, Swanley, pleaded guilty to being concerned in the supply of Class A drugs and dangerous driving.
She was jailed for 14 years and four months.
Dalton of Old Road West, Gravesend, pleaded guilty to possession with intent to supply Class A drugs.
He was imprisoned for five years and 10 months.
James Beaumont
Shoppers watched in horror as a teenage thug smashed a bottle into his rival's skull as gangs "kicked off" in Canterbury city centre.
The fracas unfolded near the clocktower in the high street when Louie Newman, then 18, had been arguing with a large group of teens outside Halifax bank before tossing the weapon to his accomplice James Beaumont.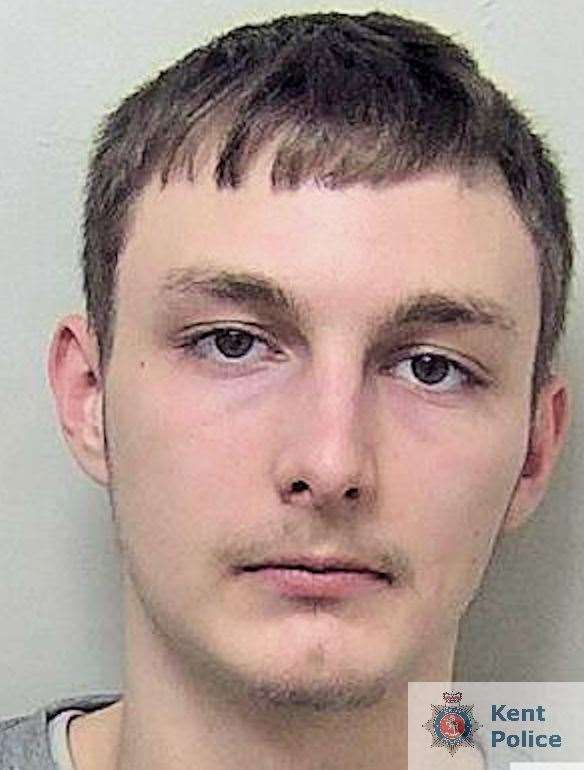 Beaumont, who was also 18, then smashed the glass over a rival's head. Police descended on the scene, causing the gathering to disperse.
A judge told Beaumont at Canterbury Crown Court last month his group had behaved like "schoolchildren" inside a playground but with "adult bodies," during the assault in May 2021.
Judge Rupert Lowe said "a lot of members of the public were about," adding: "Seeing you break a bottle over the head of another lad is extremely alarming and extremely serious."
The court heard Newman, now 19 and who comes from the city, pleaded guilty to affray at the first opportunity at magistrates court and was handed a community order and must carry out 50 hours of unpaid work.
Beaumont, now 20, admitted affray with the use of a glass bottle as a weapon the day before trial last month which he committed about nine months before he stamped on a defenceless man's head in a separate street attack in Ramsgate after binging on drink and drugs.
The thug was locked up at the same court last May and was ordered to serve three years detention at a young offenders' institution, meaning he was due for half-way release in April this year, but Judge Lowe handed Beaumont, of Lancaster Road, a further eight months.
Craig Wharton
A builder was caught with cannabis worth £150,000 stashed inside a shed at the bottom of his garden.
Craig Wharton, of Ashford, was discovered with the haul shortly after narrowly dodging prison for an almost identical crime.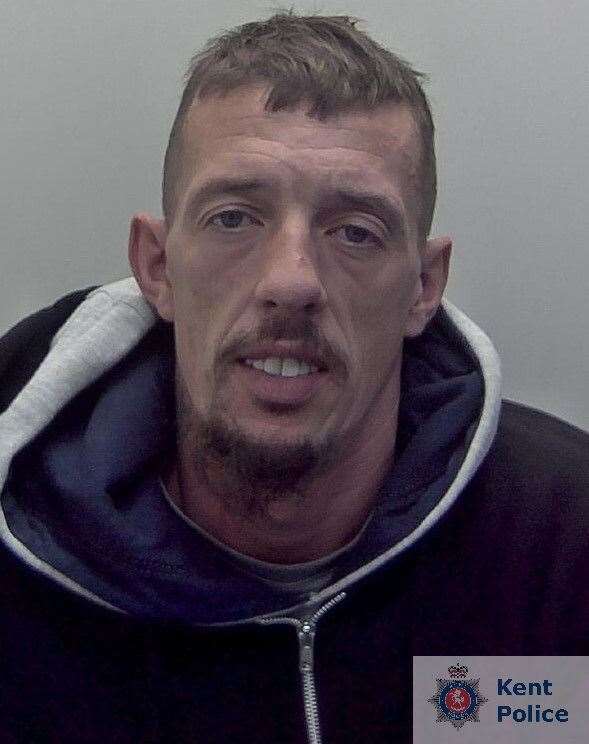 Alongside 15kg of the Class B drug, police seized nine iPhones and £8,000 of ill-gotten cash.
The 36-year-old was sentenced to three-and-a-half years in prison at Canterbury Crown Court last month.
The court heard Wharton was away when police raided his home in Pound Lane, Kingsnorth, in the early hours of November 7.
Cannabis with a street value of £150,000, alongside drug-dealing paraphernalia, was discovered inside the outbuilding, igniting a police manhunt.
Kent Police would spot the father-of-three a week later in a car, as he tried throwing a quantity of cannabis outside the passenger window.
Following his arrest, Wharton gave a no-comment police interview, but later pleaded guilty to possession with intent to supply a Class B drug and possession of criminal property.
Emma Noble
A woman was jailed after stealing more than £17,000 from two "vulnerable, trusting and kind" pensioners.
Mum-of-four Emma Noble blew the money on a 21-month spending spree on Amazon, Maidstone Crown Court heard.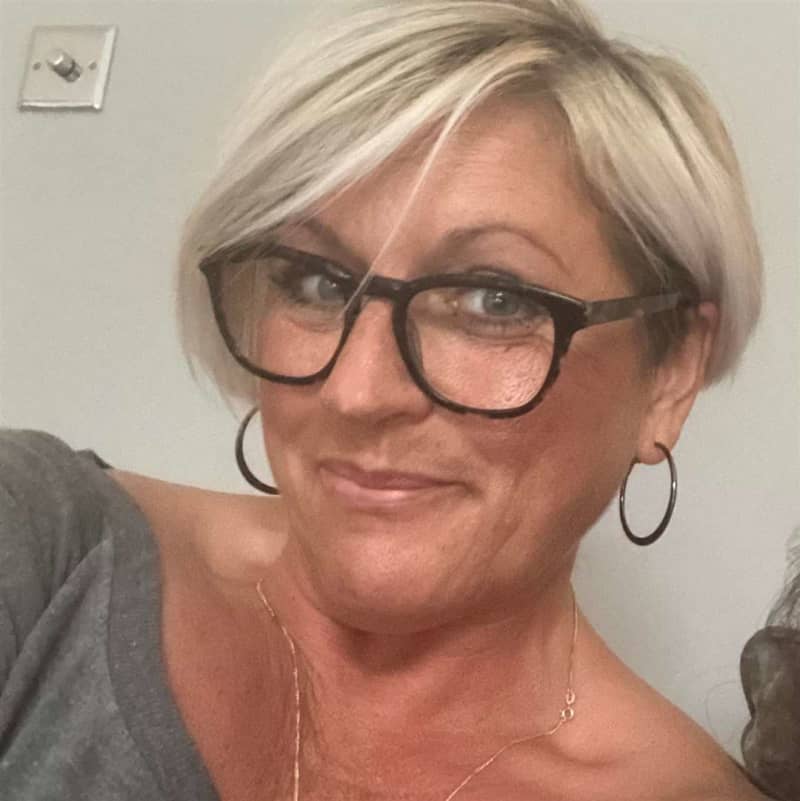 The 48-year-old, who targeted two elderly men at the RBLI Village – run by Royal British Legion Industries – in Aylesford, used the cash to buy Mercedes Benz mats, booze, hiking boots, trainers, a washer-dryer, skincare products, perfumes and aftershaves.
Noble was sent to prison last month for a year after admitting two offences of fraud by false representation.
Judge Karen Hammond told her her thieving had been a "persistent and despicable abuse of position".
She added: "These two elderly gentlemen, who trusted you implicitly with every aspect of their care, were despicably taken advantage of.
"They relied on their carers for everything and notably had no family members to operate independent checks on the use of their finances."
Judge Hammond also ordered Noble, who kept her shame a secret from her children, to pay £16,354 in compensation, Amazon had already refunded £1,040.
Aaron Clarke
A county line drug dealer who continued his craft while on bail was locked up for seven years.
Dealer Aaron Clarke had been known to sell heroin and crack cocaine in the Medway Towns.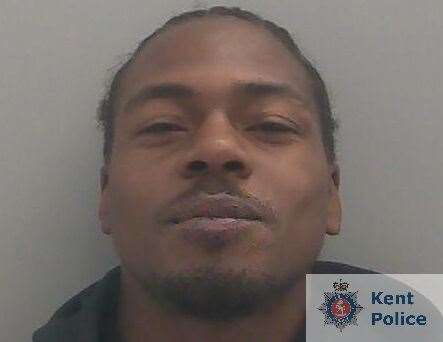 Officers first became aware of Clarke when he was arrested in August 2021.
A phone was seized and found to contain messages between drug users referring to Class A drugs.
Clarke was released on bail while the investigation continued but officers received information that the dealer had started up again.
An investigation led them to identify the 27 year-old as being responsible for the 'Koby' line – a special name given to a drug operation.
He was arrested in Bedfordshire on May 24 last year and later charged with being concerned in the supply of crack cocaine and heroin and was found guilty following a trial at Maidstone Crown Court.
DC Robert Parker from the county lines and gangs team said: "The misuse of drugs can cause misery to people's lives and we are sending out a very clear message to criminals that this behaviour will not be tolerated."
Jake Jones
A terrified mum was forced to kiss her children goodbye after her abusive boyfriend told her: "I'm going to put you in a grave."
Michelle Bielby was convinced she would be killed by menacing Jake Jones after he scrawled in crayon on the bathroom wall "mummy is dead tonight, rest in peace".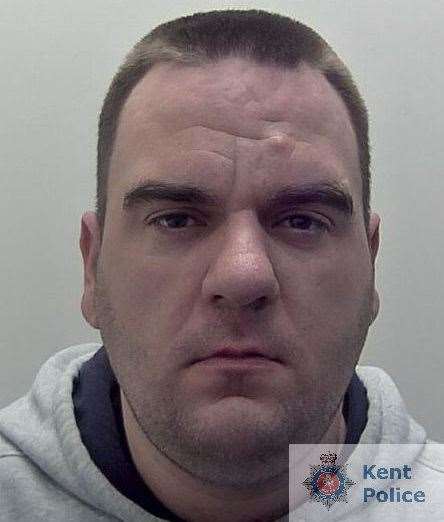 The jealous NHS worker, of Avon Close, Canterbury, then repeatedly strangled the mum-of-two in a drunken rage at her Herne Bay home.
Believing she was texting another man, the 31-year-old, who describes himself as a "hermit character", warned her: "If I can't have you, nobody will."
The thug was put behind bars after brave Miss Bielby found the strength to press ahead with a conviction in what would be the first step towards rebuilding the lives of her and and her young children.
Jones was jailed for two-and-a-half years last month at Canterbury Crown Court.
The court heard Jones picked up her dinner plate and slammed it on the side, grabbed her by the throat and pushed her against the microwave and repeatedly placed his hands around her neck.
He then smashed her perfume and drink glasses, cut up her debit card, and damaged her phone charger and jumper and grabbed her by the throat, threw her on the bed, and said if "I can't have you nobody will."
Sasha Mazouz
A sexual predator left a stranger fearing "he was going to be raped" in an attack inside public toilets late at night.
The man managed to fight off Sasha Mazouz, who had been drinking heavily, before fleeing the cubicle in Canterbury.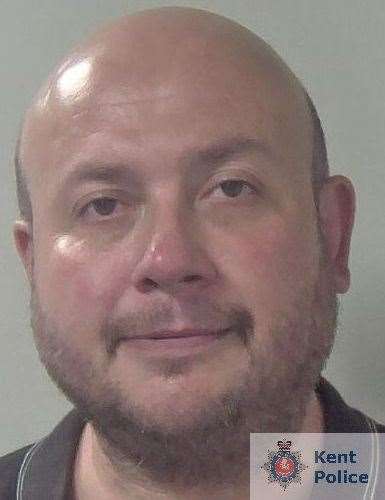 Mazouz, of Folkestone, was jailed at Canterbury Crown Court last month after pleading guilty to assault and committing an offence with intent to commit a sexual offence.
The court heard the 44-year-old had been seeking male companionship in the city's nightclubs during a summer evening last year.
After acting "particularly amorously" towards men queuing for McDonald's in St George's Street, he entered a public toilet in Canterbury Lane.
Mazouz's victim, who was unknown to him, entered the public conveniences shortly afterwards. But when he attempted to leave a cubicle, he was pushed back inside and subjected to the terrifying attack.
"As he entered the toilets you pushed him into the cubicle, causing him to spin round, and you placed your hand on his back, pushing him over," Judge Mark Weekes told Mazouz.
"Believing he was going to be raped," his distraught victim managed to fight him off and flee the scene before contacting the police, the court heard.
Mark Brown
A builder who murdered a mum-of-two and burnt her remains in an oil drum was jailed for life.
Mark Brown killed sex workers Alexandra Morgan, 34, from Sissinghurst, and Leah Ware, 33, from Hastings, just six months apart last year.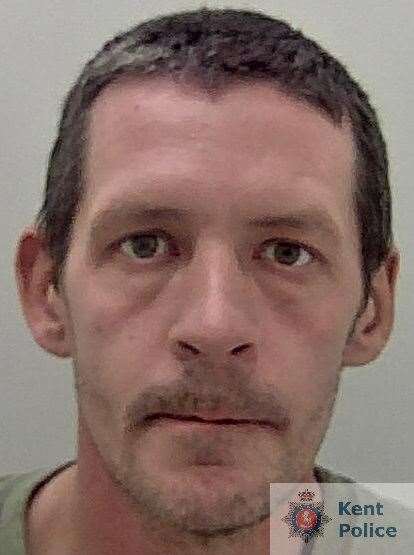 The 41-year-old was jailed for life in his absence, after he refused to attend Hove Crown Court last month.
Judge Mr Justice Hilliard gave him two life sentences with a minimum term of 49 years, less 380 days already spent on remand, to be served concurrently.
Ms Morgan was last seen at a petrol station in Cranbrook filling up her white Mini Cooper after arranging to meet Brown, of St Leonards, East Sussex.
Brown had hired her services as a client and promised her a £100,000 sum for webcam work at a hotel in Brighton.
In December, after a six-week trial, the part-time security guard was found guilty of murdering Ms Morgan in November and Ms Ware in May of 2021.
Brown had admitted to police he burnt the Kent mum's body but claimed she had slipped and fell on a piece of mechanical equipment in his workshop before hitting her head.
James Coffield
A man who stabbed his friend with a screwdriver after arguing over a car sale was locked up.
James Coffield, of Albany Road, Gillingham, saw Ralph Coventry while walking along Upbury Way, Chatham, when he accused him of owing him £90 for a car.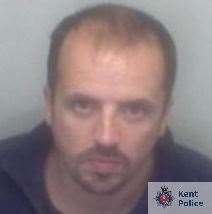 On October 13, 2018, the men began arguing before Coffield, 40, used a screwdriver to stab the man three times in the shoulder, arm and chest.
The "senseless attack" happened at around 8am and Coffield fled the scene, leaving his friend of more than 20 years needing medical assistance, but left his phone behind.
He was arrested a week later by officers and charged two days later with grievous bodily harm with intent.
The court heard Mr Coventry had himself suffered significant anxiety and stress but hoped the sentencing hearing would bring him closure.
Nicholas Jones, defending, said Coffield, who has 13 convictions for 37 offences, had since "sought to improve his life" by turning his back on drugs and crime.
Jailing Coffield for three years and four months, Recorder David Vince said he had stabbed Mr Coventry in an "appalling violent attack".
To read more of our in depth coverage of all of the major trials coming out of crown and magistrates' courts across the county, click here.
To see who was locked up in December, click here.
David Akande
A violent gang member who targeted a man and his belongings in his own home was put back behind bars.
David Akande, from Gillingham, travelled to an address in Mercury Close, off Shorts Way, Borstal along with other men during the evening of February 4, 2021.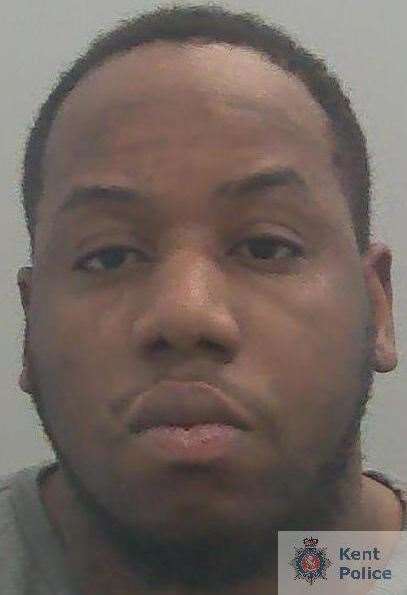 Akande, 34, along with Mahei Ahmad, Mohammed Maow, Thami Ngqobongwana and other unidentified men forcibly entered a house and one of them punched a man inside whilst demanding money and the victim handed over his wallet, his mother was also threatened before the gang fled.
Police were alerted and officers established that some of the offenders had been using a smart car which was stopped by a patrol on the A2, near Bluewater about an hour later.
The driver, Ahmad, and his passenger, Maow, were arrested and upon searching the vehicle police found the victim's bank cards under one of the seats.
Akande, of Arden Street, Gillingham; Ngqobongwana, of Trafalgar Street, Gillingham; Ahmad, of Herbert Road, Aldersbrook, Greater London and Maow, of Melford Road, East Ham were all charged with robbery and pleaded not guilty, but were convicted at a trial at Maidstone Crown Court.
Last year, Ngqobongwana was jailed for seven years and 30-year-old Ahmad was jailed for seven years and three months.
Last month, Akande was jailed for six years and 10 months and the convicted drug dealer was previously jailed after swallowing wraps of cocaine and heroin in police custody to avoid detection by authorities. Maow will be sentenced at a later date.
Naomi Denton-Younger
A sweet-toothed shoplifter who stole more than £200 of chocolate and whisky was caught after being spotted in a car parked on double yellow lines.
Prolific Herne Bay thief Naomi Denton-Younger was a passenger in the vehicle when she was arrested by police last month.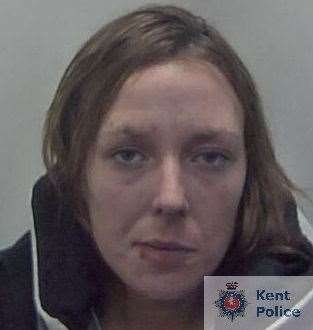 Although she initially provided officers with a false name, the local PC recognised the 31-year-old from CCTV footage of four thefts close to the town centre.
Denton-Younger swiped 53 chocolate bars worth £105 from the Co-op in Mortimer Street on Boxing Day.
Then on December 27, she took three bottles of whisky, worth more than £100 and ran out of the Tesco store in Sea Street without paying and she then targeted the Morrisons store in Beach Street January 3 and put two joints of beef worth £36 into a bag before leaving.
And Denton-Younger, of High Street, Herne Bay, then returned to the Tesco in Sea Street on January 4 and hid seven packs of fresh salmon in her jacket and left without paying again.
She was later charged with four counts of shoplifting, resisting arrest and refusing to provide a sample for Class A drug testing.
Denton-Younger admitted the offences at Folkestone Magistrates' Court where she was jailed for 54 weeks.
Shaquille Campbell
A hapless burglar was jailed for more than seven years and told by a judge: "Give up your life of crime...you aren't very good at it."
Shaquille Campbell committed his first offence aged 12 and he has spent half of his life locked up, Maidstone Crown Court was told.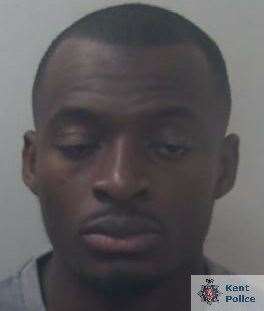 Within months of his last prison sentence for burglary, the 26-year-old dad-of-three was raiding properties and stealing expensive cars, including a £38,000 BMW and a £26,000 Porsche Macan.
They were carried out with an unknown accomplice last year but it was Campbell who was later caught at the wheel of the BMW.
Because he has previous convictions for burglary, he was liable for an extended sentence as a "three-striker", and in November 2020 had received a three-year sentence.
But the Judge, Recorder Michael Turner, told him that they had been planned crimes where he had targeted his victims.
Jailing him for a total of 92 months, he said: "From the age of 12 you started on a life of crime, you have been a criminal for more than half of your life.
Campbell, who admitted charges of robbery, burglary and dangerous driving, was also banned from driving for 18 months after he is released from jail.
Shane Rowden
A brave cafe owner haunted by a "dark and festering secret" for almost 40 years finally brought the man who sexually abused her to justice.
Emma Harris, who runs Gingerbreads Snack Bar in Herne Bay, was just four when her uncle, Shane Rowden, isolated and targeted her at her home in Whitstable.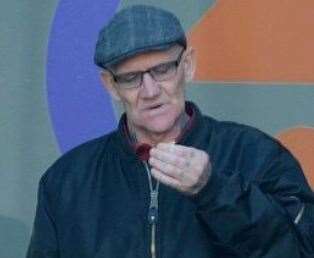 The mum-of-three, now 46, says she hid the horrors of what had happened to her for almost four decades as she did not want to upset her family.
But six years ago she found the strength to confide in loved ones and reported Rowden, 58, to police and he was arrested but would cruelly make his victim wait for justice, as he continued to protest his innocence and deny any wrongdoing.
But last month, the day his trial was due to start, he finally owned up to his heinous actions and was jailed for 16 months for indecent assault and the court heard, he had been charged with two indecent assaults on Emma between 1980 and 1981, when he would have been aged 15 and 16.
Emma, who had been due to give evidence, said: "I've waited six years to go to court, to tell my story and be heard.
"I'm upset I didn't get the chance I've been waiting so long for, but am proud of the fact women and others will know what he is - a paedophile."
Rowden denied the offences but, after asking the judge what sentence he would receive if he changed his plea to guilty, he admitted one of the assaults, with the other ordered to lie on file.
Ozgur Suyolcu
A driver narrowly avoided hitting schoolchildren with his car while fleeing from police.
Ozgur Suyolcu had been disqualified from driving but reached speeds of more than 115mph, during a pursuit in Tunbridge Wells where he also collided with another car.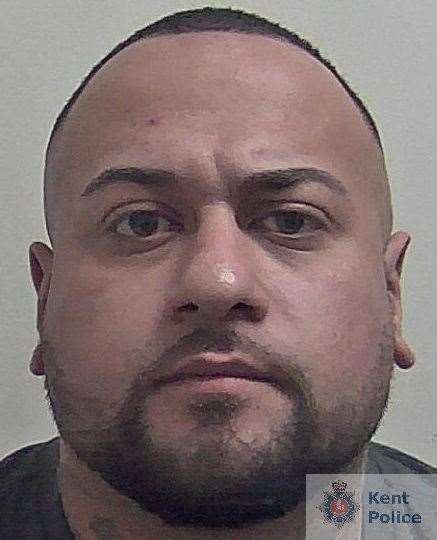 Police had attempted to stop the BMW on January 28, 2022, as part of enquiries into suspected drugs supply offences, but Suyolcu, 27, accelerated away and led officers on a chase through residential roads near the town centre.
Two schoolchildren had to run to safety in St James Road and he collided with a Land Rover in Pembury Road.
Officers were assisted by a police helicopter as Suyolcu headed onto the A21 towards Sevenoaks before he changed direction and travelled back on the coastbound carriageway.
The car was tracked to an address he had been living at in Maidstone Road, Paddock Wood and he was arrested and police found knuckledusters inside a chest of drawers when searching the property.
Suyolcu was charged with possession an offensive weapon, dangerous driving, driving whilst disqualified and driving without insurance or a licence.
He pleaded guilty last month and was sentenced at Maidstone Crown Court to a year in prison and was also banned from driving for five-and-a-half years.
Toni Cooney
A serial thief who bit a supermarket security guard on the arm during one of her crime sprees was locked up.
Toni Cooney, from Medway, filled a trolley up with more than £950 worth of clothes and groceries at the Asda store in Kings Hill in April last year.
She was challenged by a security guard when she made no attempt to pay and left the store and as he tried to stop her going any further with her full trolley, she bit him on the arm.
Cooney, 29, who lives in Strood, admitted causing actual bodily harm to the worker when she appeared before magistrates in Medway on January 18 and also admitted stealing £956.64 worth of goods from the store that day and another charge of threatening behaviour in relation to an incident with the other shop employee.
Terry Knox told magistrates that Cooney had admitted seven other shoplifting offences from the Wilko store in Strood when she appeared in court on January 9.
The court head how she had stolen a range of cosmetics between November 11, 2021 and January 6, 2022 and in total stole £822 worth of goods from the store.
She also admitted an attempted theft last time she was in the dock when she tried taking more than £280 of razor blades from Morrisons in Strood, on January 7 last year.
Magistrates heard Cooney has at least 116 previous convictions for theft and jailed her for 48 weeks for all of the offences and ordered she pay the security guard £250 compensation and pay £822 back to the Wilko store.
Russell Mills
A paedophile who described himself as "pretty pervy" attempted to groom a police officer's 'daughter'.
Russell Mills, from Herne Bay, plumbed so low he sifted through a friend's laundry basket to smell their little girl's underwear.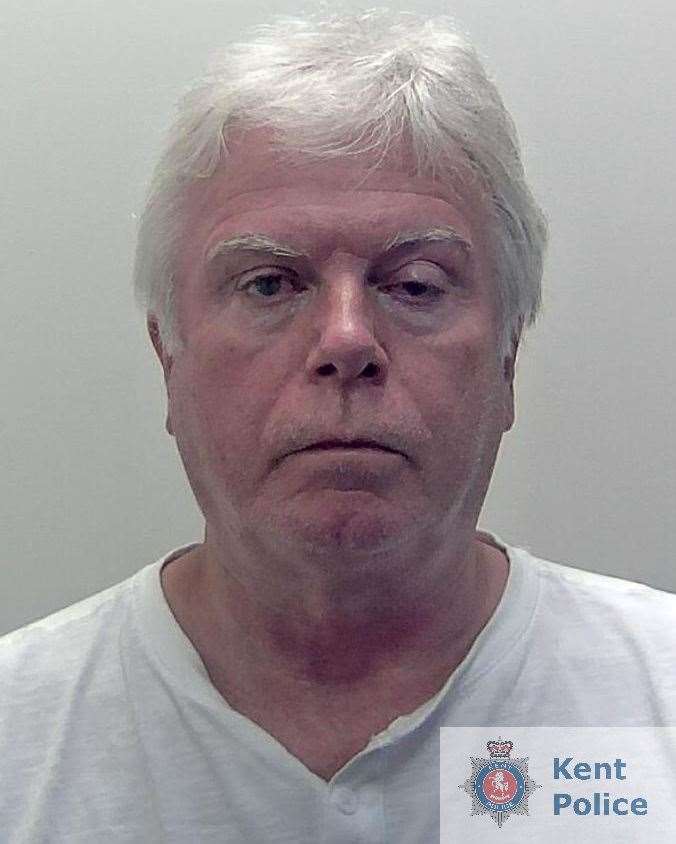 The 64-year-old also tricked a parent into believing he was a qualified masseuse so he could grope their daughter, who was suffering a leg injury.
More recently, the paedophile surfed the internet searching for illicit material when he happened upon a woman prepared to farm out her 10-year-old daughter and exchanged depraved messages and images over a Russian website with 'Louise', including children being sexually tortured.
But 'Louise', whose profile picture depicted a little girl, was an undercover officer working to catch Mills.
A hearing at Canterbury Crown Court last month heard he sent reems of horrific, explicit images and messages, telling the decoy account he wished to rape her daughter.
The court heard the pervert, who has 30 previous convictions for crimes of a similar nature, had become isolated and lonely during lockdown and returned to his paedophilic ways online.
Mills, of Stanley Gardens, pleaded guilty to publishing an obscene article, distributing category A and C images, making category B images, and breaching a sexual harm prevention order and was handed a five-year extended licence and will serve two-thirds of a 30-month prison sentence before being considered for parole, then a further 20 months on licence.
Thomas Allen
A killer who murdered his girlfriend was told he will serve at least 27 years behind bars before being considered for release.
Thomas Allen was jailed for life and given the more than two decades-long minimum term for stabbing mum-of-three Sam Murphy with a kitchen knife in Elfrida Close, Margate, after a row broke out.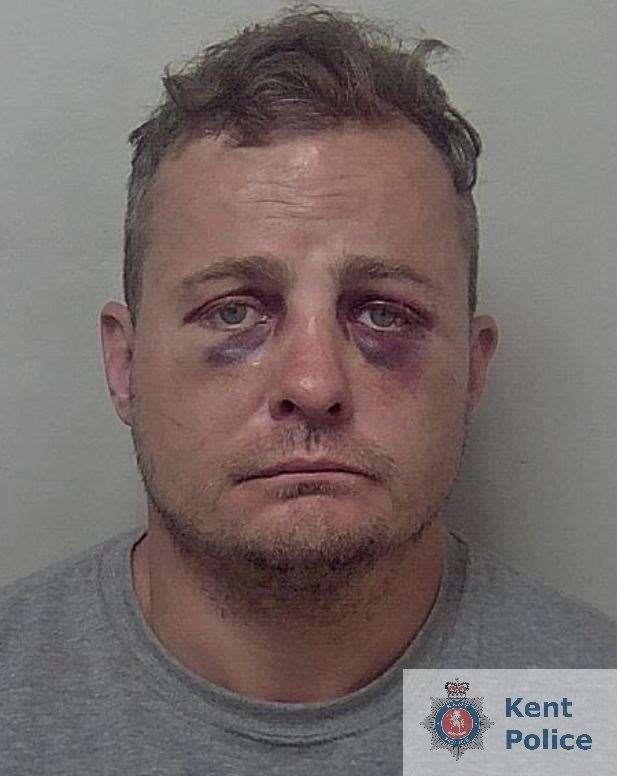 The thug took the sentence quietly at Maidstone Crown Court last month \- but had earlier become agitated as details of a previous conviction for an axe attack were revealed.
The 38-year-old began shouting from the secured dock and refused to stay quiet despite warnings from Judge Philip Statman, prompting security staff to escort him to the cells to calm down.
Minutes earlier he had heard Ms Murphy's sister Vicki Beacham describe how the family had been devastated by her death.
She told Allen: "You took our Sam from us, our daughter, our sister, our aunty and our mum.
"You were convicted of her murder. You should have been her support, her soulmate and the love of her life.
"Instead she died because of your actions. We hope you feel the pain and emptiness and hurt for the rest of your life. You have destroyed this family."
Aloisios Varthalitis
A drug dealer who hid cocaine in a magnetic box in his car was locked up.
Aloisios Varthalitis was stopped by police while driving a Fiat Punto in Trench Road, Tonbridge.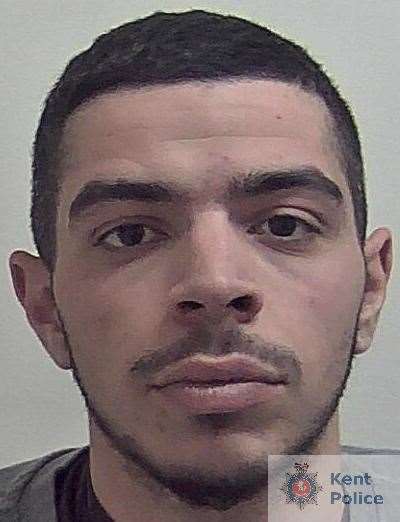 Police searched his vehicle after suspecting the 24-year-old was involved in the supply of drugs.
They found a magnetic box under the driver's side door which had nine bags of cocaine in it.
Varthalitis was arrested on April 17, 2022 and officers seized £320 in cash and two mobile phones, which had text messages on them relating to drug deals in Tunbridge Wells and Tonbridge.
When searching his home, police found another magnetic box containing a bag of cocaine and the seized drugs had an estimated street value of £400.
Varthalitis, of Grosvenor Road, Tunbridge Wells, was later charged with possessing cocaine with intent to supply and possession of criminal property, namely the seized cash.
He pleaded guilty to both counts at Maidstone Crown Court and last month was sentenced to two years and eleven months' imprisonment.
Sean Maurice
A man was convicted of manslaughter after fatally stabbing his father.
Paul Maurice was stabbed in the back and chest at least 30 times in the late evening of September 14, 2021, at his home in Widmore Road, Bromley.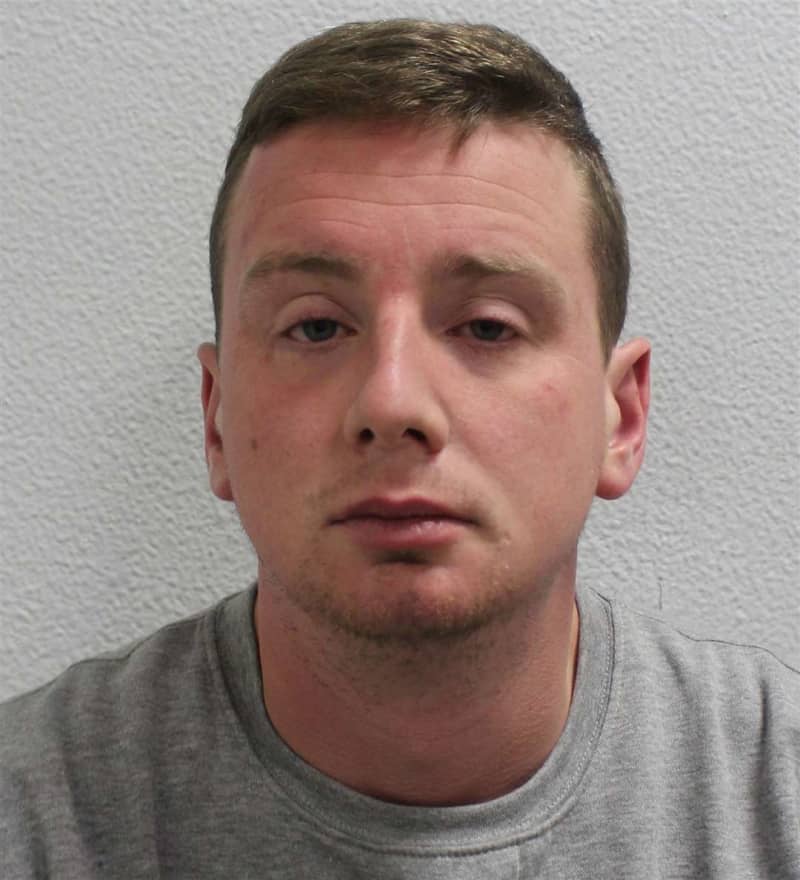 At around 10.45pm that night, a neighbour of Paul, 51, answered their front door after Paul rang the doorbell multiple times.
Paul was found bare-chested and covered in blood as a result of multiple stab wounds, and he said he had been attacked by his son, Sean Maurice, with a knife.
An ambulance was called at around 10.50pm, and police and paramedics attended and first aid was administered and when he was asked who had attacked him, he replied 'Sean'.
He was treated at the scene before paramedics took him into an ambulance, but his condition quickly deteriorated and despite emergency surgery, he was pronounced dead shortly before midnight.
A post-mortem examination gave his cause of death as stab injuries to the chest and abdomen, and he was found to have sustained 33 separate injuries.
Sean, of Widmore Road, Bromley, was convicted at the Old Bailey last month and was sentenced to 10 years' imprisonment.
Keiran Penney
A lying rapist claimed he had been sleepwalking after launching a "sickening" attack on a young woman as she slept.
Keiran Penney's brave victim told him she would not wish his actions "on my worst enemy" as he was locked up last month.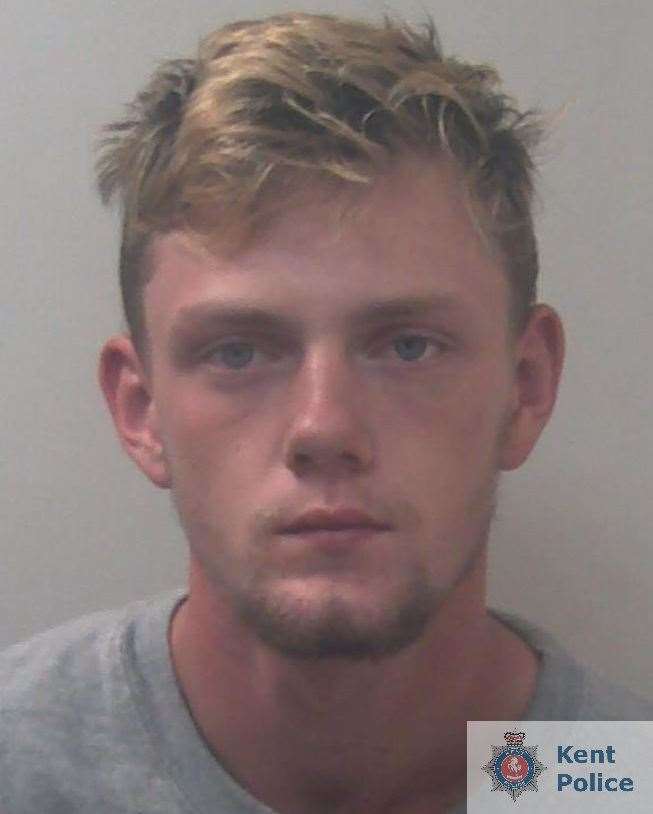 The 19-year-old, of Margate, was found guilty of raping the young woman following a trial at Canterbury Crown Court.
Addressing Penney directly, she said his actions forced her to quit her beloved job, adding: "I could never wish anything so sickening on my own worst enemy".
"Hearing the word 'guilty' was the biggest moment of my life," she told Penney, who remained emotionless in the dock.
The woman woke at an address to find Penney, then 17, attacking her, causing her to freeze up and cry, the prosecution told jurors.
Penney, of Start Lane, text the woman an apology just hours after subjecting her to the horrors of his abuse.
Handing down four years inside a Youth Offenders' Institution, Judge Rupert Lowe said: "In the early hours she wakes up feeling herself being moved by you, what you were doing is putting her in a position to have sex with her, and raping her."
Joseph Ball
A drug dealer who was found in a pub with cocaine hidden in his underwear was jailed for more than three years.
Joseph Ball, of Pier Road, Gravesend, had been sat in the pub in London Road, Northfleet, eating a meal on November 19 last year when officers targeting drugs suppliers came in with a sniffer dog.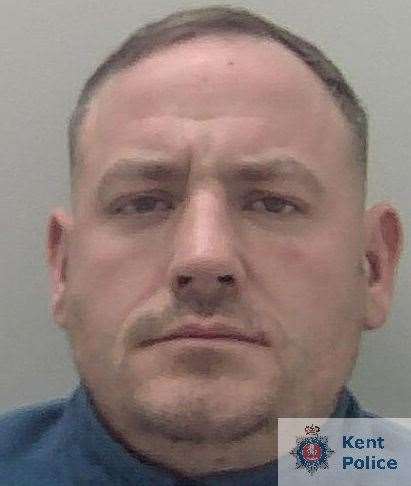 The 36-year-old was seen acting suspiciously after he had panicked when he saw the dog.
He was searched and three bags of cocaine and almost £2,000 in cash were found.
Ball was arrested and later charged with possessing cocaine with intent to supply and possessing criminal property.
Another £12,000 that police found in his home was seized, along with drugs also found on the premises.
Last month he was sentenced at Maidstone Crown Court to three years and four months' imprisonment after pleading guilty.
DC Martin Stevens of North Kent CID said: "We run these proactive operations on a regular basis as they act as an effective deterrent to dealers operating within bars, pubs and clubs."
Charlie Moon
A drug dealing arsonist who terrorised a woman before attempting to set her house on fire was jailed for almost four years.
Charlie Moon used a lighter to start a blaze inside a property near Liptraps Lane in Tunbridge Wells.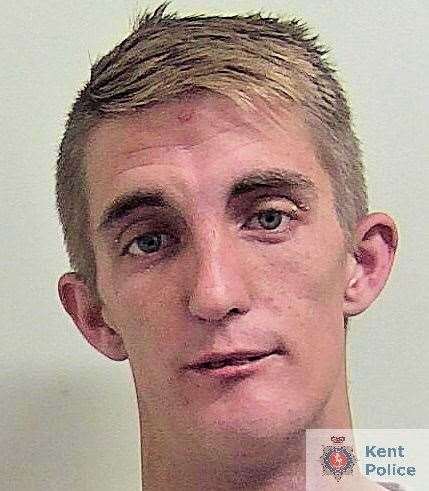 Inside the home the 27-year-old also made threats to a woman he knew in front of her friends and a child.
Moon went to the home on June 6, 2021 where he set fire to a rug while threatening the victim, telling them: "I'm gonna set this place alight with you in it".
A previous incident three days prior to setting the rug on fire saw the drug dealer as a passenger in a car stopped by patrols because it had been linked to drugs offences.
He was searched and quantities of heroin and crack cocaine were found in his wallet along with a customer tick list. A phone was also seized which contained messages concerning drugs supply.
Moon, of Sandhurst Road, Tunbridge Wells, appeared before Maidstone Crown Court where he pleaded guilty to a charge of arson with intent to endanger life as well as two counts of possessing Class A drugs with intent to supply.
Two further counts of assault and one of criminal damage were ordered by the court to lie on file and Moon was sentenced to three years and seven months' imprisonment. He was also made the subject of a five-year restraining order.