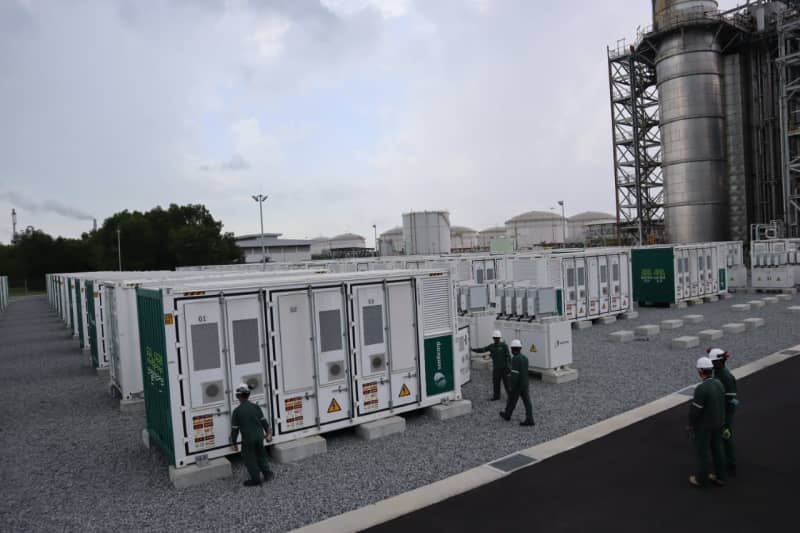 Singapore on Thursday officially opened the largest energy storage system in Southeast Asia as part of the city-state's efforts to guarantee energy security amid the global energy crisis and transition toward clean energy.
The Sembcorp Energy Storage System, which started operations in December last year, has a maximum storage capacity of 285 megawatt hours. Its operator opened the completed site to the media and held a launch ceremony Thursday.
It is designed to store surplus power that can be delivered to the grid to mitigate solar intermittency caused by changing weather conditions in Singapore's tropical climate.
The giant lithium iron phosphate batteries located in container-like structures are located on two sites spanning two hectares of land on Jurong Island, a man-made island that houses Singapore's petrochemical complex.
The new energy storage facility allows Singapore to achieve its 200 MWh energy storage target.
Amid the global energy crisis, the government appointed Sembcorp Industries to build the facility in June last year. It is the fastest deployment in the world of an energy storage system of its size, Sembcorp Industries and the Energy Market Authority said in a statement.
Aside from enabling the scaling up of solar power, the facility "can also be used to store energy to provide reserves to the power grid," Tan See Leng, Singapore's manpower minister, said at the ceremony. "It's a key solution in terms of enhancing our energy security and our grid resiliency."
More than 95 percent of Singapore's electricity supply currently comes from imported natural gas but the city state has been trying to diversify its energy mix, especially through solar.
In 2021, Singapore unveiled one of the world's largest floating solar panel farms, spanning an area equivalent to 45 football fields. It is able to power five local water treatment plants and contribute to the national goal of quadrupling solar energy deployment by 2025.