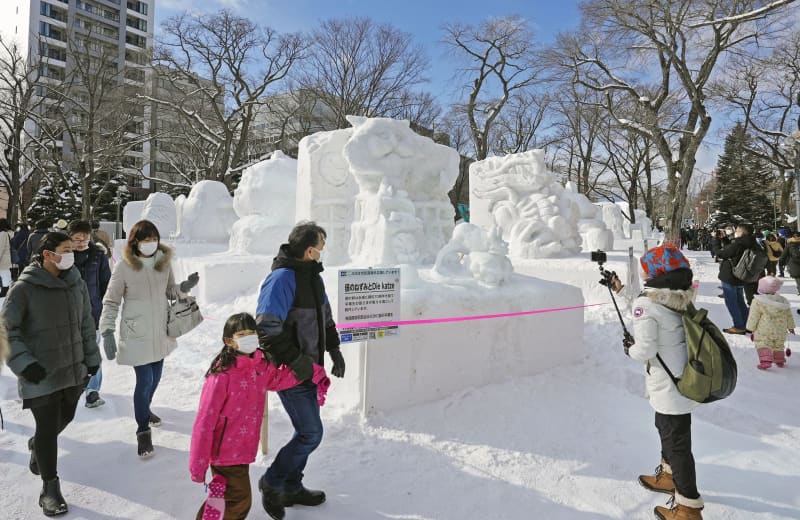 The annual Sapporo Snow Festival began Saturday in the Hokkaido capital, opening its venues to the public for the first time in three years and featuring 160 sculptures made from snow and ice.
The festival, one of Japan's largest winter celebrations dating back to 1950, returned to an in-person format after being held virtually for the previous two years due to the coronavirus pandemic.
Hokkaido is a popular destination for overseas travelers. The snow festival usually attracts more than 2 million domestic and overseas tourists every year, with 2019 seeing a record 2.74 million people visiting.
At the main Odori site, a sculpture of Nippon Ham Fighters' new baseball stadium, Es Con Field Hokkaido, was displayed standing at around 12 meters high. The festival will be held at two sites in Sapporo through Feb. 11.
"It was good to see the snow sculptures in person at the venue," said Midori Kojima, 40, who had been visiting the festival every year until it was closed to the public.
Kojima visited with her family from the city of Eniwa, around 27 kilometers from Sapporo. "My children also enjoyed seeing the sculptures of anime characters," she said.
Other exhibits include sculptures featuring a historic building in Embley Park in Britain, the winter home of the family of Florence Nightingale, the founder of modern nursing, to show gratitude to medical workers who are battling against the pandemic.
To prevent the spread of the coronavirus, eating and drinking booths were not installed, while security guided people to avoid congestion. Those considering a visit can now view the flow of people online beforehand.