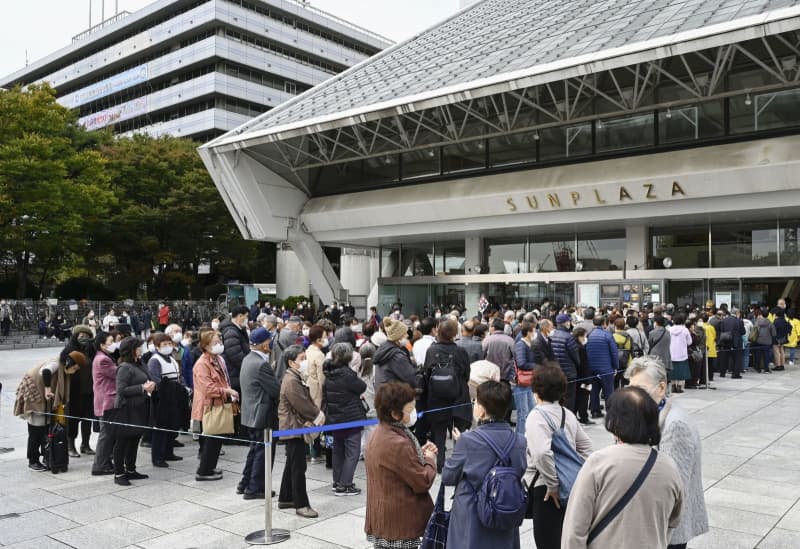 With the government effectively abolishing event attendance restrictions meant to curb the coronavirus spread, sports fans and concertgoers may soon be screaming at the top of their lungs, provided they are masked, under a policy shift that is not universally welcomed.
Nippon Professional Baseball is moving to modify its current infection-prevention guidelines in line with the regular season's start in late March.
"We have time," NPB Secretary General Atsushi Ihara said. "I expect a situation where fans will be able to cheer while wearing masks."
Since the pandemic was declared in the spring of 2020, Japan's ballparks, boisterous like those in Taiwan and South Korea, have been eerily muted, with fans not permitted to chant, sing or shout. That restriction remained last season, when teams were permitted to fill their stadiums.
"Everyone being able to raise their voices and cheer is a good thing," Hanshin Tigers manager Akinobu Okada said.
As of Saturday, two teams, the Yomiuri Giants and Lotte Marines, have announced that fans will be able to cheer to their hearts' content at their main parks, provided they remain masked.
Japan's pro football establishment, the J-League, last year gradually reintroduced vocal cheering at its games, and has been carefully planning in advance of its season's kickoff this month.
"There will probably be some fans at the ground who will feel anxious, and we want to continue to take measures," an official of one first-division team said.
Restrictions on crowd behavior have also affected concert and theater patrons. The government will downgrade the coronavirus's classification on May 8, opening doors for some promoters and causing concern for others.
"The continuing restrictions on patrons raising their voices made booking musicians and business operations difficult," said one promoter, whose company specializes in Western music and is now booking acts from May onward.
"I'd be happy if things went back to the way they were before the coronavirus trouble."
Akio Fukushima, an executive of the Association of Japanese Theatre Companies, suggested some compromises might be needed to deal with customers' diverse feelings.
"Some theatergoers want to wear masks, others don't. We have all kinds of patrons," he said. "We can't stage performances if we ignore peoples' wishes."
An official of Tokyo's Meijiza theater, which stages musicals and concerts, said, "Depending on the kind of performance, there may be many elderly in attendance, and if they became infected it would be unbearable."