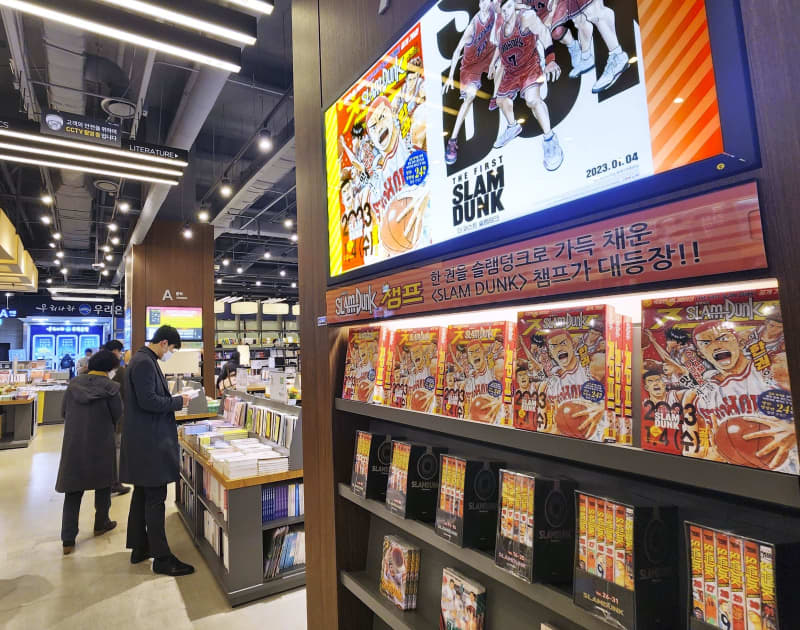 A recently released reimagining of hit Japanese anime "Slam Dunk" has proven hugely popular in South Korea and brought with it a wave of nostalgia for the 1990s manga and television series as well as the underdog basketball team the film features.
Jeong Jin Hyeok is one of many South Koreans in their 30s and 40s revisiting their childhood with "The First Slam Dunk," a new film version of the beloved and wildly popular basketball manga.
The film has currently sold the third-most theater tickets ever for a Japanese anime film shown in South Korea, according to the Korean Film Council.
Written and directed by the manga's author Takehiko Inoue, the film now trails only the blockbuster hit "your name." and "Howl's Moving Castle" from Studio Ghibli, the film promotion group said. It has moved into third ahead of 2020's "Demon Slayer."
This latest theatrical hit demonstrates Japan's soft power can to some degree overcome historical issues such as compensation over wartime unpaid labor and comfort women who were forced to work in wartime brothels.
While these issues occupy the political classes of both countries, South Koreans have appeared to be happy to embrace Japanese culture through the film that started showing in early January.
Lee Dalho, a 31-year-old actor who performs in musical theater, said he sees the current status of South Korea-Japan relationship having "no impact" in people simply enjoying the Slam Dunk movie.
"The boom is all about nostalgia and old good memories about our childhood," he added.
As of Wednesday, more than 2.49 million people in total have seen the movie.
On the first day the film was shown, Jeong, 32, watched it with his basketball-loving friends. He recounted his passion for the sport and how when they were younger he and his friends would give each other nicknames based on Slam Dunk characters.
The country's biggest theater complex CGV said people in their 30s and 40s made up more than 70 percent of the moviegoers. Some brought their children to theaters, South Korean local media reported, creating a whole new generation of fans.
In some parts of the country, specially-arranged sections for the Slam Dunk manga can be seen in bookstores, with translations in Korean. The manga has been translated into other languages including English and French.
The craze has also led to brisk sales of Slam Dunk-related merchandise. For example, The Hyundai, one of the nation's department store chains, has opened a pop-up store where official merchandise such as uniforms attract many shoppers daily.
The story has also attracted new fans like Park Jeong Ah.
"I really liked how everyone in the movie put their best efforts possible to win the game. It's entertaining enough for someone like me new to the manga series," said the 30-year-old Park.