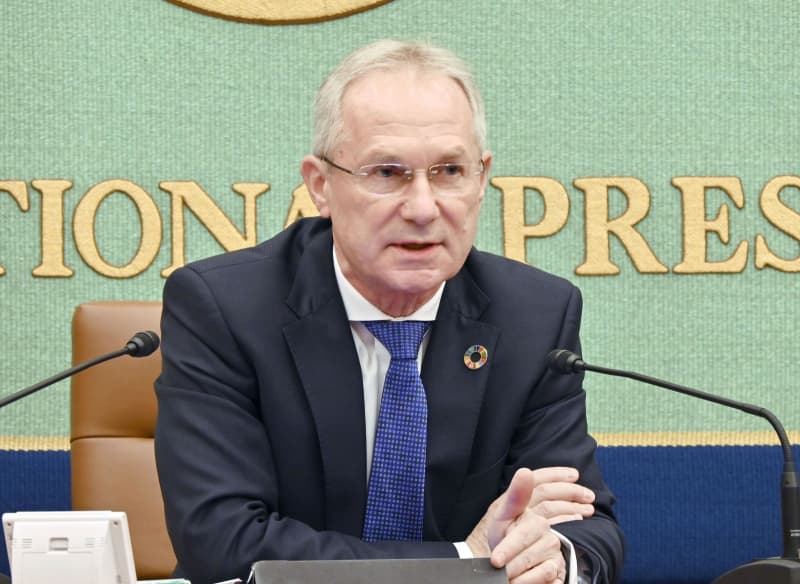 The U.N. Security Council has been "paralyzed" amid Russia's war on Ukraine and needs reform, with Moscow's veto power making it difficult for the body to take a unified stance, U.N. General Assembly chief Csaba Korosi said Friday, as the first anniversary of the invasion approaches.
Korosi, who is visiting Japan to promote relations between the United Nations and Tokyo, said the number of members calling for reform of the council, which is dominated by the five veto-wielding permanent members, has reached more than 65.
"We have never had such a bold outcry," the Hungarian told a press conference in Tokyo.
But the General Assembly president said any reforms and the possible exclusion of Russia from the council would face both political and legal challenges and ultimately require changes to the U.N. Charter, which could be time-consuming.
Russia has used its veto against Security Council resolutions such as one last year that called on countries not to recognize Moscow's declaration of its annexation of four occupied regions of Ukraine and to immediately withdraw Russian military forces from Ukrainian territory.
The war in Ukraine has displaced millions of people, while Ukraine's economy shrank by more than 30 percent in 2022 from a year before, as the invasion continues to take a toll on economic activities.
U.S. President Joe Biden has called for expanding the U.N. Security Council, slamming Moscow for "shamelessly" violating the core tenets of the U.N. Charter, which enshrines sovereignty and territorial integrity.
The council currently consists of the five permanent members and 10 nonpermanent members elected for two-year terms. Japan has aspired to become a permanent member of the council, and is currently a nonpermanent member.