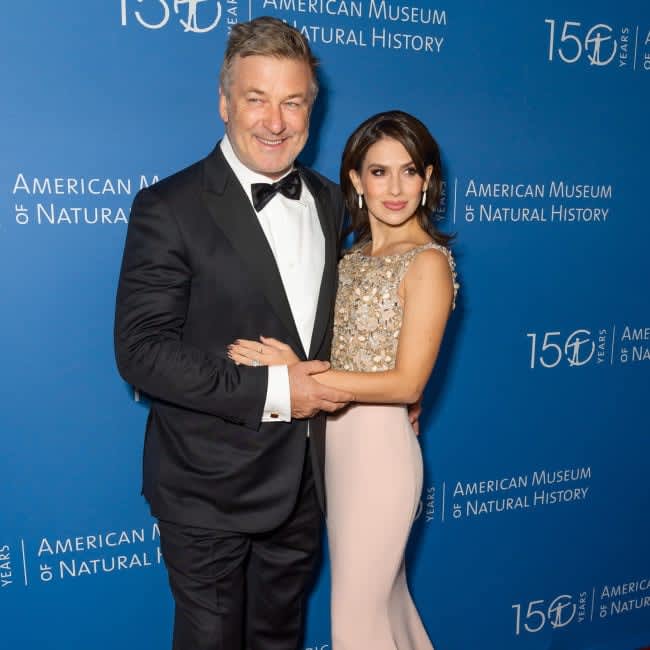 Alec Baldwin begged fans to follow his wife on social media for her birthday present.
The 64-year-old actor posted a video on Thursday (05.01.23) making the plea ahead of Hilaria Baldwin turning 39 on Friday (06.01.23), saying he wanted the drive to help her reach one million followers on Instagram.
He said: "Hey everybody, it's the day before my wife's birthday. I would like to ask you, as a birthday gift or even just gesture to my wife, would you follow her on Instagram?
"Tomorrow is the birthday of my favourite person. May I ask you a favour?
"I would like to ask you a small favour, and that is my wife is just, it seems like she's just centimetres shy of a million followers on Instagram.
"Obviously I love my wife – I'm crazy about my wife, blah, blah, blah… all the things we say about people we're in love with.
"My wife's the most fabulous person I've ever met in my whole life. That's true. That's true. That's definitely true.
"I would like as many of you as possible, I would like a really great, great surge of people to follow my wife on Instagram to say happy birthday to my wife. Would you do that for me? ... Please. Thanks."
Some fans hit out at Alec for the gesture, with one calling it "super shallow", while others defended his clip, saying it showed he was a good husband.
Hilaria – who has 993,000 Instagram followers – this week described Alec as "husband goals" for rubbing her feet on a sofa before a night out, four months after she had her seventh child.
The couple, who married in 2012, have kids Carmen Gabriela, nine, Rafael Thomas, seven, Leonardo Ángel Charles, six, Romeo Alejandro David, four, Eduardo Pao Lucas, two, and daughters Ilaria Catalina Irena, three months, and two-month-old Maria Lucia Victoria.
Hilaria said in December she hopes she and Alec are "done" having children.
But she added because the actor has not undergone a vasectomy she can't guarantee they won't add to their family.
She also admitted they are "not okay" following the 'Rust' killing.
Hilaria was seen tearing up in an interview for 'Extra' as she told how no one could have imagined the death of cinematographer Halyna Hutchins, 42, who was fatally shot on the set of the film on October 21 last year after a prop gun loaded with live ammunition was accidentally discharged in the hands of 64-year-old Alec.
She said: "We can't be okay. No one is okay. It was and is a tragedy that nobody could ever have imagined."
When asked how the Baldwin family is coping following Halyna's death, she added: "We're not okay."
Alec was involved in a wrongful death lawsuit filed by Halyna's family, which included her husband, Matthew, before both parties settled in October.
In November, Alec sued 'Rust' crew members and the armorer for negligence and for supplying a prop gun loaded with ammunition.
In July, Hilaria posted online pleading for less "darkness and negativity" and said it was "now more than ever" easier to "slander people" and "cherry pick and piece together strands taken out of context, 'opinions', or complete fabrications".